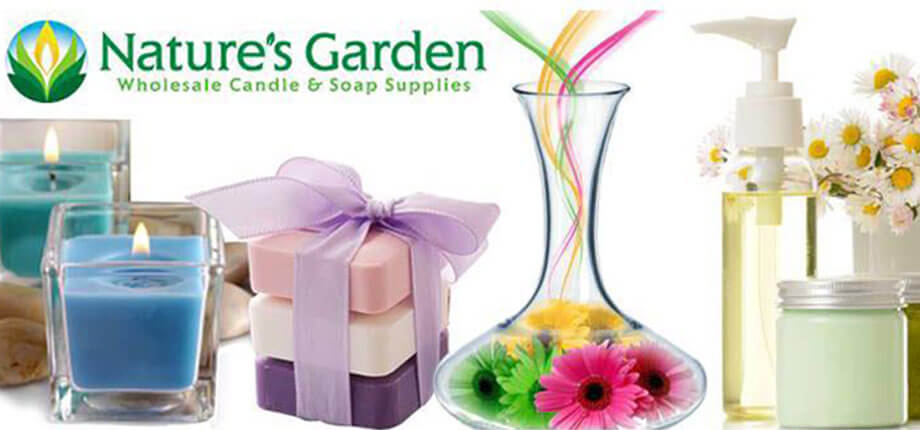 Hi beauties~! How are you today? I'm SUPER excited to reveal this post to you today about making homemade lip balm~! Remember I talked in a previous post about Nature's Garden, that I was going to be making some homemade beauty products? About a week ago I wrote an article describing in greater depth the story behind Nature's Garden and included a great interview with the CEO Deborah Ward! If you haven't seen it, you can check it out here! The story behind how Nature's Garden came to be is very interesting! Well today is the day – we're going to make Lip Balm!!!
How many of you have ever made homemade beauty products? I'm definitely a "newbie"! This being my very first time, and I have to say it was easy and SO much fun! Many of you may be asking how did I come up with this idea? Well, I have to say I can't take the credit! The lovely Deborah Ward (CEO) from Nature's Garden Wholesale Candle and Soap Supplies asked if I would be willing to try making this product (and some more – to come in future posts) and to show you the process. And I LOVED it! Being able to make a better quality and more natural product than what you find in the stores really appealed to me! And I love all things beauty, creative, and crafty! As you all know, right???
The great thing about making your own beauty products is you get to control what you put in them! Whether its more or less fragrance or flavoring, staying away from certain ingredients, or adding others that have health benefits! The sky is the limit! And I don't know about you ladies, but I love to make things. ALL things! I've always loved being creative, and I've tried SO many different crafts! You could definitely say I'm a "Craft Store" regular. Although I've never tried making beauty products, the idea definitely fascinated me.
In the last several years I've also become passionate about getting away from store bought "pre-made" foods. Choosing instead to make items homemade that you would normally buy at the store (ie Granola Bars, Trail Mix Bars, muffins etc). The health benefits alone are so worth it – getting away from all the chemicals was the main reason. Another big bonus is, that homemade items always taste better than store bought doesn't hurt! So the idea that I could "cook up" homemade beauty products in my own kitchen that are more natural and tailored to my needs sounded amazing! And when the opportunity arose to make these products, I was thrilled!
Are You Ready to Make Some Lip Balm?
This is what the Lip Balm Kit looks like – and when I recieved it I couldn't wait to get into it and start making them! The ingredients you'll need for this are: Lip Balm Base, Containers, Pipettes, Scale, Liquid Lip Tint, Lip Flavoring, Stevia Sweetener, Mica Pigment, and the recipe card! Nature's Garden also has several more cosmetic recipes, soap recipes, and candle recipes on their website!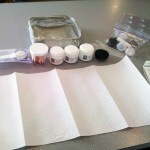 I began by sanitizing my counters. Then set everything up, so I could easily reach for anything as I needed it.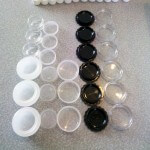 Here are all the cute, little containers ready to be filled! I sanitized these with rubbing alcohol also, just to be thorough!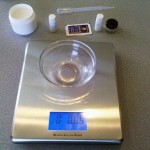 Now I'm ready to start adding the Lip Balm Base to the container on the scale to get the exact measurements by weight. I put my container on the scale, then used the tare function to get it back to zero again before you start weighing your base.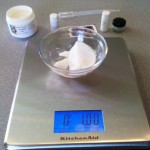 Time to add your base! When I read the ingredients on the base, I loved what I saw! Its natural! The ingredients in the base are coconut oil, bees wax, organic shea butter, organic cocoa butter, and tocopherol (vitamin e)! Don't you love that?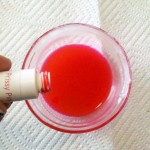 After getting just the right amount of base, I microwaved it in 30 second intervals until it was fully melted and in a liquid form. Here you see I'm adding the "Prissy Pink" liquid colorant to the melted lip balm base. Add a couple of drops – to your desired color level and stir.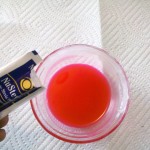 Now its time to add the Stevia Sweetener to the mixture. Mix well so it dissolves nicely.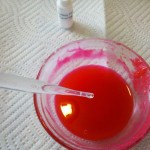 Now its time to add the flavoring! I used the "Monkey Farts" flavoring oil! I know, it sounds odd, right? But it smells so yummy! To give you, lovely blog readers, a better idea of what this smells/tastes like, here is the description on the Nature's garden website: the aroma of our famous Monkey Farts flavoring begins with top notes of fresh bananas and juicy grapefruit, middle notes of kiwi, juicy bubblegum, and strawberries; with a hint of vanilla as a base note. Now, doesn't that sound delicious???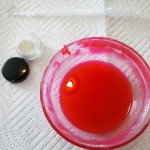 Now its time to add a dash of Mica Pigment and stir well to incorporate into the mixture! This will give a pretty shimmer/sheen to your lip balm. Remember to work quickly as this sets up pretty fast. Althought if it starts setting up on you prematurely, go ahead and put it back in the microwave for 15-25 seconds at a time.
Now that all of the ingredients are added and mixed, its time to use the little pipettes to fill the containers! I used the pretty little black daisy pots and some clear ones too! They set up very quickly, within a half hour! Although that will depend on the size of containers that you use.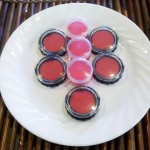 Aaaand here they are~!!!! They turned out wonderfully! Not too shabby for my first time, right? It was definitely easy to make, and a lot of fun! And I've been enjoying using my new lip balm, its so moisturizing without being sticky or waxy! It honestly doesn't feel like the kind you get in the store, the ones that leave a waxy residue on your lips. I was impressed! Do you want to see what it looks like?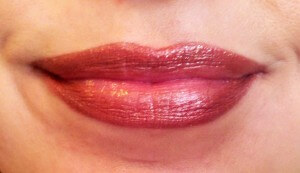 I applied it over my Maybelline Superstay lipstick, and it kept my lips very nicely moisturized, while also feeling lightweight! I'll definitely be sharing these with some friends and getting their feedback as well! If you ladies end up making the lip balms, you'll have several! So you can either keep them for yourselves, or package them up for gift giving as well~! Also making them from home, aside from the wonderful quality – they are also a great value!!!

I hope you enjoyed this very special post on "How To Make Lip Balm"! Big thanks to Deborah and the whole Nature's Garden team for their help, support and wonderful products! I'm excited to make some MORE new and unique beauty products! So stay tuned, as I'll feature another "How To" article on the process of making a different beauty product next time~! What will that beauty product be???? You'll just have to come back and see my friends~!

Thanks for taking this adventure with me – I hoped you enjoyed it, and maybe gained some inspiration and ideas from this! Are there any specific products you'd like to see me make? Let me know! I always love hearing your feedback!
Until next time friends, keep it creative, keep it natural and always keep it homemade~! xoxo
Comments
comments