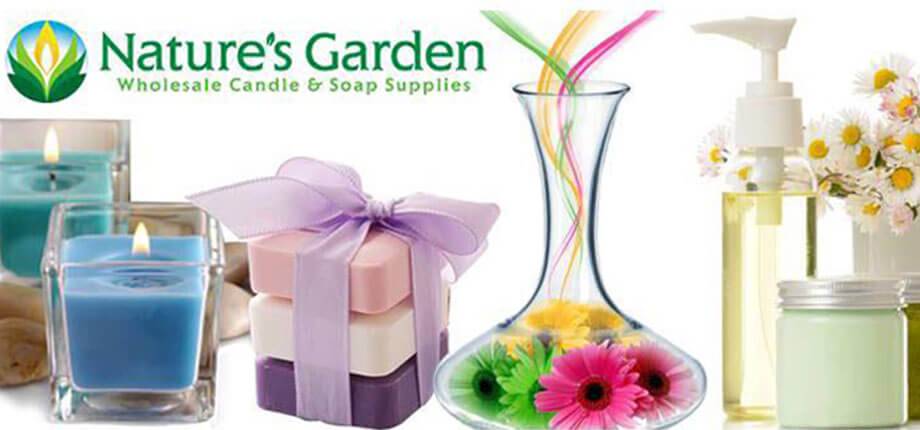 Are ya ready for it??? Doesn't this sound like fun??? Yes my friends, this is our "Weekly How-To" with Nature's Garden!! Aaaand this week we are making Sexy Edible Massage Bars~!!!
Now if you haven't seen the past couple of articles I've done with Nature's Garden, you'll definitely have to check them out! A couple of weeks ago I did an article on the background and an overview of Nature's Garden, which also features an interview with the CEO herself – Miss Deborah Ward!!! And last week we made Homemade Lip Balms with Nature's Garden products and their recipe!!!
Now that you are all caught up, let's get right down to business! Time to make these little beauties!!!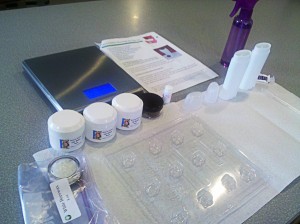 First things first, get your station all set up! I made sure to sanitize everything and use impeccably clean hands!
Now to make the Chocolate Lips for the top of the bar! Place your dish on the scale and use the tare feature to set it to zero. Then add 1 small square of Dark Chocolate, along with a small amount of the lip balm base and beeswax. The ingredients in the lip balm base are are: coconut oil, bees wax, organic shea butter, organic cocoa butter, tocopherol (vitamin e). Now I just have to say, I'm loving what's in that lip balm base!!! Its so natural and moisturizing and no chemicals (which are often in store bought products)!!!
Melt the chocolate, lip balm base and beeswax in the microwave in short 30 second increments. Once melted, pour into the lips mold and set it in the freezer.
While the chocolate sets up in the freezer, time to make the Solid Edible Massage Bar! Add 3 ounces of Lip Balm Base by weight, then add 1/8 ounce Beeswax.
Microwave the mixture in short 30 second increments until fully melted.
Once fully melted, add 8 drops of flavoring and 1/2 package of powdered stevia. We're using the Black Cherry Boom Flavor Oil, and it smells AMAZING!!! Which I'll just let you know, I'm not a cherry person at all, but I absolutely adore this!! Even my husband likes it!!! The description on the Nature's Garden website is: The aroma of ripened black bing cherries. YUMMY!!!
Now its time to fill your container! Pour into your lotion bar container until there is 1/8 left to fill. Put it aside and allow it to set at room temperature.
While your lotion bar is setting up – go ahead and check on your chocolate lips. If its fully set, pop it out of your mold and set aside. How cute are those lips??? And look at the shine on them!!!
Now pour the remaining melted lotion into your lotion bar container and quickly apply your lips. Now allow it to fully set up.
And VOILA~! We're done!! A beautiful homemade Sexy Edible Massage Bar - easily made in your own kitchen!
I don't know about you, but I LOVE making things (recipes, crafts, etc) and this is NO exception!! Making homemade lotions/lip balms has been so much fun! And just as important, I'm so impressed with the end result! This lotion bar is a rich, luxurious, moisturizing bar that can be enjoyed by you and your spouse~! I actually used it on my hands, and I loved how moisturized my hands stayed. With Winter being so dry, I'm always reaching for lotion and I'm finding the lotions I've purchased from the store moisturize your hands for only a short amount of time. I would definitely love to make these lotion bars again, and when I run out of my current one, I think I might have too~!

These Lotion Bars would also be a great thing to throw in your purse, especially when travelling when you aren't allowed to keep liquids over a certain amount. No worries here, as it is a solid lotion! And the wonderful thing about making these, is you can customize it to suit your needs – if you don't like cherry – Nature's Garden has a great selection of different Flavor Oils! So there's always something for everyone~!
Also, Nature's Garden has tons of other fun recipes and projects for you to try out! There are wonderful Cosmetic Recipes, yummy Soap Recipes , and interesting and unique Candle Recipes~!
Well now that I've made the Lotion Bars and the Lip Balms, I would definitely have to rate both of them 5 out of 5 stars!!! Honestly both have turned out to be amazing quality products!! I'd like to say a big Thank YOU to Nature's Garden and Miss Deborah Ward! I've thoroughly enjoyed this process and am very grateful to them for introducing me to this whole new world of making homemade body products!!!
Tune in next week for another "How To" segment with Nature's Garden where I'll make an all new homemade beauty product! What will that product be??? Come back next week and find out!!!

Till next time Chicas (and Chicos), keep it fun, keep it creative and always keep it homemade~! xoxo
Comments
comments