You know those cookbooks that take restaurant dishes and translate them into recipes we, the general public, can make? Well this one isn't from those books, but it IS a take on a restaurant recipe – that's where the "Top Secret" title came from! Not because I have kept this recipe a secret, but because this recipe is a take on a pizza that is sold at Papa Murphy"s! And its our FAVE pizza – we love different and flavorful pizzas, and this one definitely qualifies! This pizza isn't very spicy, but has the distinct Thai flavors, and is a nice departure from the standard "American" pizza!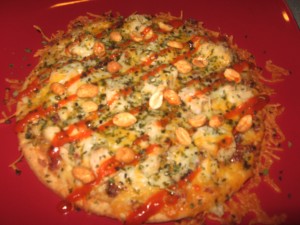 When I first found out what sauce they use for the base of the pizza, I thought "that's kind of odd". But the girl at Papa Murphy's assured me it was super popular and very delicious. And she was right. I'm glad my family and I aren't afraid of trying new things; because if you don't venture out of your comfort zone, you could be missing out on some new dishes that would quickly become some of your favorites!
This recipe is extremely easy and fast. Its our "go-to" recipe for busy nights where we're running from one of our kid's events to the other one's events. Our older child has 5-6 nights of the week filled with different events, while our younger one usually has 4 nights a week filled with different sporting events. Quite often my hubby and I will be running both of our kids in different directions at the same time. So its very nice having these kind of meals, because we all have those nights when we're so busy and this saves us on take-out. While also saving on the calories of take-out food!
First thing I do is preheat the oven to 400 degrees and line a couple of baking sheets with tin foil and spray with Pam. Then lay out your flatbreads/pitas on the baking sheets and pour the Sweet Chili Sauce on top of the flatbreads/pitas.
Now top the flatbreads/pitas with shredded cheese. Next up add the bacon bits, onions, chicken and a bit more cheese. For our pizza, we substituted the zucchini for bacon, since my hubby and kids aren't too fond of zucchini. Remember, here is where you're going to want to customize it to your family's tastes, adding as little or as much of these toppings as you think your family will enjoy! Now top with Cilantro (optional). Put them in the oven and bake at 400 degrees for 15-18 minutes, depending on your desired level of doneness. Once out of the oven, top with the garnishes: cilantro, chopped peanuts and Sriracha sauce (go easy with this sauce, as its VERY spicy).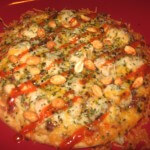 And THAT'S it~! A delicious, RESTAURANT quality pizza in no time! Easy, homemade, and not too terribly bad for you either! We always love to make homemade pizzas! They are so much fun to make, easy and you can pretty much make any flavor you enjoy into a pizza! For a vegetarian take on this recipe, take out the bacon bits and chicken, and substitute green peppers, tomatoes and carrots. And for another spin on this recipe, substitute the chicken for prawns – now that would be YUMMY~! If you don't have flatbreads/pitas on hand, go ahead a substitute french bread, bagels, or even make your own pizza dough. So many fun twists you can make on this pizza, to suit your own family's needs/tastes~! So don't be afraid to play with this recipe!
Homemade Thai Chicken Pizza - A Top Secret Recipe!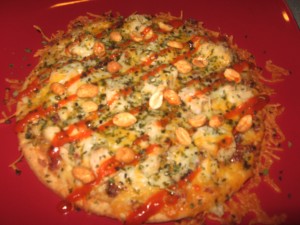 Author:
Creative Life of a Glam Wife
Recipe type:
Entree or Appetizer
Prep time:
Cook time:
Total time:
Ingredients
4 Flatbreads/Pitas
1 cup Sweet Chili Sauce
3-4 cups cheese (depending on how cheesy you like it)
½ cup chopped onion or green onion (depending on your preference)
½ cup real bacon bits (no fake ones!)
1 cup chopped, cooked chicken
½ finely chopped cilantro
Garnishes:
Sriracha Sauce, Chopped Peanuts, Cilantro
Instructions
Preheat the oven to 400 degrees.
Line 2 baking sheets with tin foil and spray them with Pam.
Put two flatbreads/pitas on each sheet.
Top the flatbreads/pitas first with shredded cheese, then bacon, onions, and chicken.
Now add more cheese and top with cilantro.
Put them in the oven at 400 degrees for 15-18 minutes.
Once they're cooked to your desired level of doneness, top with the garnishes. Add Sriracha Sauce, chopped peanuts and cilantro.
Well that's it for me folks. Hope you've all had a wonderful day! Remember you can always keep it EASY, fast and flavorful while also keeping it homemade! Till next time Chicas~! xoxo
Comments
comments