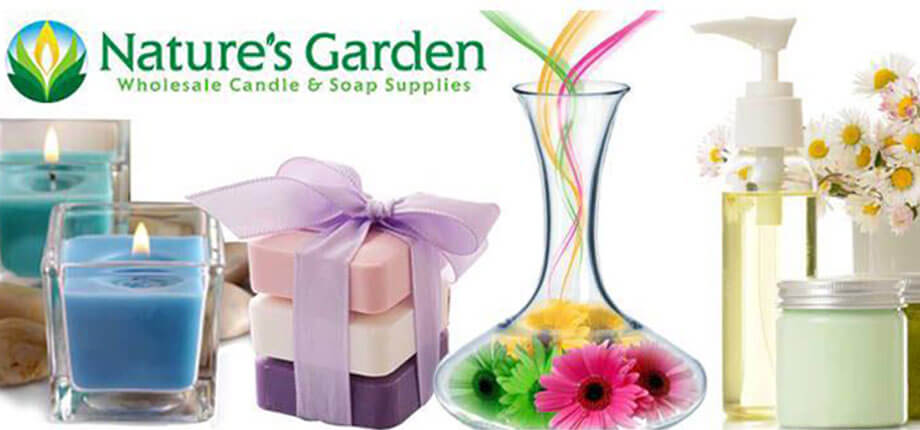 Welcome to another edition of Tutorial Wednesday~! Today we're making some moisturizing and exfoliating Lip Scrubs with Nature's Garden!!! These Lip Scrubs are a luxurious treat for the lips – giving your lips natural exfoliation while also hydrating them! Add to that, the fact that these Lip Scrubs are so easy to make, and don't have all the extra added chemicals that you find in the products at the stores! So stick with me, and check out this step-by-step process – maybe you'll find something new to add to your repertoire~!
Have you ever made your own beauty products? I'm still officially a newbie in the world of making beauty products, however I can now say I've made a few! The first item I made was Homemade Lip Balm, and I made that a few weeks ago with the Nature's Garden Lip Balm Kit. Then last week we made Sexy Edible Massage Bars with Nature's Garden Products and their recipe too! SO much fun!!! If you haven't seen those recipes and tutorial – you should check them out!!

Let's Rewind Shall We…
Before I get into making the Lip Scrubs, you might be wondering "Who is Nature's Garden?". If you've never been introduced to the world of homemade soaps, beauty products and candles – then you may not have heard of them. Nature's Garden supplies the products you need to create SO many different products from candles, to all kinds of soaps, sprays, lotions and SO much more!!! You can find out more about their company, how it came to be, and even read an interview with the CEO herself – Miss Deborah Ward by checking out the article I did a couple weeks back entitled "Nature's Garden – A Company that CARES"!
Ok, Let's Make Some Lip Scrub!!!!
First thing I did is make sure my counters were sanitized, my hands impeccably clean, and set out all my supplies and the Lip Scrub Recipe!
Now I set my measuring cup on my scale and used the "tare" feature to set it back to zero, then measured both 1 oz of Lip Balm Base and 1 oz of Sugar. Now I have to point out how awesome this Lip Balm Base is – its natural and has no chemicals! The ingredients are: coconut oil, bees wax, organic shea butter, organic cocoa butter, tocopherol (vitamin e)!!! I love that!!! And by the way, if you buy the Lip Balm Base and have extra base leftover, there are a multitude of uses for this product! You can create Lotion Bars, Massage Bars, Solid Perfumes, all natural vapor rubs and MUCH more~! All with that 1 product!!
Once you've measured out 1 oz of the Lip Balm Base, put it in the microwave for short 30 second bursts. That way you won't overheat the base, just heat it until fully melted like the picture on the right.
After you base is fully melted, add 1 oz sugar and stir well. Next add 4 drops of the flavor oil – I used Green Apple Blast. Its described as: the aroma of the tart, green apples with an extra blast and is also Phthalate free. This and other "Flavor Oils" work in lip balms, massage oils, body sprays, perfumes, bath/body products, and pet bath products. You should definitely check out their Flavor Oils – they have some amazing flavors: Creme Brulee, Bubblegum, Cinnamon Rolls, Buttercream Cupcake, Frozen Margarita, and many more!!!
Now its time to add our lip tint! I used just a little of the "Prissy Pink" lip tint! And let me tell you – its a beautiful hot pink shade! Once you drop in the tint – mix well until its fully incorporated.
You are now ready to pour your mixture into your lip balm tubes! They set up pretty fast – which surprised me! It doesn't take long at all! This recipe made 11 yummy tubes~!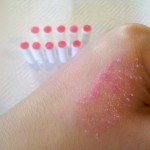 I swatched it on my hand here for you all to see! It really does feel super moisturizing (thanks to the lip balm base), but yet with gentle exfoliation (thanks to the sugar), and smells divine! Its a wonderful product that I find myself using often!!! It feels so luxurious~! When you think about how little time it took to whip up this recipe – and it makes 11 tubes!!! You'd be set for a long time if you kept them – or you can make them and give them away as gifts~!
How fun was that??? I loved it!!! And if you are interested in making your own homemade beauty products, Nature's Garden has a Cosmetic Recipes Section, a Soap Making Section and a Candle Making Section of their website! So whichever tickles your fancy – you'll find it there for sure~!
I was perusing the Cosmetic Making Recipes section, and I found a couple that look super fun! You can make Solid Lotion Bars, Body/Room sprays, Bamboo&White Grapefruit Shampoo Bars, Strawberry Milkshake Bath Bombs, and even some Bling Bling Lip Gloss~!!!! Uhhh….I think I'm in LOVE~!!! I just have to say – Deborah if you are reading this, I'm available to make more products~!!!

haha
So what did you think? Is this something you might try??? I hope you all enjoyed it as much as I did!!! Thanks for sticking with me, for this creative little adventure together~! Its been so much fun and I think has opened up a whole new world for me!!!
You all know how passionate I am about making things from scratch, whether its recipes, crafts, and now beauty products!! The health benefits make it so worthwhile, and when you add to that, that you are getting a higher quality product; you can't go wrong!!!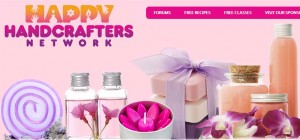 If you think you'd be interested in these homemade products but aren't interested in making them – you can go on over to The Happy Handcrafters Network and find tons of businesses that sell amazing products~! Happy Handcrafters is also a forum for people to share all things related to soap making, candle crafting, cosmetic making, bath and body, general crafting, recipes, AND even has a Business Information section!!! It is such an amazing resource in a multitude of areas!!! There is honestly something for everyone there~!
Oh, and I'd be remiss if I didn't mention Miss Susanne over at Passionfruit Island - she creates amazing and beautiful bath and body creations~! And one more shout out to an awesome friend that creates gorgeous and unique jewellry, Miss Deanna over at Aqua Dragonfly Creations~! Just a couple shout outs for now!

I'll have to do many more at a later date~!
Till next time my Blog Beauties – keep those lips exfoliated, while also keeping them moisturized, as long as you keep it homemade~! xoxo
Comments
comments