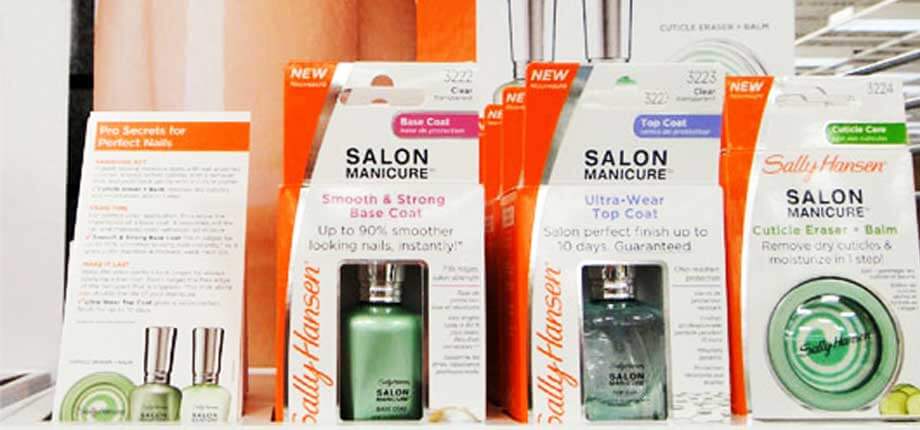 Happy Friday Friends~! How is everyone doing? I'm excited, my Mom is coming into town today to visit for a couple of days! So that will be fun, and we'll be celebrating my little one's birthday as well! So a very special weekend indeed!
We're doing something a little different today! I know I usually bring you a recipe each Friday – but I was dying to share this review with you. And I will post a recipe for you early next week! Does that sound good? Who knows, if I have time – I might even post a recipe on Saturday! All depends on what's happening, since we have my Mom in town~!

Today though, I'm bringing you a review of Sally Hansen's Complete Salon Manicure Base and Top Coat!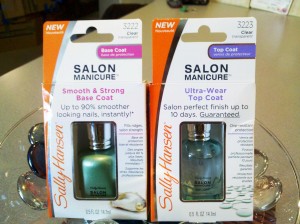 Here are the much anticipated Sally Hansen Salon Manicure Base Coat and Top Coat. Well, it was much anticipated until I tried it.

You probably know now, that this isn't going to be one of my "glowing" reviews. Nope. It isn't. Unfortunately I was vastly disappointed with this product, which surprised even me, since I absolutely love the Sally Hansen Complete Salon Manicure line of nail enamel! This line in fact made #1 on my list of "Top VIP Beauty Products – Best in Beauty for your Buck"!
But unfortunately, the top and base coat were not nearly as good as the nail polishes from the same line.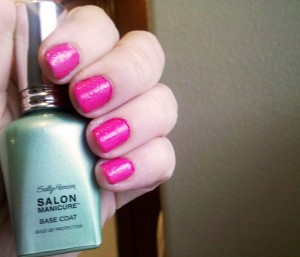 Here is a picture of the manicure that I did using the Salon Manicure Base Coat, Top Coat and Complete Salon Manicure in "Back to the Fuschia". Do you see the bubbling/lumps on my polish? It didn't give a smooth, glossy effect, which is what I'm used too with the products I normally use. Normally I use Nail Life Gripper and Seche Vite for the base and top coats.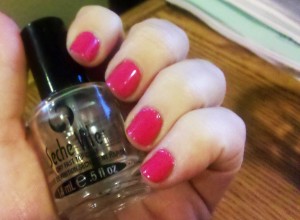 Here I've done the same manicure, except I used the Salon Manicure Base Coat, same nail polish (Back to the Fuschia by Complete Salon Manicure), and Seche Vite for the top coat. This was my "litmus test", to see which of the two products (top or base coat) were contributing to that unsightly bubbling on my nail polish. Notice the smooth, glossy finish in this picture! That's what I've become accustomed too~!
This leads to me to the conclusion, that the top coat is the culprit of the "bubbling" on the first manicure where I used both of the Sally Hansen base and top coats. The Salon Manicure Top Coat doesn't give it the smooth, glossy look that we all love. The Base Coat is "ok" I guess – although it didn't give it amazing staying power. So I ended up returning the two products to the store which I purchased them at. And while the base coat didn't perform too badly, I prefer Nail Life Gripper. Althought I will say, we all have different needs and issues with our nails, so what works for one person, may or may not work for another. This is simply my opinion, based on my own nails!

But I will say, none of this affects the fact that Sally Hansen Complete Salon Manicure nail enamels are still my absolute FAVE line of nail polish~! They have the longest staying power of any nail polish (for natural nails) and, I find, even strengthen my nails while wearing it!
So I will continue buying my trusty Seche Vite and Nail Life Gripper; BUT I will also continue buying the Sally Hansen Complete Salon Nail Enamels!!! And Sally Hansen, if you're reading this, please make some glittery, chrome and matte shades of your Salon Manicure~! Those would be amazing additions to your line, and would definitely be at the top of my wish list~!
Well that's all for me today, on this fine Friday~! Do you have any faves when it comes to your manicure routine? I'd love to hear from your trials, which products you can't live without! And even the ones you'd recommend we stay away from!
Till next time Beauties, keep those nails glam, glossy and always keep them looking SALON MANICURED~!!!
Comments
comments