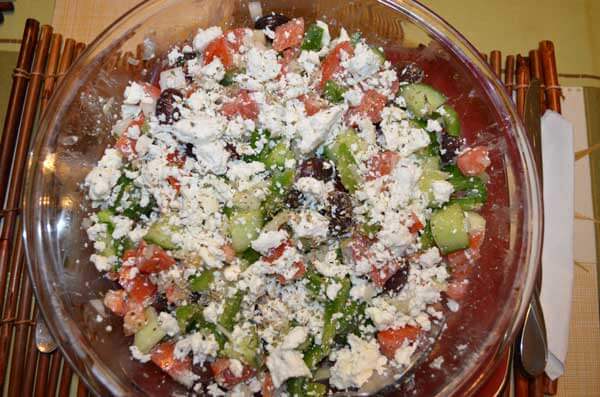 Have any of you ever had Greek Salad? Growing up in our house, it was a staple! One of those refreshing salads that pretty much go with everything~!!!
If you haven't had Greek Salad, its basically a crunchy salad with a vinagrette, but with some yummy extras! Those extras are feta cheese, olives and the delicious homemade dressing!!! A couple of my very favorite things!!
So while this salad makes the perfect accompaniment to any Greek meal, don't think of it as one that has to be paired with only Greek food. This goes wonderfully with burgers, chicken, steak, and pretty much anything else where you are looking for a salad side dish!!!
Often if we have leftovers, the next day I"ll have it as my main meal after adding some protein to it (ie Chicken or Shrimp). This salad has gotten the stamp of approval from my "picky eaters" in the house, who aren't fond of salads! So that's quite the huge compliment.

Now Who Can Say No To This Salad!!!???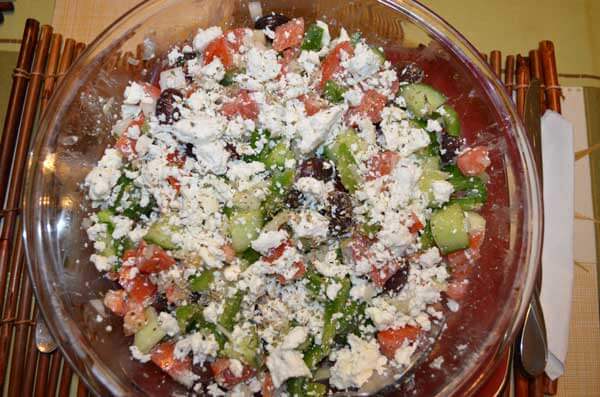 Don't forget to use this recipe as a "guideline". Feel free to substitute different veggies if you find some in the recipe that you aren't fond of. Its all about tailoring these recipes to your own family's individual tastes and needs~!!!
Now are you ready for some recipe goodness???? Here goes….
Greek Salad - A Delicious, Flavorful, and Healthy Salad!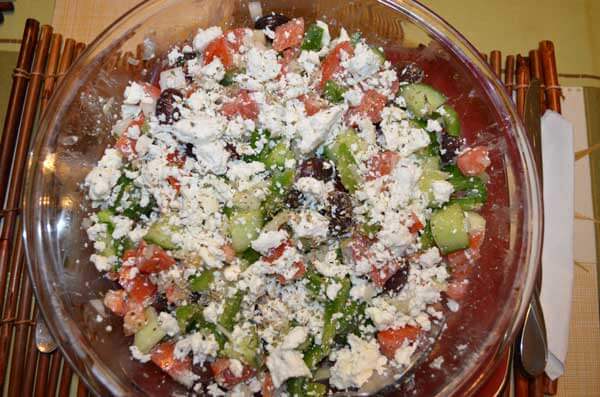 Author:
Creative Life of a Glam Wife (via my parents)
Ingredients
1 English Cucumber, cut into large chunks
2 Green Peppers, cut into large chunks
1 Red Onion, cut into smaller chunks
2-3 Large Tomatoes, cut into large chunks
1 cup Feta Cheese, crumbled (Or more, if you love it like I do!)
1 cup Black or Kalamata Olives (seeded)
DRESSING:
2 Cloves Garlic, minced
¼ cup Red Wine Vinegar
¼ cup Olive Oil
⅛ cup Lemon Juice (fresh preferably)
¼ cup Apple Cider Vinegar
1 tsp dried Oregano
Salt and Pepper to taste
Instructions
Combine all of the dressing ingredients in a smaller bowl, or in a jar if you have one available. Mix well, or shake it up (if its in a jar with a lid). Set aside in the fridge so all flavors combine while you make the salad. This step can be prepared hours, if not a day in advance, to save time.
Chop up all the veggies and olives, and toss into a large serving bowl.
Pour dressing over veggies and toss to combine.
Top with the Feta Cheese and sprinkle lightly with some additional oregano.
Enjoy~!!!!
What's your favorite salad recipe? I'm always looking for new salad recipes – salads are one of my absolute favorite meals!!! So feel free to drop me a line and let me know!!! I always love hearing from you!!!

Till next time Chicas, think outside the box when you're looking for a fun side dish or salad for your meal! Its all about enjoying fresh and flavorful salads, while also trying recipes from different cultures~!!! xoxo
Comments
comments