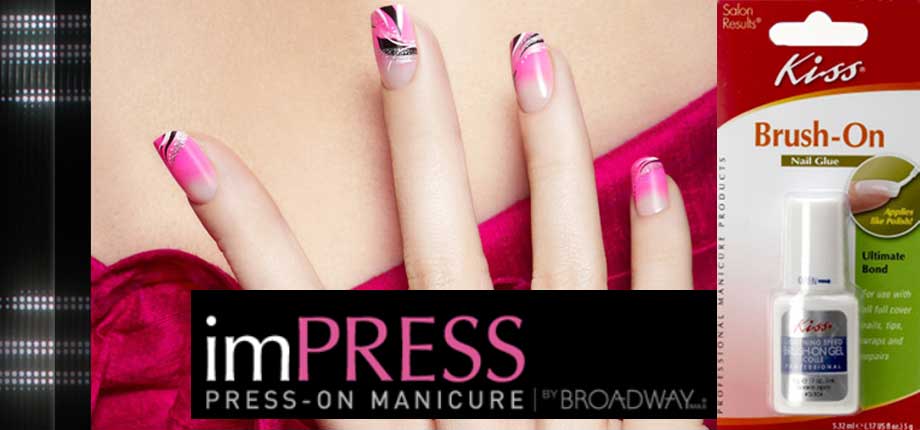 I've made it no secret that I'm a huge fan of Broadway's imPress Press On Manicure. Everytime I wear them out, people are always commenting on how professional my nails look and wondering where I get my nails done! Its always neat seeing the looks on people's faces, when I tell them I purchased this product at the drugstore for under $10!!!
Add to that, that it's literally a 10 minute manicure – start to finish!!! No drying time, no stinky nail polish smell, and this product is peel and stick!!! Because of all these factors, you can do this manicure anywhere, anytime!!!
If you are new to these products, Broadway Nails imPress Press On Manicure is a press on gel manicure. I've done a couple of articles/tutorials on the imPress Manicure here: An "imPress-ive" Manicure Part 1 and An "imPress-ive" Manicure Part 2. Here's what Broadway's website has to say about this product:
No drying time–The imPRESS Press-On Manicure delivers an instant salon-perfect manicure without the drying time of polish or nail glue.
Superior, lasting shine—An indestructible top coat that rivals the best salon gel polish.
Easy removal—Gently peel from sides or apply polish remover around the edges, wait 1 minute, then peel off.
Lasts up to a week—When applied properly, imPress Press-On Manicure lasts up to a week while keeping nails protected. What polish can say that!
My Latest imPress Manicure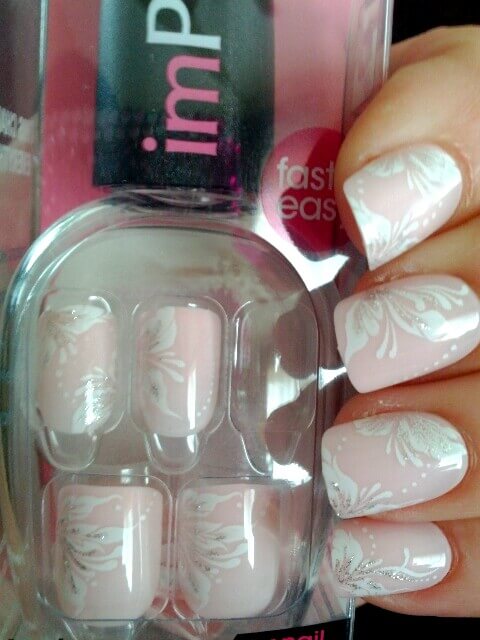 How gorgeous are these???

Now I have to show you, the imPress Manicure website is featuring a new series of patterns called "The Nicole Series". These are some super cute and funky new designs!! I spy SEVERAL ones I need to TRY~!!!


The Purpose for This Article is Prolonging Your imPress Manicure!
I normally have great success with how long this product lasts on my nails. But this time – with the manicure you see above, 3-4 nails started coming up within a couple of days after first applying it. This was a first for me! These always last so well, so I figured I must have applied them a little too soon after using the wet alcohol wipe included in the package. Which would make sense, seeing as how so many were lifting so quickly after initial application.
So I headed to my local Walgreens, and picked up Kiss Nails Lightning Speed Brush On Nail Glue. At only $2.99 regular price, I figured this was worthwhile trying.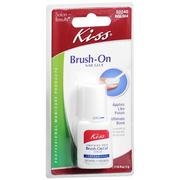 1. So I began by sanitizing the imPress gel nails with rubbing alcohol, then sanitizing my nail beds with rubbing alcohol as well.
2. Then I brushed the glue onto the imPress product, then brushed it onto my nail bed.
3. Next up, I pressed the imPress product onto my nail bed and held it in place for 10-15 seconds. And VOILA – DONE~!!!
Let me just tell you – this was an absolute SUCCESS~!!! I was able to stretch my imPress manicure to 14 days~!!!! I love that!!!
Now normally I don't have any issues with these lifting, but having this little bottle of glue around will be a lifesaver in case one of them lift! This little bottle will be my MANICURE SAVER~!!! Yessir, thank heavens for Kiss Nails Lightning Speed Brush On Nail Glue !!!
Grade?
A++. I would highly recommend this product!!! And by the way, when I was ready to remove my manicure, it was easy to remove, even though this product provides a superior bond!!! Honestly – I can find any negatives about this at all~!!! Way to go Kiss Nails for creating a professional quality product, for us at home "manicure-istas"~!!!
Well that's it for me, my beauties! Have you ever tried this product? Or is there another one, along the same lines you would recommend?? Please feel free to share with us, I love hearing from you!!!
Remember its all about keeping our nails looking fabulous, glam, and salon-manicured, while also having them stand the TEST OF TIME~!!! xoxo
Comments
comments