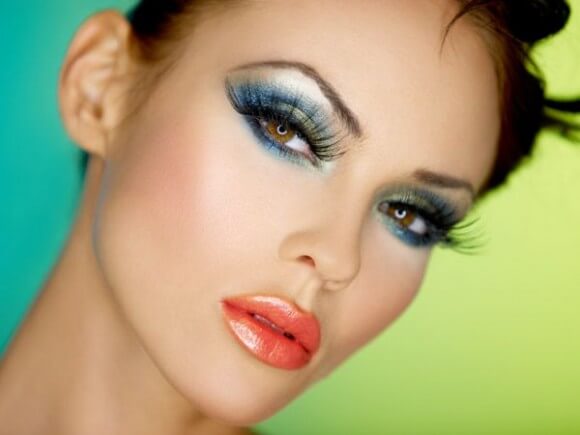 After a seemingly long and dreary winter, its always refreshing to pop into beauty/drugstores in early Spring and find the spring and summer displays up~!!! Pops of soft colors, bronzes, and lots of brights are just a sign of beautiful weather to come~!!! And although my region doesn't receive a lot of snow, winter usually means lots of gray skies and LOTS and lots of rain. So the sunny weather and fun Spring/Summer beauty are definitely uplifting treats, as well as a sign of things to come~!!!
For Spring and Summer 2012, you'll see a lot of beautiful tangerines, vibrant turqoises, teals and tropical brights, sunny bronzes, and playful fuschias, pinks and corals~!!! And I don't know about you – but I'm so excited to incorporate these new and refreshing colors into my daily makeup routine~!!!
This past weekend, while I was strolling through some local drugstores and department stores, I thought I'd take some pictures of the new beauty displays. This way, if you haven't seen the new displays or have been too busy to check them out, I'm bringing them to you~!!!
New From Loreal….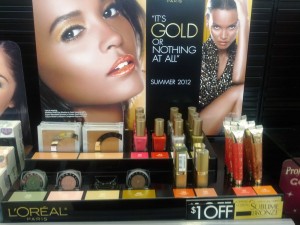 Here's Loreal Summer 2012 Display. I'm loving the corals, bronzes and pinks~!!! I'm definitely wanting to try some of those eye shadows and the bronze gloss – don't they look fab???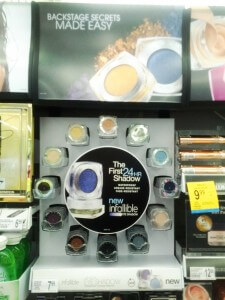 Have any of you tried these new Infallible Eye Shadows from Loreal??? The colors are absolutely gorgeous~!!!
New From Revlon…
Here's Revlon's Summer 2012 Collection "Escapism"~!!! Filled with your tropical shades of blues, along with some corals, fuschias and bronzes~!!! These definitely inspire a "Tropical Getaway"~!!!
And here's Revlon's new Crackle Effect Nail Polish Duos! Have any of you Chicas tried these??? I have to say, I love the portability and packaging of these~!!! Very easy to throw in your purse, and do your manicure on the run~!!!
New From Wet n Wild….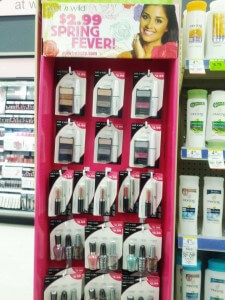 Wet n Wild's Spring Fever brings wonderful paired Nail Polishes, Lipsticks, and Eye Shadows~!!! As always, at such an amazing value, considering the wonderful quality~!!! You all know how much I love my Wet n Wild~!!! xoxo
New From Sally Hansen….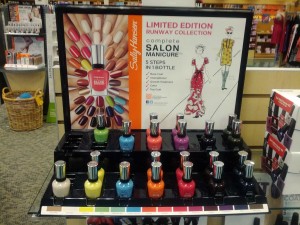 Here's Sally Hansen's New Runway Collection of Salon Manicure Nail Polish~!!! If you read my Beauty VIP Products – Best in Beauty for your Buck, you remember that the Salon Manicure is my absolute favorite Nail Polish for natural nails~!!! These polishes stay on your nails without chipping than any other brand I've tried~!! And check out these new vibrant colors – aren't they beautiful??? Loving this new collection~!!
New From Maybelline…
Spring has arrived at Maybelline Cosmetics - check out these beautiful soft pinks, light blues, teals and bronzes~!!! WOW – these look gorgeous~!!!! Maybelline is quickly becoming one of my favorite brands, with their diverse products, quality and beautiful color selection – you can't go wrong~!!!
Wow. Just WOW. Can you believe these vibrant, rich colors??? Maybelline's Summer Collection "Exotic Escape" is quite a stunner, to say the least~!!! I think I want every single product from this collection~!!!

Seriously. Maybelline – you have outdone yourselves with this one for sure~!!! From the eye shadow duos, to the lipsticks to the bronzers, everything you'd need to get that beautiful summer glow!! And remember ladies, if you are a fan of Superstay 24 hour lip color like I am, don't count out buying these lipsticks!!! What I love to do, is layer colors. So apply your Superstay, let dry, then apply one of these lipsticks over top to get a totally new look and color~!!! Make sure to finish with a very emollient gloss, to extend the life of your Superstay~!!!
And speaking of Superstay Lip Color – I love how Maybelline's Superstay Products are displayed here! All of them easy to see and compare, to find just the right product for you~!!! Have any of you tried the Color Tattoo line from Maybelline yet??? Color Tattoo from Maybelline is getting some stellar reviews~!!! People are loving this line – and its no wonder why, the colors are to die for, and it has amazing staying power too~!!!
Maybelline has just launched a new line of Nail Enamel, appropriately called "The Color Show". I love the simple, understated packaging, that keeps the focus on all the diverse colors this line brings you. They're truly is something for everyone with this line~!!! Have any of you tried these new nail polishes??
I haven't seen any new Covergirl, Milani, or Rimmel Spring/Summer Displays yet. But I'll keep my eyes peeled and if I see some new ones I'll take some more pictures and bring that to you in an upcoming post. What new products appeal to you? Which ones have you tried?? Let me know – I'd love to hear from you!!!
Until next time my beauties, with Spring now here, and Summer rapidly approaching; its all about changing up your beauty routine by keeping your makeup VIBRANT, BRONZED and FRESH~!!! xoxo
Comments
comments