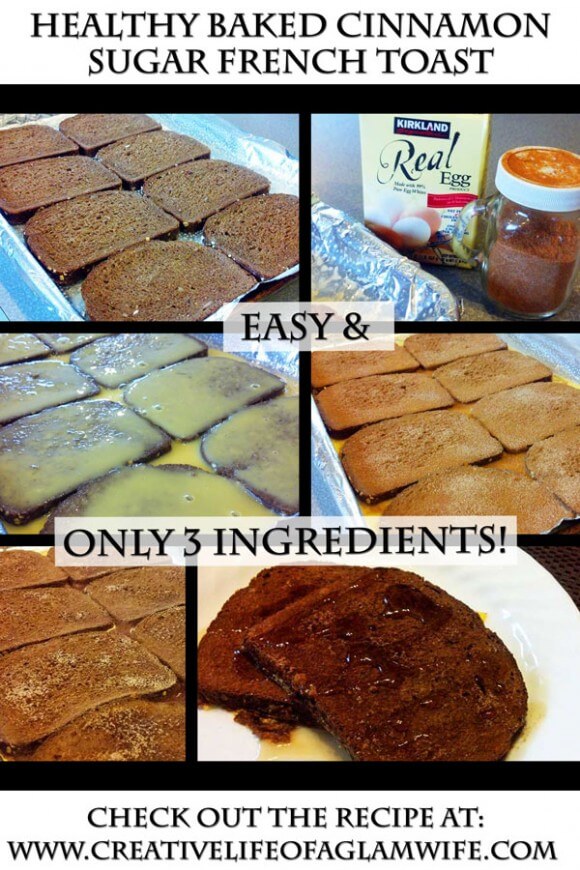 When you think of French Toast, what comes to mind? For me, its the delicious albeit unhealthy breakfast that you have to sit over the stove to cook. So if you are cooking this for a crowd, you won't get any time visiting with anyone. And depending on how you fry it, the calories can really add up fast.
So it's time for a recipe renovation!!! We're changing up how you cook French Toast, along with some of the ingredients to reduce calories and infuse flavor~!!! And the product of this is my Healthy, Baked Cinnamon Sugar French Toast!!! And it has become a staple in our home. I love that it packs more protein than standard pancakes, is super easy to make and super delicious! Definitely a winning combination!
Here's the Finished Product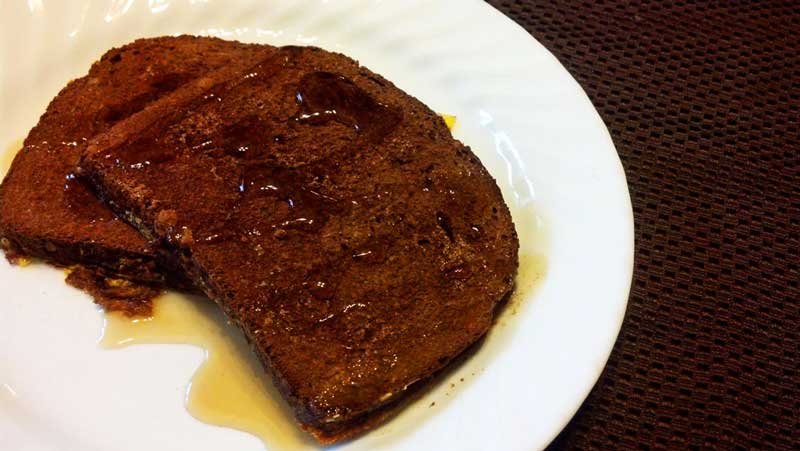 Now Let's Get Started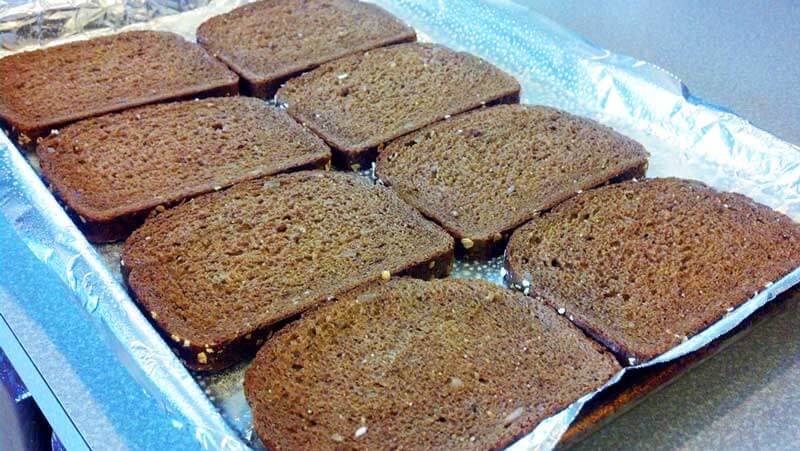 First things first, preheat your oven to 425 degrees. Now on a large baking sheet, lined with tin foil and sprayed generously with Pam, lay out 8 slices of whole grain bread.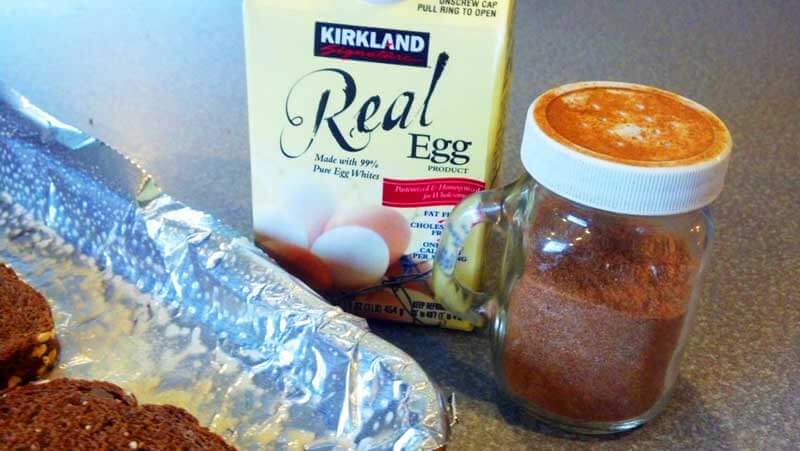 Time to get out your ingredients. You'll need 1 (16 oz) container of Egg Substitute and some cinnamon sugar (you can make your own as we do. We use a ratio of 6 tsp of sugar to 1 tsp of cinnamon. But here you can also substitute a sugar substitute to reduce sugar and calories. Also this is to taste. You can use less sugar or sugar substitute depending on how sweet you like it)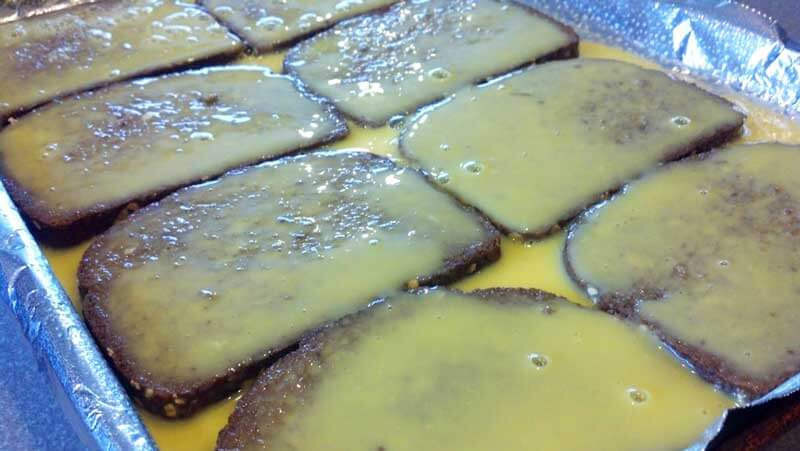 Now pour the egg substitute over each slice of bread, making sure to coat all the slices generously.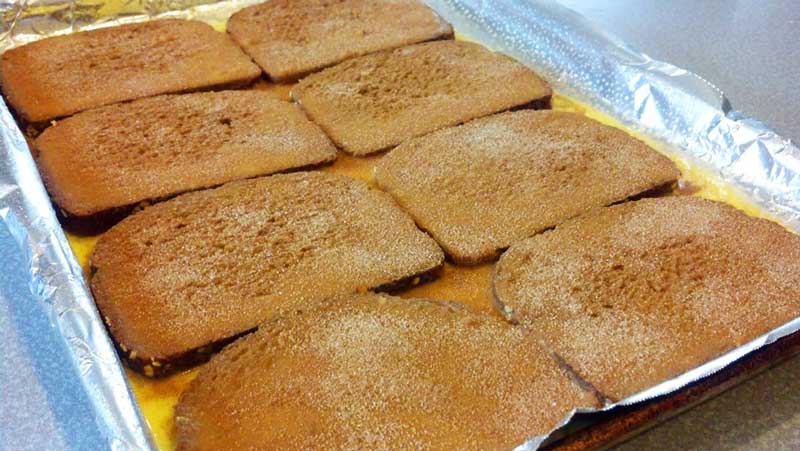 Time to pour the cinnamon sugar over the bread. You can be as sparing or generous as you'd like, depending how cinnamon-y or sweet you'd like it! We like ours very cinnamon-y! So there's no right or wrong answer here, its all to taste! Now its ready to go into a 425 degree oven for 15-17 minutes, depending on how crispy you'd like it!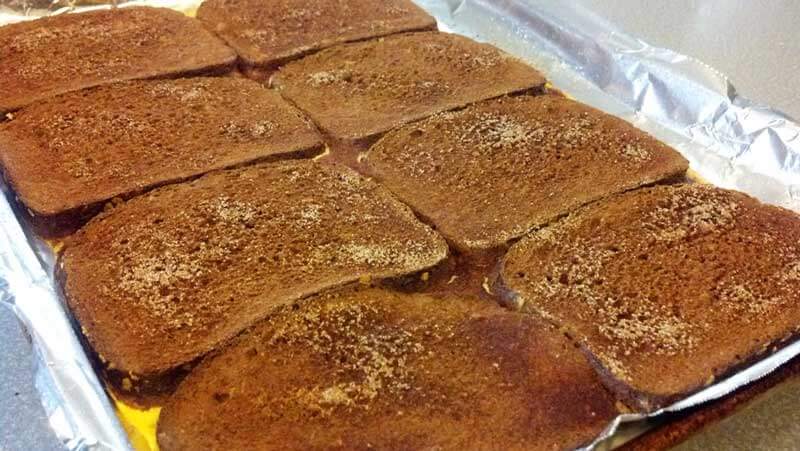 After it comes out of the oven, this is what the finished product looks like! Its ready to cut and serve with your favorite toppings or syrup~!!! Very, very easy. And although this recipe makes enough for 4 people, its easily doubled for 8 people, if you're having company. Or sized down for 2, or even just a single serving. This is such an easy, healthy, protein filled breakfast to make.
Healthy, Baked Cinnamon-Sugar French Toast - Only 3 Ingredients!
Prep time:
Cook time:
Total time:
Ingredients
8 Slices of Whole Grain Bread
1 (16 oz) container of Egg Substitute (OR 8 Eggs and a Dash of Milk, beaten)
Cinnamon Sugar (Using Sugar or Sugar substitute, at a 7 tsp sugar to 1 tsp cinnamon ratio or to your own taste. Mixed in a shaker or in a bowl)
Instructions
Preheat oven to 425 degrees.
Line a large 10 x 13 baking sheet with tin foil and spray generously with Pam.
Lay out the bread in a single layer on the baking sheet.
Pour the egg substitute over the bread, making sure all pieces are generously covered.
Sprinkle the bread thoroughly with the cinnamon sugar mixture.
Bake for 15-17 minutes or until the french toast is as crisp as you like it.
Serve with syrup, flavored syrups, fruit compote or whip cream. Or any mixture! Enjoy!!
(Personalize this with gluten free bread for those needing gluten free, or sugar substitute for people needing to reduce sugar intake! Very easy to tailor to your dietary needs!)
What are you favorite breakfasts??? Do you have a different spin on French Toast??? Or if you can think of any other fun toppings for this recipe, let me know!! I love hearing your feedback!!
Thanks for sticking with me today! Hopefully you'll try this recipe and enjoy it as much as we do! Till next time my beauties, you can always keep it EASY, FAST, and DELICIOUS, while always keeping it HEALTHY~!!! Much love, hugs and blessings to you all~!!! xoxo
Comments
comments