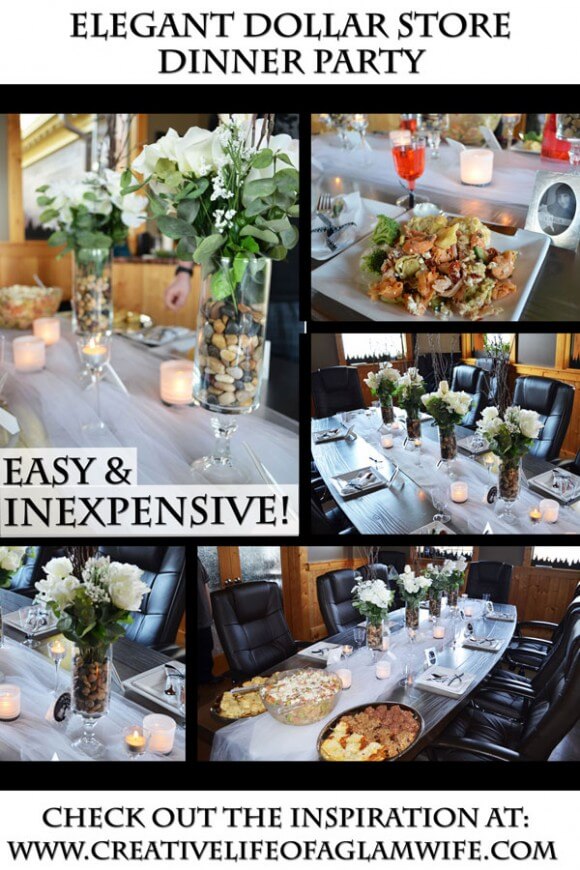 You're probably thinking the words "elegant" and "dollar store" don't belong in the same sentence, right? At least that's what I thought, until perusing Pinterest and setting out to create an elegant dinner party on a dollar store budget! And although you won't necessarily find items that can stand alongside Pottery Barn or Crate and Barrel. All it takes is some imagination and a little DIY inspiration, and you'll have a "Pottery Barn-Worthy" dinner party that looks like it came out of the pages of a magazine!!!
So when I found out we were going to meet some family a couple hours north at conference room we'd rented out, I right away began planning. The idea I went with was a rustic/elegant/natural look for the dinner party. First I started looking through my own decorating stash and then made a list of items I would need to complete the look. After shopping at my local Dollar Tree, I created a "mock" set up at home, so I could get a feel for how it would look and if I needed anything else. This proved to be very helpful, as I'd assembled all the place settings and packed them up neatly in ziploc bags for easy transport. And when we got to the conference room, it was super easy to take out each setting! Set-up was a breeze and so fast because of this!
As you'll see on the table – everything was purchased at Dollar Tree (with the exception of the big glass bowl, the tulle and ribbon)~!!!! Some items I'd already had in my stash and some were newly purchased. And I have to say, I was pretty impressed with the level of elegance you can create out of dollar store items!
OK, so I'm NOW a dollar store believer!!! haha!!! How about you??
The centerpieces I've featured in a past tutorial entitled DIY $5 Elegant Dollar Store Centerpiece Tutorial. These were super easy and fast to create, so if you haven't seen that tutorial – check it out~!
Here's the "Mock" Set Up On My Table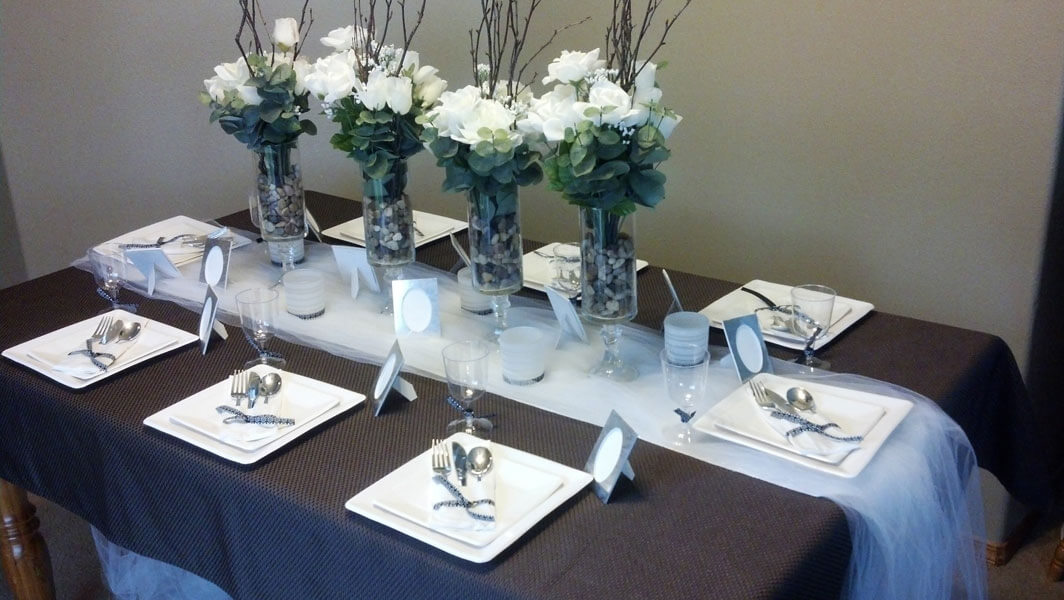 Supplies On Hand:
Supplies To Purchase:
Package of Large Square Paper Plates ($1)

Package of Small Square Paper Plates ($1)
Package of "Silver Looking" Plastic Cutlery ($1)
Package of Plastic Goblets ($1)
Package of Large Napkins ($1)
White Table Runner ($1)
5 Tall Glass Votive Holders ($5)
Total Cost = $11 (Or $31 including supplies for centerpieces)
Final Look After Setting Up in the Conference Room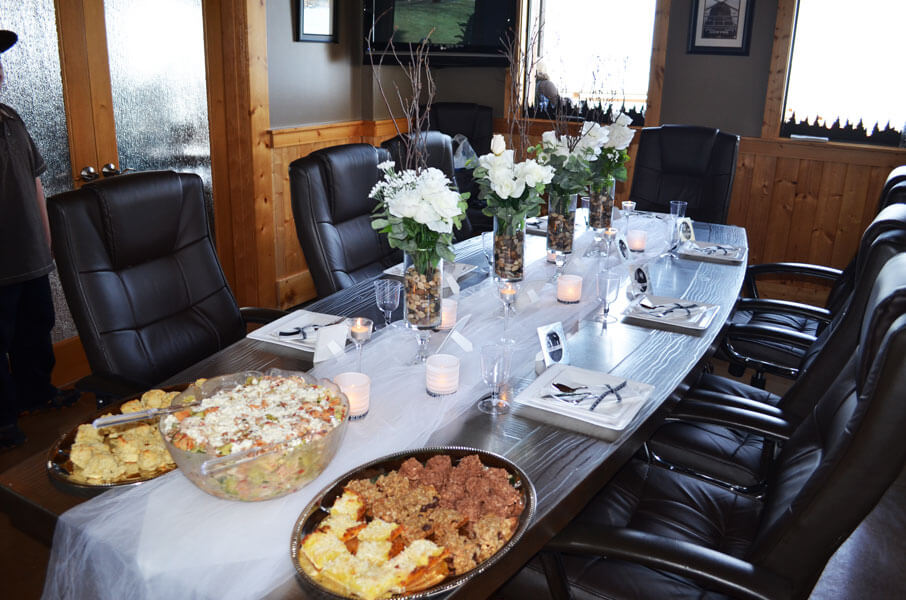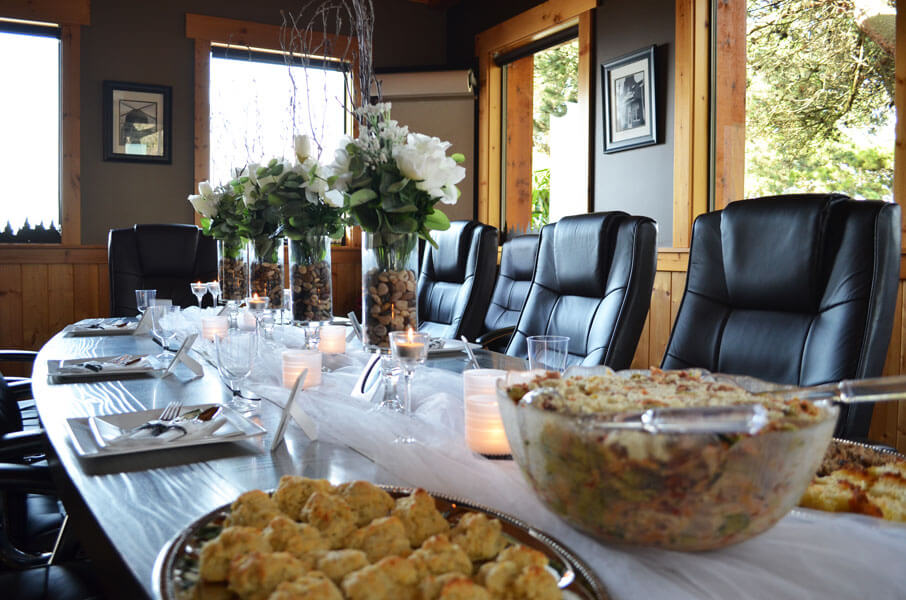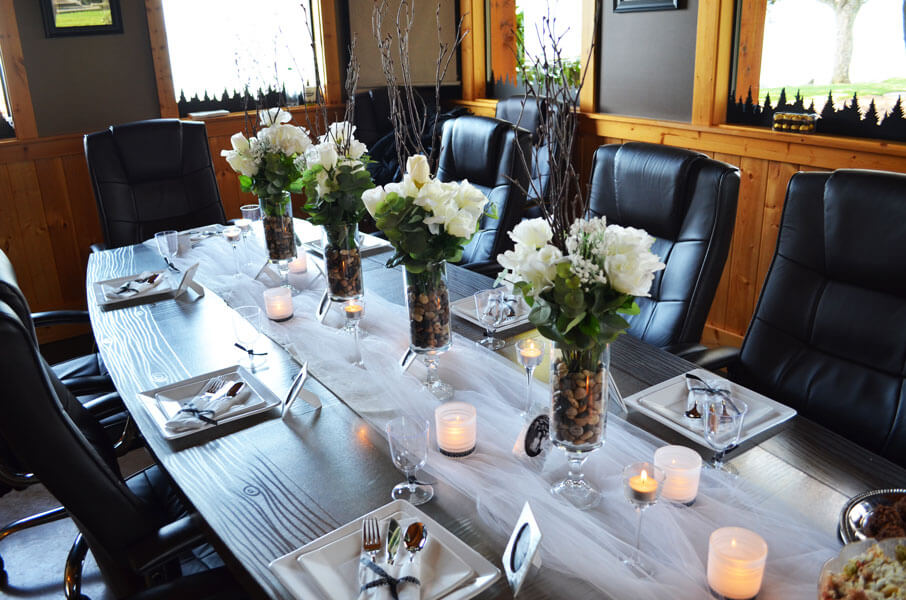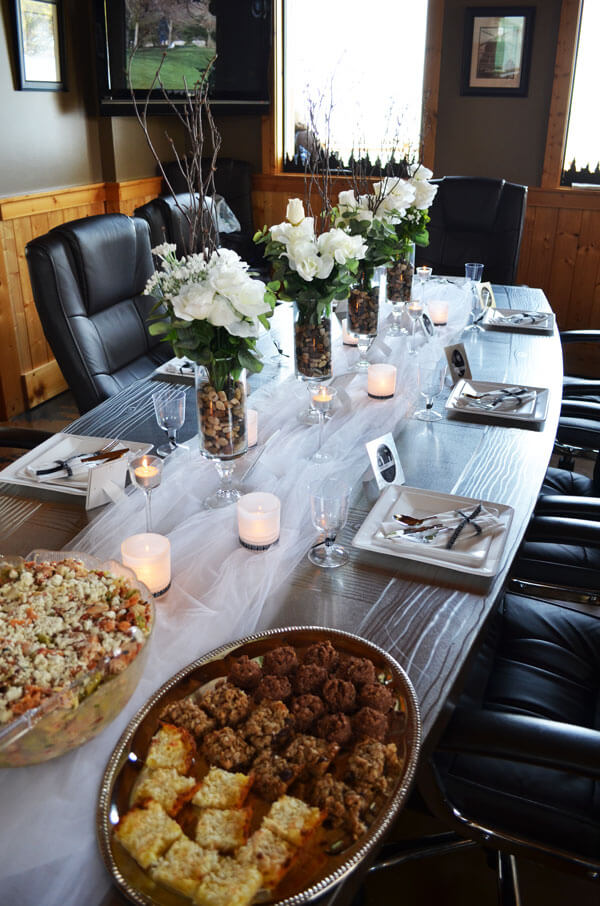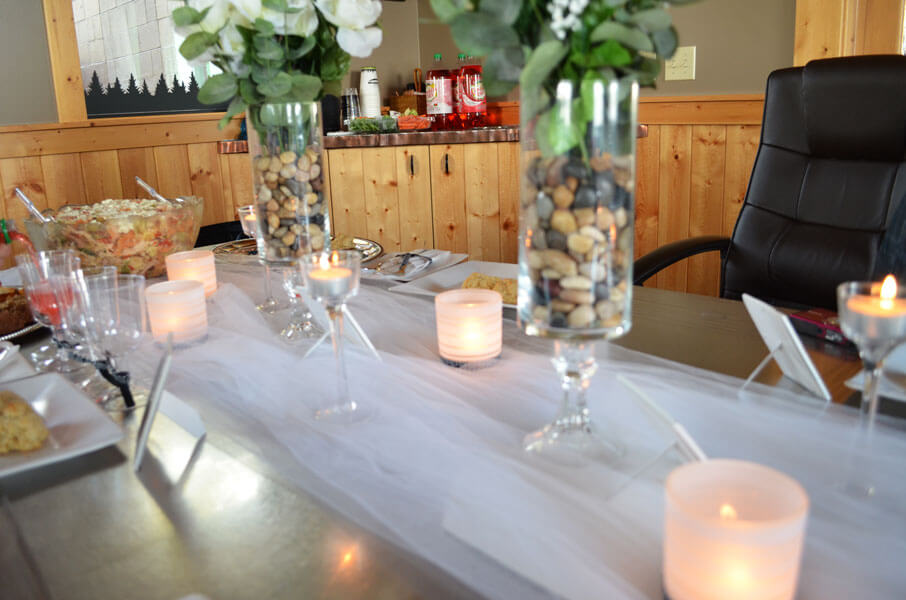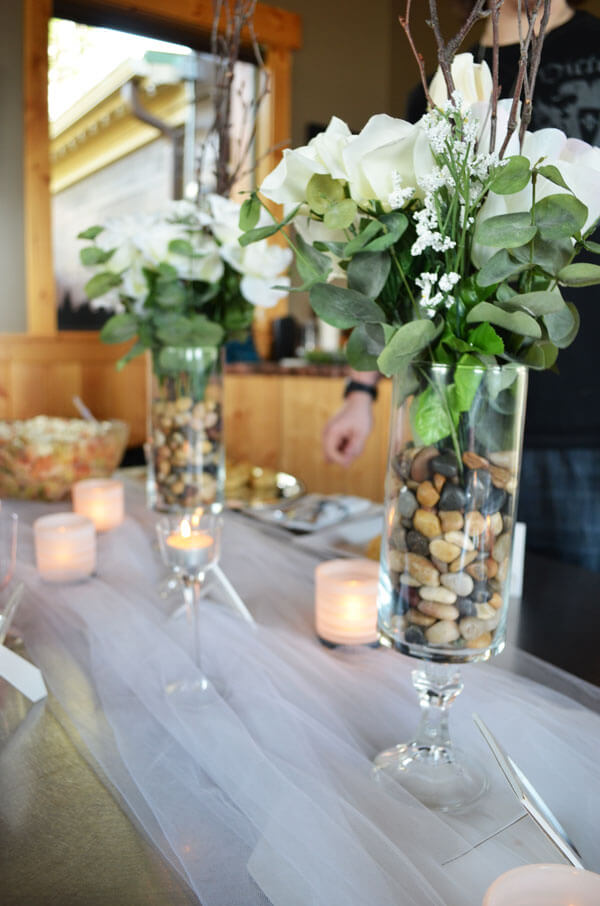 In the center of the table I layed out the white table runner, and layered the tulle on top of that. Then went ahead putting the centerpieces, candles, and frames on top.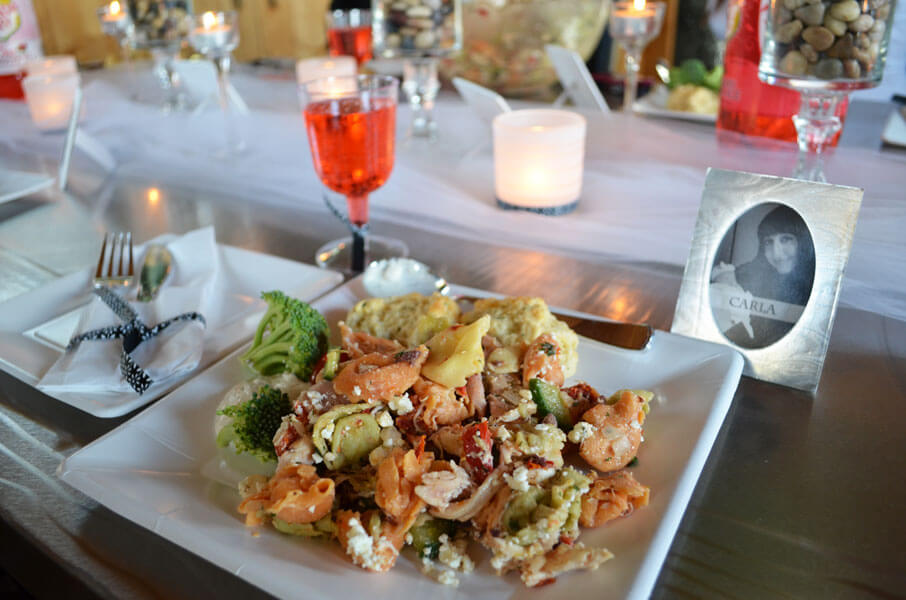 Each place setting, aside from the standard plates, napkins, silverware and glasses, also had place cards in the form of these frames. I had these on hand, which I'd purchased at Dollar Tree a couple of years prior. They came 6 to a pack for only a dollar!!! What a steal! I just printed out pictures in black and white, and inserted them into the frames. And the ribbon I used around the votives, glasses and napkins, was ribbon I'd had on hand from scrapbooking.
Not too shabby, right?
We had such a special time with our family, and they loved how everything turned out. In fact, we videotaped them coming into the room because we knew they weren't expecting anything that elaborate. And it was so precious to see how much they enjoyed it and how it blessed them.

What a beautiful day we had~!!!
Well I hope if you haven't already considered the local dollar store as a source of great party supplies, that I've converted you. Or at least inspired you to get creative with what they sell and have fun with it!! You can definitely take chances with items from the dollar store, because they are so affordable!
Next time you are planning a party, gathering or just looking to decorate, consider taking a trip to the dollar store to see what you can find! Think of all that you can create with the treasure trove of items they sell!!! Remember you can always keep it ELEGANT, HIGH-END, and LUXURIOUS while also keeping it AFFORDABLE~!!! Till next time my beauties, sending you all lotsa love, hugs, and blessings~!!! xoxo
Comments
comments