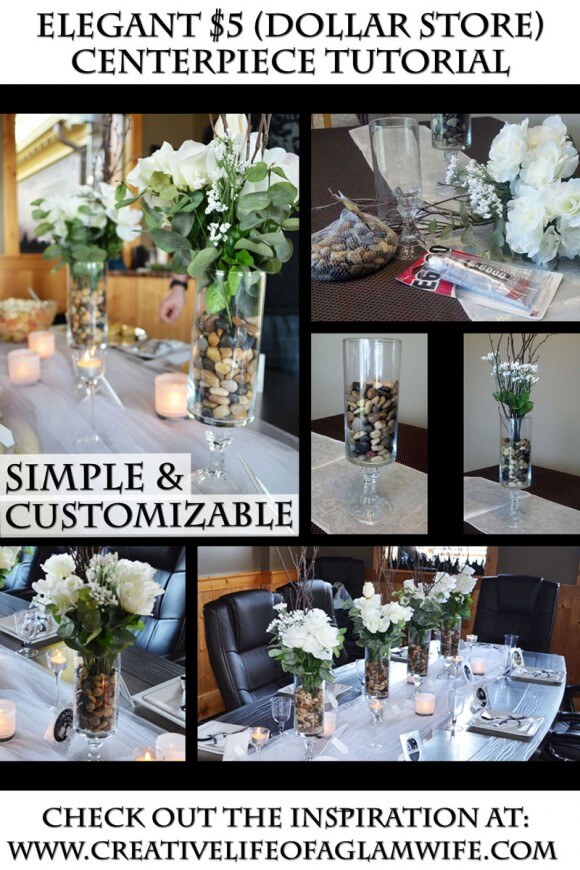 You'd be surprised what you can find at the dollar store. I certainly was. I used to buy my florals only from Michaels or Craft Warehouse, resigned to the idea that you couldn't get nice looking ones from dollar stores. I thought everything the dollar store sold was cheap looking and couldn't be elegant. But after surfing Pinterest, I soon saw people creating very elegant looking decor from materials purchased at the dollar store. The one common thread, it seems, is when creating that "elegant-looking decor" from dollar stores, is there is some elbow grease required. They don't offer "ready-made items" that look like they came out of the pages of a Pottery Barn or Crate and Barrel catalog. But that's totally fine with me, because I love to get CRAFTY! And I'm even more proud of myself once I've "created" an item in my home, versus just buying it. Don't you think?
So when a fun family get together came up, I thought this would be the perfect time to "exercise" my craftiness, and try out some dollar store decor! I set out to create centerpieces, that were simple, elegant, yet had a natural feel to them. I used some items I had on hand, mixed with only a couple of items from the dollar store, and VOILA~!! I had a beautiful centerpiece, that even I was shocked at how high-end it looked. And to add to it all, was the fact that I put it together in only a matter of minutes! Super simple and super easy!!! Who doesn't love that, right???
Time to Get Crafty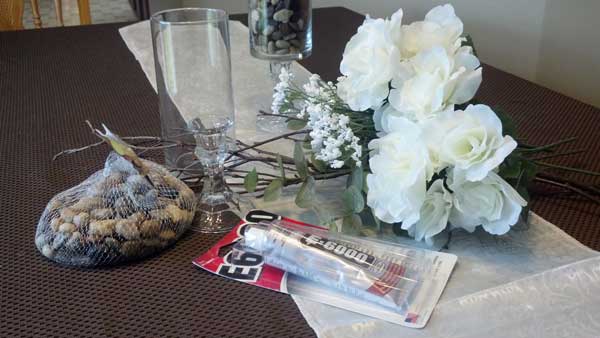 First up: the supplies!
Dollar Store Supplies ($5 Total, possibly cheaper if you have any of these supplies on hand!)
Bag of River Rocks ($1)

Glass Candlestick ($1)
Round Glass Vase ($1)
2 Bunches Flowers ($2)
Supplies On Hand
E6000 Glue

Branches
Filler Florals – Such as Leaves, Eucalyptus, Baby's Breath etc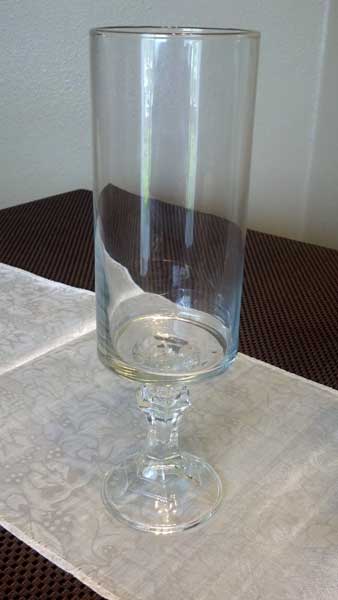 First things first: glue the candlestick to the center of the vase at the base. (Look at me, such the poet.

haha) Make sure you give it time to dry and set up.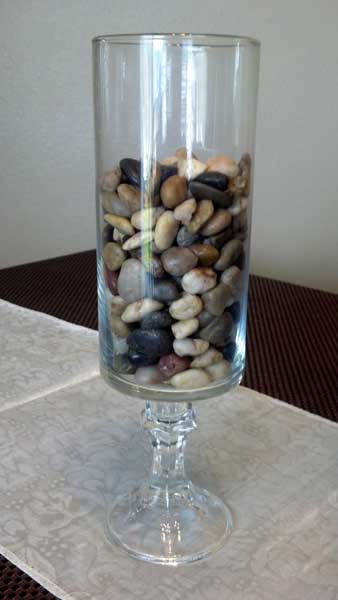 Now fill the vase with the river rock. I added the whole bag.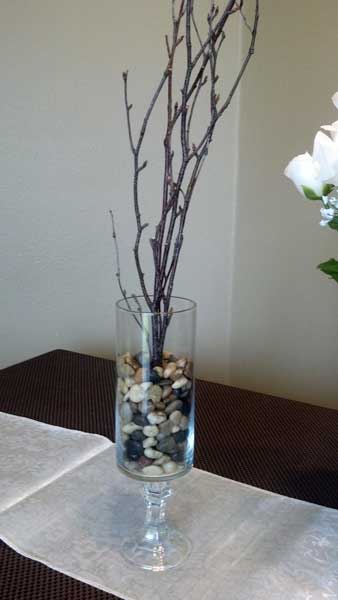 Now add the branches to the center of the vase. Making sure they are pressed down as far as they will go.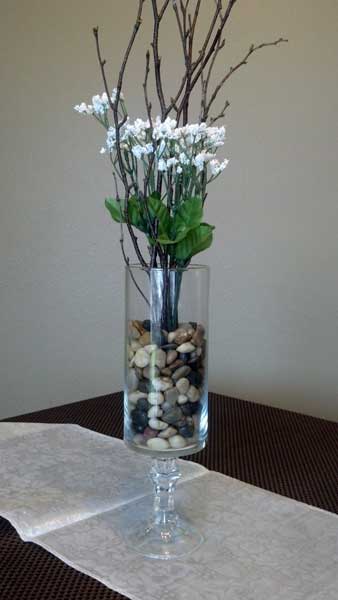 Now I added some Baby's Breath to the center. If you want, you could also add leaves, or whatever filler you like.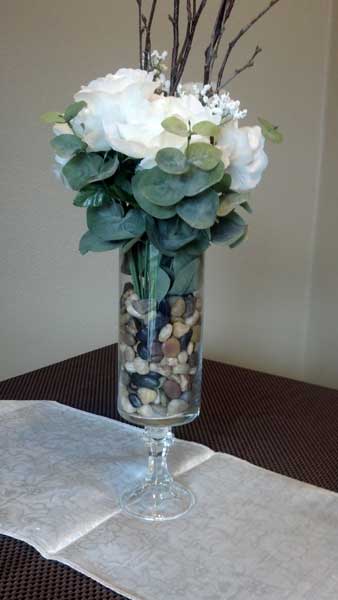 Time to add your florals. I added one bunch of flowers to one side, and then the other bunch to the opposite side. After that, I filled the outside with Eucalyptus. And that's it!!! Simple, easy, elegant and beautiful!! A great combo!!!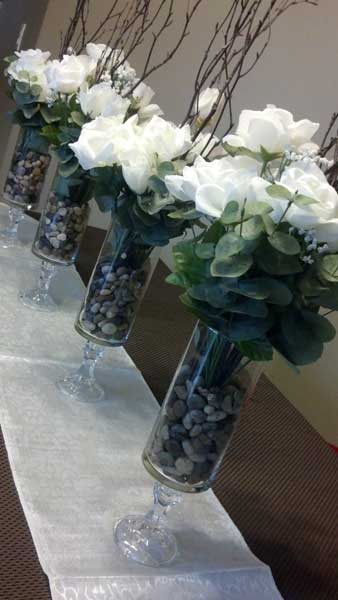 I made 4 centerpieces for a total of $20!! The reason I did 4, was the family gathering was around a table that seats 12. So I knew it was more than double the dining room table I have at home. And at $5 each, I can afford 4!!! Love that!!!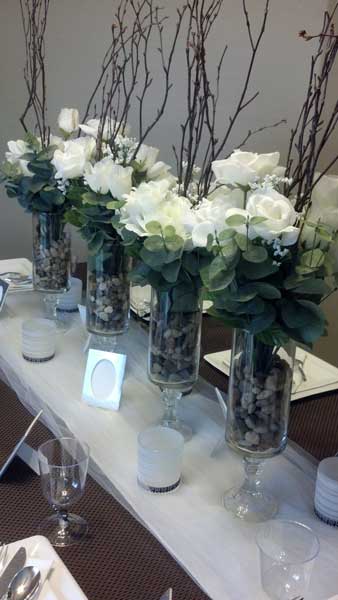 This is just a glimpse into what the table looked like all set up!!! I'll feature the FULL table set up, in my next blog post! And I will say, I purchased EVERYTHING I used at the dollar store for my Natural Elegant Dinner Party~!!! Can't wait to show you how to create a beautiful, elegant dinner party from dollar store products~!!! Trust me, you will be surprised with how elegant it looks!!!
Yup, I'm now a "dollar store believer"~!!! And excited to change these centerpieces up for the different seasons. Just think, once you have the vases, rocks etc; all you'll need to buy is a couple bunches of florals that are in season. And you'll have a new look for each season for only a couple dollars each!!! Now THAT'S affordable, right???
So next time you are planning a party, gathering or just looking to decorate, don't dismiss taking a trip to the dollar store to shop for supplies! Think of what you can create with the treasure trove of items they sell!!! Remember you can always keep it ELEGANT, HIGH-END, and LUXURIOUS while also keeping it AFFORDABLE~!!! Till next time my beauties, sending you all lotsa love, hugs, and blessings~!!! xoxo
Comments
comments