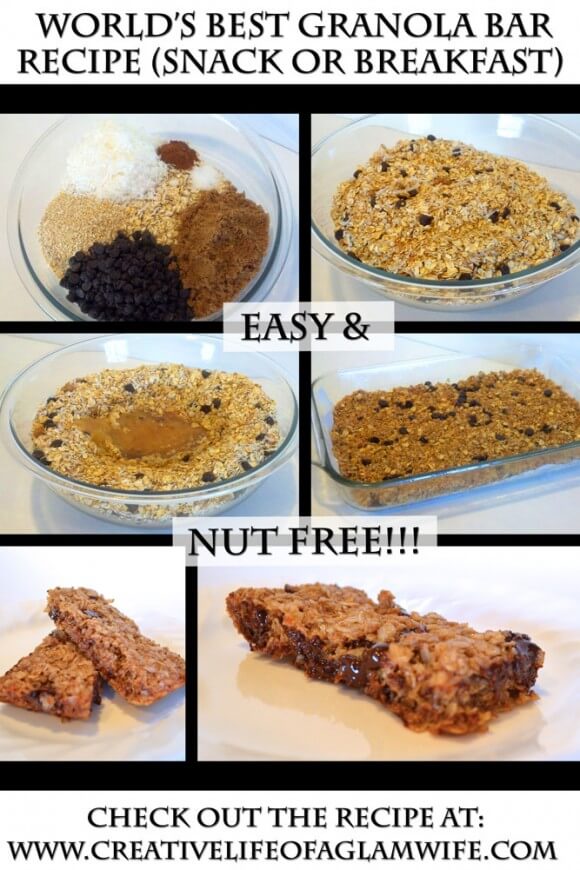 Today I want to share with you a recipe for Granola Bars, that will have you skipping the granola bar section at the grocery store! That's what happened with my family; now they forbid me to buy granola bars in the stores. Which I don't mind at all, since these are way healthier in terms of nutrition, and also not having preservatives/chemicals in them. And once you try them you'll see, they taste FRESH, delicious and oh-so chewy~!
How's everyone doing? It's not too bad out here in my neck of the woods – not raining, or windy (thankfully)~! Not too shabby for a mid-February day, right? (I know, small victories, but its winter. Gotta take them where you can!) Ok so I have to admit – I think my hubby has been making me watch too many gladiator shows. (lol) I say this only because my last post about Lip Butters (https://creativelifeofaglamwife.com/2012/02/12/battle-of-the-lip-butters-which-product-will-emerge-victorious/) turned into a "Battle Royale" of all the different brands~! Haha – Its all good though, its always fun to change up a blog post every now and then, don't you think? Makes life more interesting!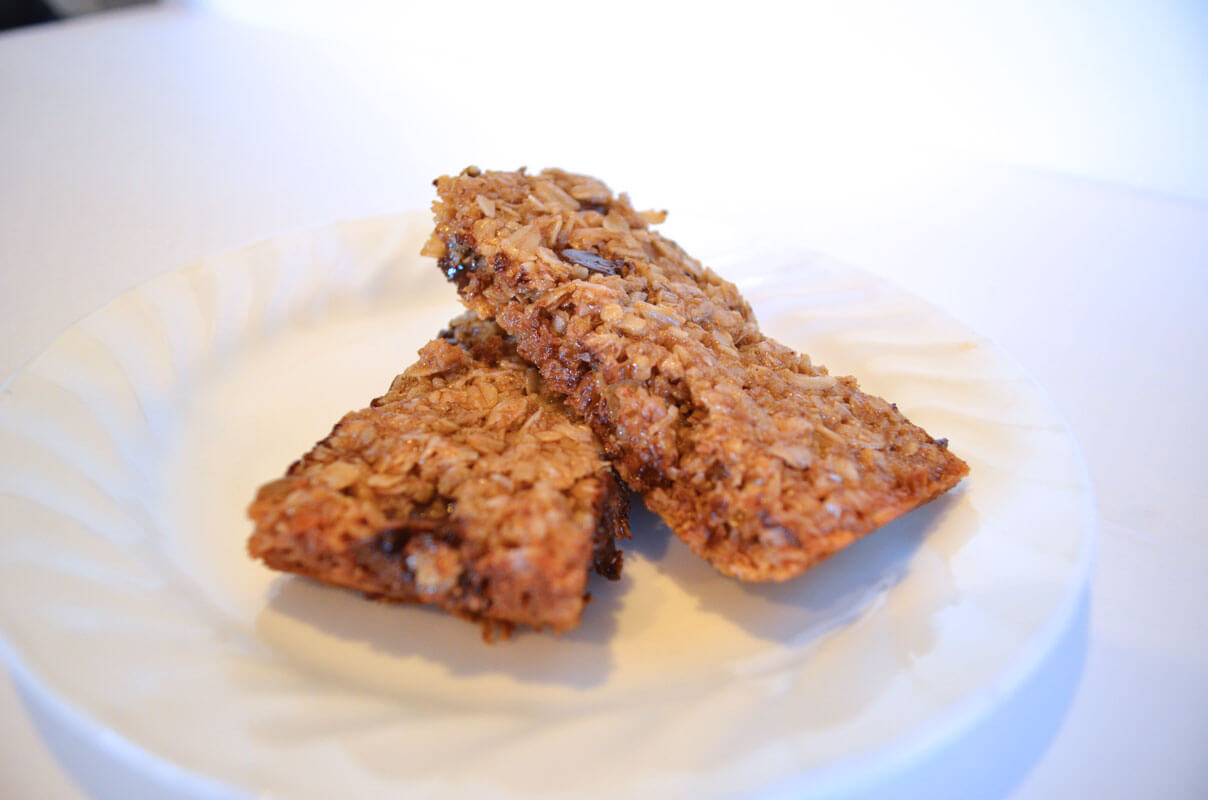 This recipe is what I like to call a "Recipe Renovation". Its a recipe I received from one of my cousins (shout out Denise), adapted and changed it around to suit my family's tastes. What I often do when I'm looking for a new recipe is search the recipe on Google. Then I pick the top-rated 3, print them out and integrate my favorite parts of all three~! Also making sure to read the reviews and comments to see what needed changing or altering – this way you have a lot smaller margin of error when you are making the recipe.
Oh and I just want to point out this granola bar recipe is SO easy and quick to make – and you can go ahead and double the recipe and freeze half of them. They freeze very well! Just cut them into bars, wrap them in saran wrap and throw them in your freezer – a great time saver! So let's start making the Granola Bars!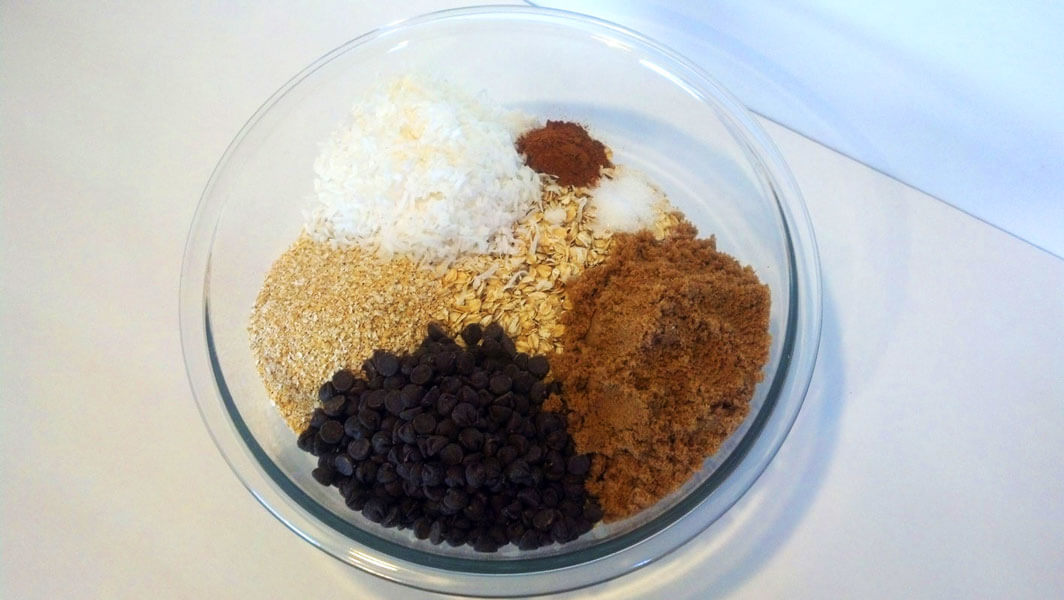 First line your 9×13 pans with parchment paper. I normally make a double recipe each week because my boys go through them SO quickly! In the following pictures, you'll see all of the ingredients will be shown doubled. The recipe card at the bottom of this post will show you the amounts you need to make a singular pan of granola bars, if you'd like 2 pans, its very easy to double it!

Now measure out all of your dry ingredients and add them to your bowl.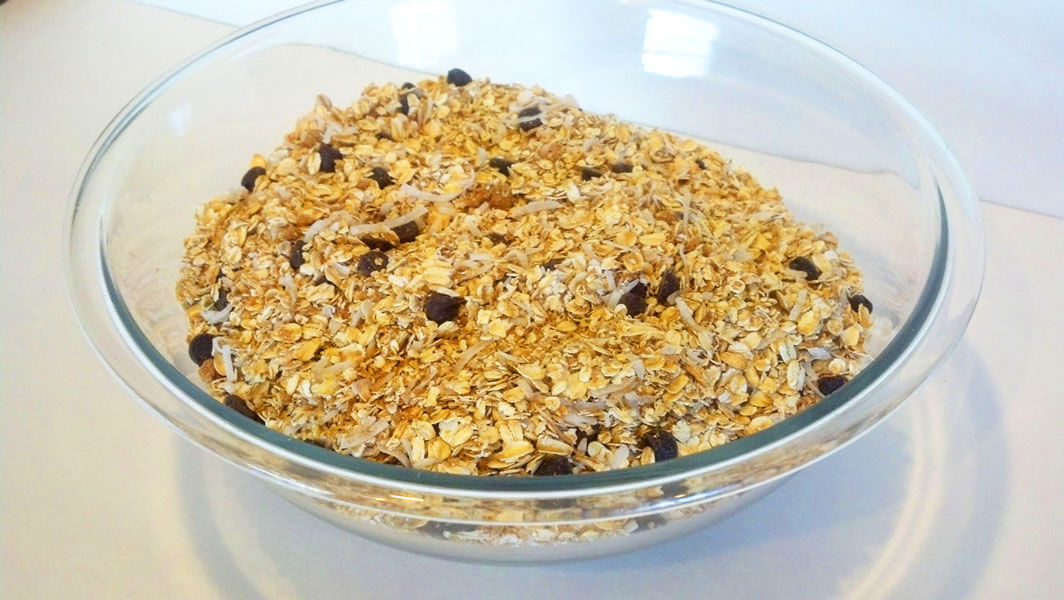 I like to mix all of the dry ingredients together before adding the wet. Making sure everything is evenly distributed.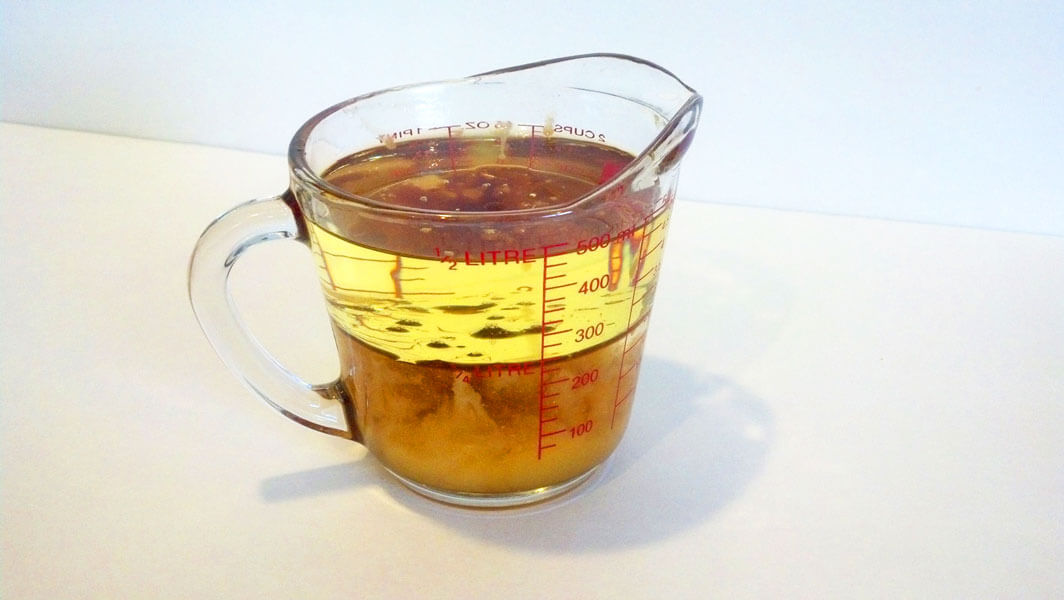 Here are all of the wet ingredients, measured out in a 2 glass measuring cup. Although if you are making a single recipe, you'll only need a 1 cup measuring cup.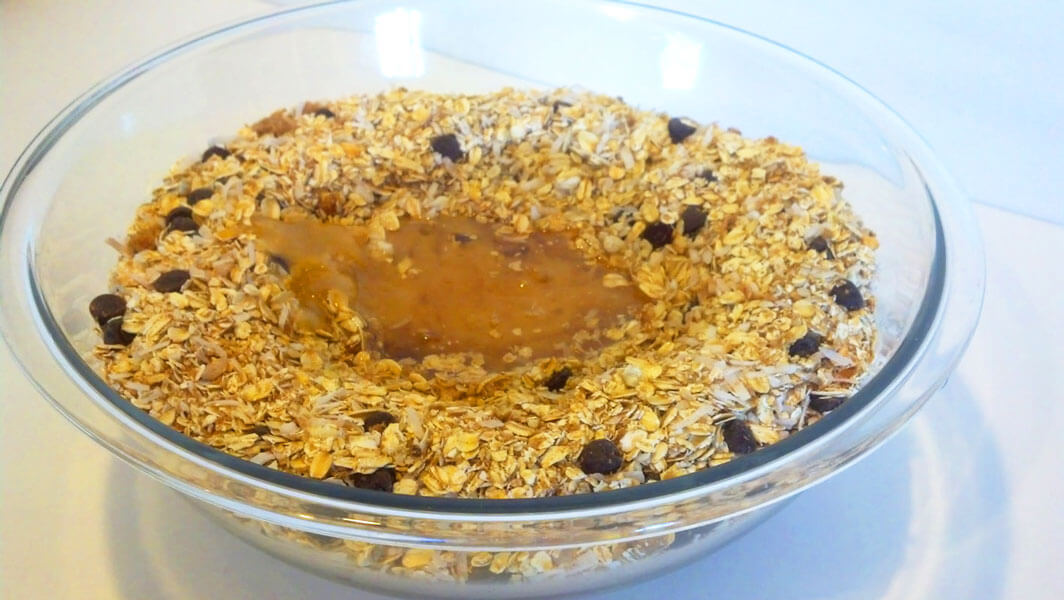 Now add the wet into the dry ingredients. I like to mix this all together with my (impeccably clean) hands. Making sure I get everything evenly coated. But you don't have to use your hands, you can go ahead and mix it however you prefer. Add to the 9×13 pans and press down evenly. Now throw them in the oven and bake for approximately 25 minutes.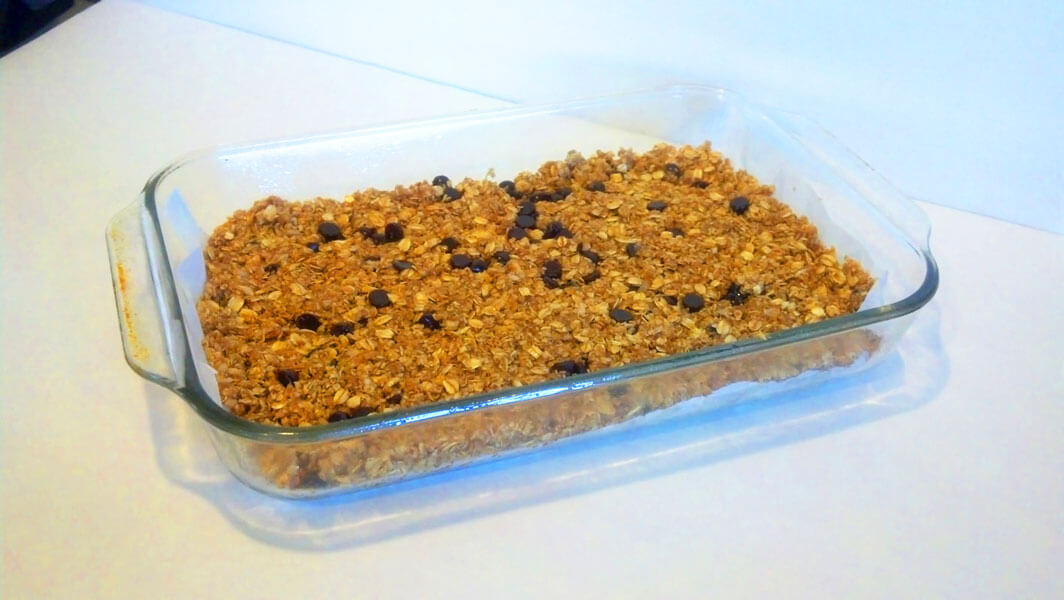 When they're done, they'll look like this. Let them cool for at least 1-2 hours before attempting to cut them. But you want to make sure you cut them before they are fully hardened, or they will be more challenging to cut. Although I will say, as long as you don't overcook these, this recipe will provide you with a nice chewy granola bar. I will remind you though, you can substitute, change and alter it to suit your tastes! Say, if you prefer a crunchier bar, go ahead and keep it in the oven a little longer to get the texture you desire!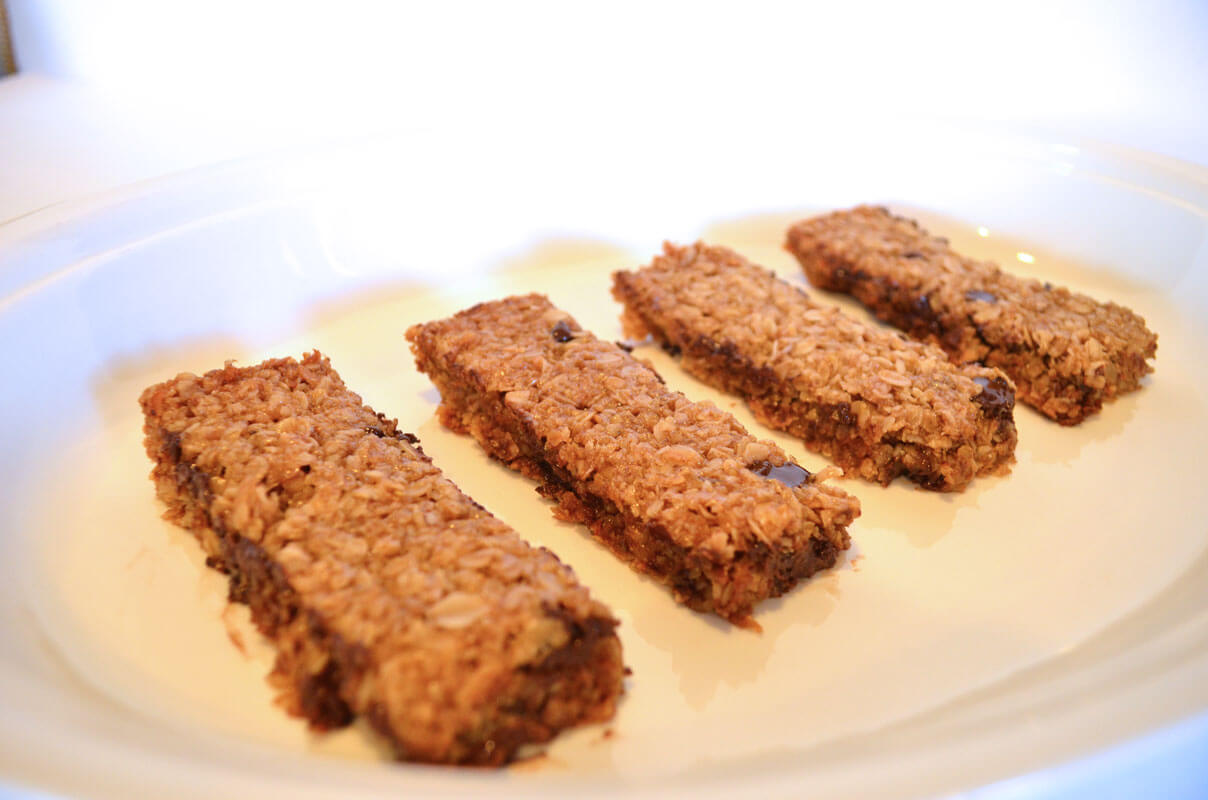 See, now wasn't that easy? Definitely no harder than making muffins, biscuits, or any other standard baking item. But the flavor pay-off is HUGE! You aren't going to want to buy granola bars from the store! Well, that's it for me peeps. Until next time my friends- keep it healthy, keep it natural, and always keep it homemade~!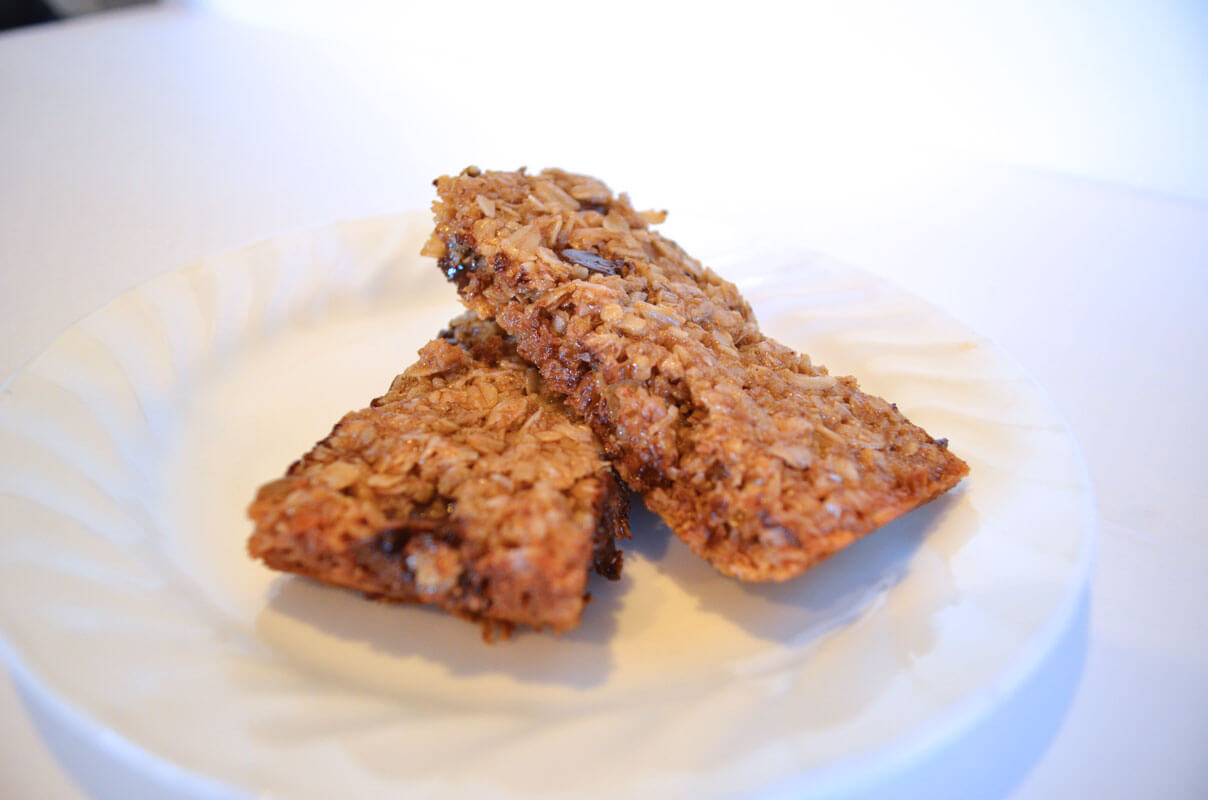 Author:
Creative Life of a Glam Wife
Prep time:
Cook time:
Total time:
Ingredients
3 Cups Rolled Old Fashioned Oats (Don't use quick-cooking)
¼ Cup Oat Bran
½ Cup Brown Sugar
½ Cup Chocolate Chips (or dried fruit or a mixture)
½ Cup Coconut
½ tsp Cinnamon
½ tsp salt
1 tsp Vanilla
½ Cup Vegetable Oil
¼ Cup Corn Syrup (I use Karo brand b/c its High Fructose Free)
¼ Cup Honey
Instructions
Add all the dry ingredients to a big bowl and stir them together.
Add the wet ingredients to a separate bowl/measuring cup.
Now add the wet ingredients to the bowl with the dry ingredients and mix very well.
Now you're ready to add the mixture to a 9x13 pan sprayed with Pam and/or lined with parchment paper.
Press the mixture down firmly and evenly.
Bake at 350 for around 25 minutes. Wait 1-2 hours before cutting them. Enjoy!
Comments
comments