Its funny how sometimes you get stuck in a rut. Whether its in fashion, in life or also in makeup. And I think I was stuck in one of these ruts! I was doing the same basic kind of makeup day-in an day-out. You find a sort-of groove, and you're happy with it, its simple, but it starts getting monotonous, you know?
For me I was sticking to a natural look that I was happy with. But after a couple months of this – I've definitely been getting bored with that look. I was doing black eyeliner over my top lid, mascara, blush and cherry red lipstick. Simple, natural, but I needed to change it up – and its funny how a little trip to the mall with a couple of gift cards in hand could change that! And now, even the colors I have in my stash, I see myself using in new and fun ways~!
We went to the mall on Sunday, the whole family for a fun little outing. My hubby took our boys to see a movie they'd been wanting to see, while I took to the mall and got to browse uninterrupted for a couple of hours of bliss~! Armed with gift cards in hand, an Iced Peppermint Mocha, I was ready for some great alone time coupled with retail therapy! Worked out well for everyone, since they wouldn't have been happy being dragged into all of my "girly" stores.
I had one gift card to Nordstrom and one gift card for Sephora. So I knew I'd pick up a palette from each store, and while they're were several contenders at Sephora, Nordstrom was more "slim pickings". I first went to Sephora, where I walked the store from end to end with a friendly gentleman who was helping me find just what I was looking for. I told him I was interested in a "fun, springy" colored palette – not neutrals, but maybe some soft pinks and amethysts. I will say they sure had SO many to choose from – truly something for everyone's tastes! But knowing that I have an extensive collection, and the majority of my shadows are neutrals and/or shimmery shadows; I wanted to step outside that, and go for a matte or even a satin finish.
I was torn between 3 palettes that I saw: The Too Faced Matte Palette, Kat Von D's True Romance Palette in Saint, and a Sephora 5 Color Palette in Amethyst (don't quote me on that…lol…can't quite remember its name). So after much consideration, a lot of eyeshadow testing – I made the decision.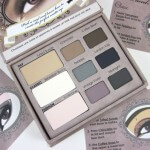 Not totally surprising. But I felt good about the decision, because it was one I'd been eye'ing for quite some time now. And if I didn't get it, I would have probably would have wanted to go back for it! Plus it had some colors that I didn't already have in my stash, so it was a win-win!
One gift card down, one more to go.
Off to Nordstrom I went. I was pretty sure I was going to buy the new Mac Palette "Call Me Bubbles" ; but again I went with an open mind and went to each makeup counter to mill over other brand's selections. What I discovered really affirmed my love of Mac Cosmetics. At Nordstrom, you have the Bobbi Brown, Chanel, Estee Lauder, Shiseido, Lancome and Laura Mercier Makeup Counters, in addition to the Mac counter. At each counter I was honestly disappointed with the color selection (and suffering a little bit of sticker shock! 5 Color Palettes that averaged $50! Eeek!). The palettes felt very uninspiring, many shades I already had – really nothing new for me. So I felt quite good going back to the Mac Counter. But the "Call Me Bubbles" palette was a tad too much on the "orangey" side for my tastes; I was hoping for more pink shades.
So I had a dilemma – a first for me. Armed with gift card in hand, ready to pick up a palette – yet I didn't want a single one! How could this be? So of course, I was thinking, I'll just save my gift card for another day. Wait until the next collection comes in, and hope I'll find something that will tickle my fancy.
It was perfect! A true, soft, satiny pink with a pretty cranberry shade to compliment it. After "swatching" it on my hand – I knew that was exactly what I was looking for. And with a few dollars extra, she helped me pick out a single shade eyeshadow that would compliment the 2 colors in the mineralize duo. And it actually turned out to be a color I"d been meaning to get for quite some time now; But would always get side-tracked with other colors. I bought "Sketch"! The makeup artist at Mac also gave me some fun, new tips on how to use my new shadows; ways that were new to me! YAY! I love new tips and tricks!
I was extremely happy and very content knowing I'd strayed from my usual patterns of buying either neutral or shimmery colors. All the colors I purchased were either Matte or Satin finish and all were new shades! YAY! Definitely a successful shopping trip!
So, do you guys want to see the swatches? Well here they are:
Too Faced Matte Palette (From left to right: Tufted Suede, Chinchilla,Coffee Bean, Velveteen Bunny, Pebbles, London Fog, Fresh Linen, Vintage Violet, and Midnight)
From Bottom: Mac Sketch Eyeshadow, Mac Mineralize Eyeshadow Duo in Pretty and Prim
So, what do you think? Do you guys think I made the right choices? I'll be honest, it was hard not "allowing" myself to buy neutral colors! I found a couple palettes that were definitely "calling" my name! But I'm SO glad I stuck to my guns and came home with NEW colors! Mission accomplished! Now I just can't wait to play with all my new colors, and now – I'm even looking forward to using my old colors in NEW ways!
Till next time Chicas, step outside your comfort zone, try new colors and get creative with your makeup~! That's the FUN part of "making" ourselves up – the part where we get to be our own makeup artists~! xoxo