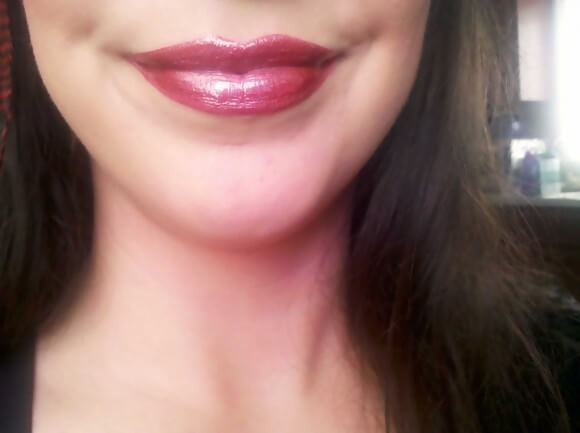 Today I'm bringing you an article I've been wanting to do for a very loooong time! Its all about plumping up those lips~!!! I don't know about you ladies, but I have to say I've tried several different kinds of plumpers! And although there are a couple that do work (I'll talk about those in a future article), what I find is that, while they may plump up your lips – its only temporary! And another downfall for me is that its really hard to find a plumping product that actually works, while also delivering a nice color to the lips!
That's right ladies, I like my colorful lipsticks! And not only that – I like my lipsticks to have a good amount of staying power. The less maintenance I have to do, while always keeping myself looking glam is definitely the key! If I can apply it once – and enjoy long-lasting staying power – I'm a happy CHICA!!!
So naturally I've tried using lipliners to slightly overdraw the lips, then pairing it with lipstick. And while this gives you a great look immediately, after eating a meal you are left with an unsightly ring of lipliner and your lipstick has left the building~! So frustrating!
That's when I went to my local drugstores/Sephora/Ulta in search of these elusive product(s). I will tell you, the following tips/and products I use don't actually plump your lips up – but what they do is give you the appearance of fuller-looking, plumper lips~! That's why you don't have to suffer with the painful stinging of the plumping products! So on my quest for plumper lips and marathon wearing lipstick, besides discovering which brands deliver long-lasting color, I also discovered which products pair very well to acheive plumper-looking lips, and some important tips! Do you know what I found out????
First Start With a Long Wearing Lipstick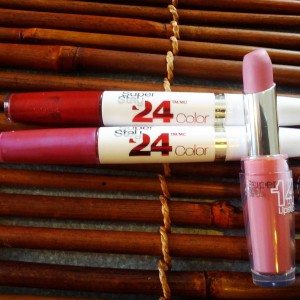 My fave? Definitely Maybelline 24 Hour SuperStay!
I kind of didn't expect that, to be honest. Cause I'd tried other brands without much success, finding some of the other brands really dry out your lips and leave the lipstick flaking off. And although Maybelline is my fave and definitely my top choice for staying power, there a couple of other brands that also deserve honorable mention! And I'll give you ladies the VIP Lipstick Long-Wearing List in an upcoming article~!

(I know, I'm such a tease, right??? lol) I definitely have the "down-low" on the long wearing lipsticks, because you name it – and I've tried it!!!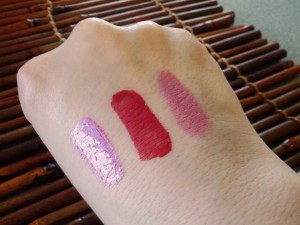 These three are from the Maybelline Superstay Line .
On the left is, Maybelline Superstay 24 hour in Lasting Lilac. Its a gorgeous hot pink, magenta hue!
In the middle is Maybelline Superstay 24 hour in All Day Cherry. This gorgeous, deep red is what converted me from never wearing red lipstick – to LOVING red lipstick! If you've never tried deep, red lips – you must try it! Its all about finding the right shade, and once you do – you'll be hooked!!!
On the right is, Maybelline Superstay 14 hour Lipstick in Perpetual Peony. And while I love Perpetual Peony, it isn't as long lasting as the 24 hour line – which is no surprise seeing as how its called "14 hour" vs the "24 hour" title on the left two lipsticks. If you're looking for maximum staying power – definitely stick with the "24 Hour" line!!!
Apply Your Long Wearing Lipstick to Dry, Bare Lips
Make sure you apply your long wearing lipstick to dry, bare lips. You definitely want to skip lip liner for this! What happens if you apply lipliner underneath? Your long-wearing lipstick adheres to the lip liner and doesn't last long at all!!! You want the lip liner adhered to your bare, dry lips/skin. This is KEY!!!
If you aren't just looking for long-lasting color, but want the plumper look, slightly overdraw your lips with the long lasting lipstick. To do this, you must use one of the liquid, long-lasting formulations! You can't use a regular lipstick, or it will bleed and will end up looking like a mess very quickly! With these liquid formulations, they dry very quickly and do not run at all! So you can most definitely overdraw your lips without fear of smudging/or bleeding! When overdrawing your lips, don't go too crazy here – keep it just over your lip line. Similar to how you might use your lip liner. Once you've traced around your lips, fill them in with the same color. Maker sure you get an even, solid base of color! Here I've used Maybelline 24 Hour Superstay in "All Day Cherry", and as you can see I've also overdrawn my lips to get a fuller looking pout~!
Time To Apply A Lipstick Overlay and Lip Gloss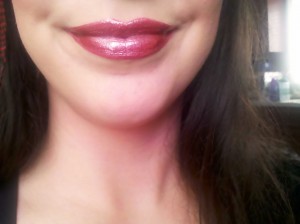 Once your long lasting lipstick has completely dried, its now time to apply a lipstick overlay and/or lip gloss. If you are happy with the color of your long wearing lipstick, just apply a lip gloss! But sometimes I'll want a slightly different color than what's in the long-wearing tube, so I'll get out a nude or red lipstick and apply it overtop. Then I'll apply a lip gloss and instantly you have a new shade of ULTRA long wearing lipstick!!! So don't be afraid to experiment ladies!!!
Change Up The Colors!
You can change up your long wearing shades so easily, without spending any extra $$$!!!! You only need 3 basic shades in your long-wearing lipstick wardrobe – a nude, a red, and a pink shade of long wearing lipstick. With these three basic shades, you can change the colors up so easily, layering different colored lipsticks and highly pigmented glosses on top~!!! And we all have our fave lipsticks in our cosmetic bags! If you just use a long-wearing base, then layer your fave lipstick on top, you've instantly created a long wearing version of your fave lipstick!!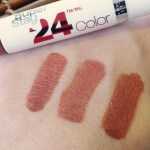 –>
You'll see in the first picture, I've "swatched" Forever Chestnut on my hand 3 times. But in all three pictures, Maybelline Superstay 24 Hour Color in Forever Chestnut (a perfect nude shade for my lips) is the base I've used. Everyone will have a different "nude" shade that will perfectly suit the color of their lips! Don't be afraid to pick up a couple on sale at Rite Aid, Ulta or Walgreens – they all have wonderful return policies that make it "no risk" for us consumers! So if you aren't happy with the colors – you aren't stuck with them!
In the middle pictures I've layered some of my favorite lipsticks on top! On the left I applied Mac Blankety Lipstick - a beautiful taupey, pink nude shade. In the middle, I layered Maybelline Superstay 10 Hour Stain Gloss in Fresh Fuschia – a perfect, true "hot pink"! And on the right, I layered Wet n Wild Lip Laquer in Enamored – a gorgeous bubblegum pink.
In the bottom pictures, you see the colors layered with lip gloss on top. On the left, I applied Maybelline ShineSensational Lip Gloss in Cherry Bloom – an almost irridescent pearly pink. In the middle I applied Maybelline ShineSensational Lip Gloss in Berry Dazzle – a sparkly, deep plum. And on the right, I applied NYX Lip Gloss in Pink Frost - a soft, cool, bubblegum pink.
So you see how a "nude" long wearing color can be transformed into any color you want??? By layering lipstick and/or lipgloss, you add so much dimension and depth to your lip color. Also think of all the colors you can create, don't think you are limited to the shades you find in the store!! Think of those shades as bases for NEW and FUN colors you can create~!!! And I'm sure you ladies have all the tools in your makeup kit to achieve this! All you need is some long wearing lipstick!!! Keep it creative with your makeup Chicas~!!!

Apply Lip Gloss After EACH and EVERY Meal
And this is KEY!!! You MUST always apply lip gloss after each meal, if you want your color to last the day without flaking! Because even the best of long-wearing formulations won't hold out, unless we keep that lipstick covered with gloss!!! I normally apply my long-wearing lipstick in the morning around 8am – and its still going strong by 9pm that night! But I always keep a lipgloss in my pocket or purse.
Find a Lip Gloss That's High In Shine and Rich in Pigment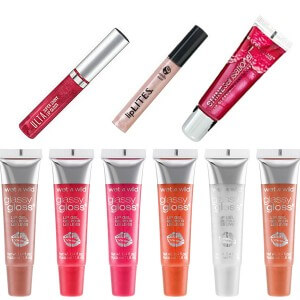 I never use the lip gloss end attached to the long-wearing lipstick. I'm always on the look-out for moisturizing, high-shine, and high-pigment glosses! They are a wonderful pairing for the long wearing lipsticks, and may even contribute to their staying power~!!! And another positive, is that these little beauties are very inexpensive – and they will transform the look of your long wearing lipstick~! Using a great gloss over top of your lipstick will also add to the effect of having fuller-looking lips!!! If you want to see a my some of my fave lip glosses, they are on my VIP Beauty Products Post – Best in Beauty for your Buck~!!! As you can see above – these lip glosses are some of my all time faves – thanks Wet n Wild, ULTA, Bonne Bell and Maybelline~!!!! xoxo
Does Maybelline 24 Hour Superstay Really Last???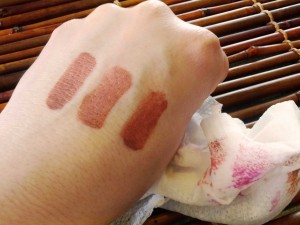 Just to illustrate how LONG lasting Maybelline Superstay is, this picture says "1000 words". After I'd applied the Superstay color to my hand, then applied the different lipsticks, then the different glosses, I took one of my kitchen cleansing wipes and used the abrasive side to wipe my hand "clean. Well after I'd wiped my hand, I was STILL left with the Superstay Color on my hands – it took off all the lipstick and gloss! But not the Superstay!!! It actually took me a lot of scrubbing to get it off my hands!!! Yes, I surely do love my long lasting lip colors!!! Although I will say, after wearing it 12+ hours, it won't take that much effort to remove your lipstick, so don't worry ladies!!! You aren't going to have to rub your lips raw to remove it!
Here I've used Maybelline Superstay in All Day Cherry in the first 2 pictures, and in the far right picture I've used Forever Chestnut. As you can see, what you layer it with, will ultimately decide the color you want~!!! So don't be afraid to experiment with colors, textures, and finishes!!! And don't be discouraged if you find you don't love Maybelline Superstay as much as I do – we all have different needs with regards to our skin. So just play around with different brands, and you'll ultimately find the right one for your needs~!!!
Do you have a favorite brand of long wearing lipstick you love? I'd love to hear about it!! That's what this is all about – sharing our trials and triumphs!!! Hopefully we can learn from eachother's trials and find new and fun products to try~!!!
I'm excited to bring you some fun articles this week!!! I feel like this week's theme for articles, is "Feeling and Looking Great, while also enjoying some Guilt-Free Indulgences"!!! And in this spirit, I'll be featuring a dear friend of mine's business, she makes gorgeous bath and body products, some mirrored after gorgeous desserts!!! They look amazing, and if only my website could bring you "Smell-o-vision", you'd be salivating!!! If you can't eat those desserts, you might as well shower with them~!!! So much fun!!! Then for my featured weekly recipe – this week I'm bringing you lovelies my "Skinny Shakes"!!! Delicious, refreshing, and decadent tasting – but figure-friendly too!!! Yes, its all about keeping those New Year's Resolutions, feeling and looking great, while also enjoying some guilt-free indulgences!!! Right???
Until next time My Friends, its all about keeping those lips looking PLUMP, and GLOSSY, while keeping them COLORFUL~!!!! xoxo
Comments
comments