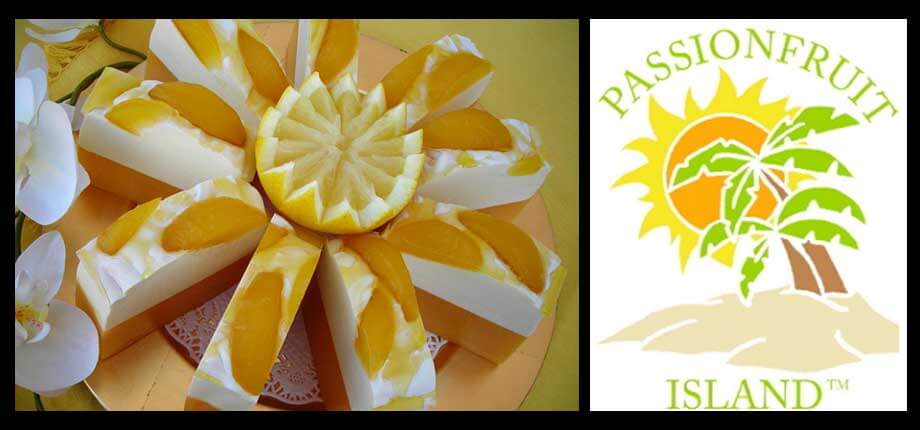 What do you think of when you hear "Berry Lemon Meringue Cake, Black Raspberry Vanilla Cake, Carrot Cake Bundt Cake, Cinnamon Bun Cake, and Pink Sugar Kiss Cupcakes"???? You think of delectable desserts that are rich, flavorful, and high in calories, right??? Well what if I told you, you could have all of these and not gain a pound???
Okay, I can already hear you all saying "Yeah, right!"!!! Well its true!!!
And that's because today I'm bringing you a review of a company that specializes in all of these desserts! And they are all made out of SOAP~!!! Well soaps, lotions, body oils, fragrances and MORE!!!
I'm not sure if you have ever tried buying soap outside of your local drugstores/supermarkets; but once you do – you'll never look back! Homemade soaps and lotions feel so much more luxurious and smell amazing! Aside from the fact, that they are visually stunning! Refer to "Exhibit A" – aka Passionfruit Island's Berry Lemon Meringue Soap Cake!
See what I mean??? Can you believe these are made out of soap??? They look good enough to eat!!! And I don't know about you ladies, but if you can't eat it – I always say "Bathe with it"!!! You can enjoy these delectable indulgences without any of the calories or guilt associated with eating them, and when you are done bathing/showering – YOU'LL smell just as delectable!!! Its a win-win!!!

What's on the Menu at Passionfruit Island???
Passionfruit Island sells many different bath and body indulgences. Everything from these soaps (and many more), to Body Frostings, Bath and Body Oils, Salts and Scrubs, Fragrances, and MORE~!!! You must check out all of her different products – they truly are works of art!!!
Interview Time!!!
Now that you've been introduced to some of Passionfruit Island's amazing products, its time to introduce you to the woman behind this amazing brand! The founder and face behind this Passionfruit Island – Miss Susanne Adjei-Boatright!! I had the chance to interview Miss Susanne, and I'm so excited to bring you all this fun and personal interview~!!!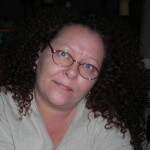 Glam Wife: How did you get into the bath and body business?
Susanne: Out of curiosity and then necessity among other things. I wondered why it was that certain skincare products I had been using had seemingly adverse effects on not only my skin but also my health. I began researching ingredients and slowly discovered that the products I had been using were linked to some of these adverse effects. I began seeking out healthier more natural product alternatives and it was during this time I realized a passion for creating my own products, initially for myself and my family then for friends and before I knew it it was time to call it a business.
Glam Wife: What is your favorite part of your business?
Susanne: My favourite part of the business is two-fold, one in the creativity of it and two, in the satisfaction I have in creating the products which people seem to like.
Glam Wife: What is the most challenging part of the business?
Susanne: That would have to be working from home. While convenient in many ways it can also be an absolute challenge in that the line between personal and business is never drawn.
Glam Wife: How did you come up with your business name?
Susanne: My son actually did, while asking around the family for ideas he offered the 'passion fruit' knowing that it is one of my favourite fruits and I added the 'island' and so it became Passionfruit Island.
Glam Wife: How long have you been in the bath and body business?
Susanne: I have been making my own products since my now 15 year old daughter was born however, as a business since 2007.
Glam Wife: What's your favorite product (or 2 or 3) that you sell?
Susanne: That's a tough question but I would have to say the soap, lotion and frosting.
Glam Wife: What's your favorite fragrance?
Susanne: Even tougher question I don't have one particular favourite but I do love gourmand scents as well as citrus, clean and fruity scents, certain vanillas and musks.
Glam Wife: Where do you gain inspiration for the soaps you make?
Susanne: Inspiration for the soaps I make come from anywhere and everywhere, from nature, from design and even from cookbooks.
Glam Wife: Seeing how beautiful your soaps are, do you have a background in cake decorating?
Susanne: I have been asked this question a lot and the answer is actually no, however, I do love making them and perhaps that's why they turn out okay!
Glam Wife: How long does it take to make your beautiful Cake Soaps?
Susanne: Depending on size and details in the soap cake, anywhere from one to two months including cure time.
Glam Wife: What's your favorite hobby, aside from making bath and body products?
Susanne: Hobby? Oh boy there's a list! I also enjoy woodworking, art, photography, interior design, cooking, anything creative really.
Glam Wife: Where do you see your business in, say, 10 years?
Susanne: I envision still growing and continuing to grow my business, expanding my product line along the way and even having a few shops.
Thanks Susanne for giving us a chance to get to know you better~!!!!
Now in true "review" fashion – I'm here to give you the "low-down" on some of Passionfruit Island's Products. Susanne sent me some samples of her products to try out!!! (Yes I have to say, its a hard job, but someone has to do it~!!! <3 haha)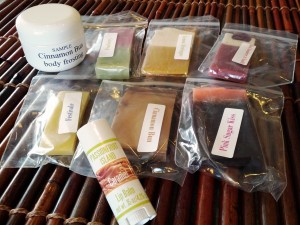 Cinnamon Bun Body Frosting: First of all the smell is just heavenly – its like a melted Cinnamon Bun!!! Mmmmm!!!! And its so thick, rich and luxurious!! When I first saw it, I thought the consistency really does look like a frosting!!
Cinnamon Bun Soap: Again, just like the dessert! Decadent and amazing smelling, just like Cinnamon Buns!!!
Lemon Meringue Soap: Wow!!! This hit all the notes for me!! You get the creaminess of the meringue, and also the tartness of the lemon!!! Gorgeous~!!!!
Black Raspberry Vanilla Soap: Beautiful Blend of Deep, dark raspberries, paired well with the richness of the vanilla!!!
Pink Sugar Kiss Soap: This one smells just like Cotton Candy!!! Very much candy-inspired!!!
Festivale Soap: When you first smell this, you immediately think "refreshing with subtle fruity notes"!! What a beautiful scent!!!
Pearberry Soap: Mmmmm!!! You can definitely pick up the pear and berry notes!!! Fruity and fresh~!!!
Caramel Lip Balm: So delectable!!! Smells like ready-to-eat caramel!!! Yummy!!!
One thing I noticed with Passionfruit Island's products is, that all of the scents are very true to their name and also very VIBRANT!!! After showering with these soaps, I also noticed the soaps have a beautiful, thick, and rich lather!!! On different, albeit equally important note, I would be remiss if I didn't let you all know, Susanne is one of the sweetest people you'll ever meet!!! She's such a gem!!! <3
All in all, I would HIGHLY recommend any and all of Passionfruit Islands Products!!! They are all made with care and passion – as you can see by not only their appearance, but also by their quality~!!!! A++ Susanne!!!
Well I hope I've opened your eyes to the amazing world of hand-crafted body products (if you've never tried them before), and to Susanne's fabulous bath and body creations!!! And while they aren't as cheap as store brands, there is a reason!! These products are MUCH better quality and far more natural!!! In this department, I must say, you get what you pay for~!!! And I look forward to buying some of Miss Susanne's gorgeous products – they are amazing~!!!
To find out more about Passionfruit Island's products,
head on over to the Passionfruit Island Website
"Like" her business on Facebook
Follow her on Pinterest
Or just shoot her an email!
Have you ever tried hand-crafted bath or body products? Which of Passionfruit Island's products appeal to you??? I'll just tell you – the Cinnamon Bun and Lemon Meringue were definitely my faves~!!!! Although I know we all have different tastes, so I'd love to hear from you!!!
Until next time my beauties…..Its all about bathing with delectable desserts, while keeping yourself luxuriously pampered, and smelling fabulous~!!!! And Always…..Stay Passionate Chicas~!!! xoxo
Comments
comments