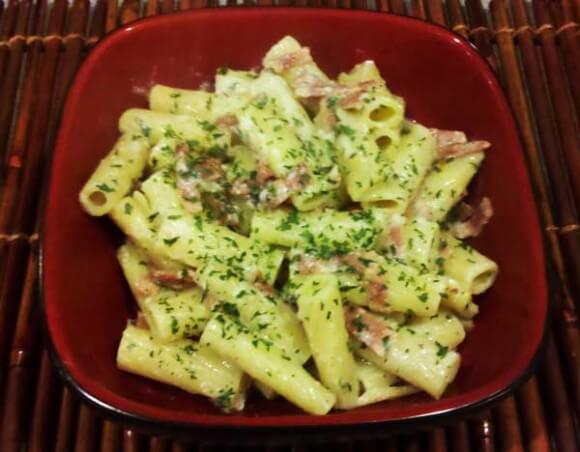 Today I'm bringing you one of our favorite pasta dishes! Are you ready???
Its a creamy, garlicky, pasta with wine and bacon, called Rigatoni alla Carbonara!! Its super delicious, has tons of amazing flavor, AND is super easy to make~! Who doesn't love that???
Whenever we make this dish, it smells like Olive Garden in our house, so its also wonderful for entertaining! Just add some garlic bread and a Caesar Salad, and you've got a restaurant-quality meal!!!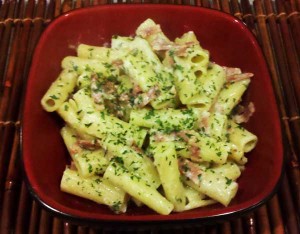 I first saw this recipe on the show "30 Minute Meals" on the Food Network. After making it several times, I've altered it to suit our tastes! I've substituted Turkey Bacon for Pancetta, which is a healthy, more economical option. As well as, I altered some of the ingredients and doubled the recipe, so we can freeze the leftovers to enjoy them on nights when we are pressed for time~! So as always, I'm bringing you this "Recipe Renovation"~! Hopefully it will become one of your family favorites too~!
Are You Ready to Make Some Pasta???
1. First thing I always do, is get out all of the ingredients and start prepping them. Can you see my older son peeking over the ingredients? haha, Funny guy!
2. I began prepping the egg mixture and chopping the turkey bacon, while my son chopped and minced the garlic.
3. As you begin sauteeing the bacon in some olive oil, get a pot of water boiling (to cook the pasta in). Once it comes to a boil, salt the water and add the rigatoni. Meanwhile, after the bacon has sauteed for 10+ minutes, add the garlic and chili pepper flakes. Saute for a couple minutes, being careful not to burn the garlic. Then add the wine and reduce. Once the pasta is close to being fully cooked, use a ladle to extract 3 ladle-fulls of pasta water. Slowly add it to your egg/parmesan/parsley mixture while stirring it, so as to temper the egg mixture without scrambling it.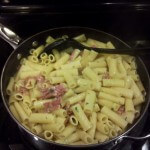 4. Once the pasta is cooked to al dente, add it to the bacon/garlic/wine mixture simmering on low on the stove. Now add your egg/parmesan/pasta water mixture to the pasta mixture. Stir and cook slowly on low until it comes together and is creamy. Now your done~! Its THAT easy!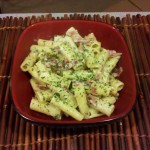 5. Once finished, garnish with some fresh parmesan, parsley, more chili flakes (if you like it super spicy like me!!!) and fresh cracked pepper~! Enjoy~!

Rigatoni Alla Carbonara - A Creamy, Garlicky Pasta With Wine and Bacon!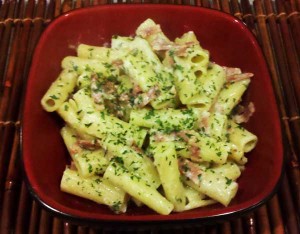 Author:
Creative Life of a Glam Wife (Adapted from a 30 Minute Meals Recipe)
Recipe type:
Entree- Pasta
Prep time:
Cook time:
Total time:
Ingredients
Salt
2 pounds rigatoni (or other tubed shaped pasta)
12 oz Turkey Bacon, chopped
2 tablespoons extra-virgin olive oil,
1 whole head garlic, peeled, and finely minced
½ teaspoon crushed red pepper flakes
1½ cups dry white wine or chicken stock
4 large eggs
6 tablespoons (about 4 palmfuls) grated Parmigiano Reggiano, plus more, for garnish
2 handfuls fresh parsley leaves, finely chopped
3 Ladle fulls pasta water
A few grinds black pepper
Instructions
Place a large pot of water on the stove to boil. When water is rolling, add salt and pasta and cook to al dente, about 8-10 minutes, reserving 3 ladle fulls of the pasta water.
While pasta cooks, heat large, deep skillet over medium heat. Saute turkey bacon in a drizzle of oil until it browns. Add extra-virgin olive oil, crushed garlic, and chili pepper flakes. Saute garlic 2 minutes. Now add wine to the pan and reduce liquid by half, approx 2 minutes.
Beat together eggs, parmesan cheese, and while whisking vigorously, stir in 3 ladles of the boiling pasta water. Beat in parsley and pepper and set aside.
Drain pasta and add pasta to pan with sauce. Toss pasta with the turkey bacon, and add egg mixture and toss 1 minute, then remove from heat. Continue to toss until sauce is absorbed by and thickly coating the pasta. Adjust seasonings with salt and pepper. Serve with extra cheese, crushed chili flakes, and more parsley for a garnish. ENJOY~!
Now don't forget, feel free to modify this recipe in any way to suit your own families dietary needs and/or tastes!! Also if you don't have rigatoni on hand, you can substitute other tube shaped pastas! There is countless ways this pasta will work!!! You are only limited by your imagination and creativity! That's what I love about cooking, taking recipes and using them more as "guidelines" and playing with them!! Makes every dish a new and exciting adventure~!
Till next time Friends~! Keep it fresh, keep it fun, and always keep your cooking CREATIVE~! xoxo
Comments
comments