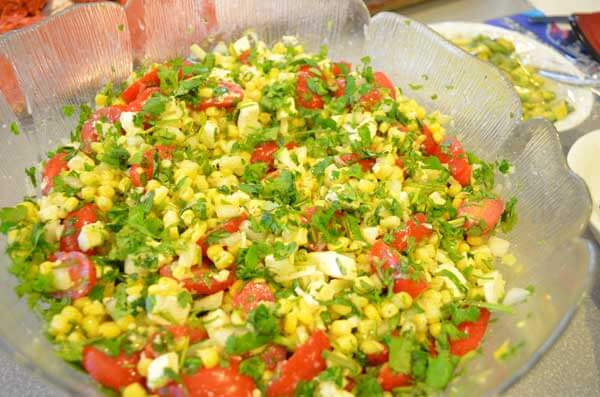 With summer finally upon us, we've hit grilling season, right??? Along with grilling our favorite meals, comes the all important task of finding side salads that compliment each meal!!! I don't know about you, but I'm always looking for new kinds of salads to serve my guys!! And while the standard green salad or caesar salad are delicious accompaniments, its always nice to change it up and serve a different kind of salad…one that has different textures, flavors and is also hearty!!
Which is why our family loves "Tomato, Corn, Fresh Mozzarella Salad"~!!! Its all of those things, lots of different textures, coupled with bold, delicious flavors, and is very hearty!!! In fact, I've made a whole meal out of just this salad!!
This is again one of our favorite "Recipe Renovations". The original came from Food Network, and after making it the first time we realized it need a few extra "boosts"~!! So with the necessary improvements, I bring you this new and improved recipe!! I hope you'll enjoy it as much as we do!!
Are You Hungry Yet??? Let's Get Cooking!!!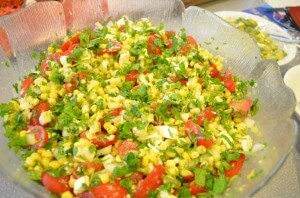 1. First of all, I have to start out by saying this is super simple, yet super delicious!! And there's no special or particular order to making it either!!! Just start chopping and dropping your salad ingredients into a large salad bowl.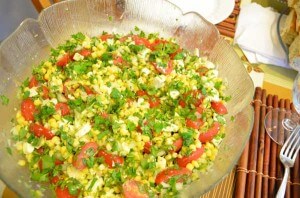 2. Now if you are going to serve your salad immediately, no need to get other dishes dirty. Go ahead and just pour your dressing ingredients into your salad bowl! If you aren't going to serve it for several hours, then I'd recommend mixing your dressing ingredients in a separate container and store it in the fridge until your ready to serve it! And if you prefer, you can always combine your dressing ingredients in a food processor and blend until smooth. But that's totally optional, not required!!!
And that's it!!! So simple and easy, yet a fun and different salad from our "usual" salads!! I hope you will give this a try!! Don't forget to play around with it, and make it your own!!! Every family hasn't different tastes and nutritional needs, so use this as a guideline and create something amazing for your family!!!
Tomato, Corn, Fresh Mozzarella Salad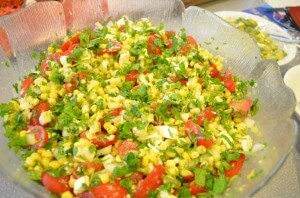 Author:
Creative Life of a Glam Wife
Ingredients
Dressing:
2-3 limes, zested and juiced (depends on how "limey" you like it!)
1 large bunch packed fresh cilantro, finely chopped
½ cup good-quality extra-virgin olive oil
1 clove garlic, minced
Kosher salt and freshly ground pepper
Salad:
1 Onion, finely chopped
1-2 jalapenos, finely chopped (depends how spicey you like it)
2 avocados, diced
4 cups corn, fresh or frozen (don't use canned!)
2 pounds cherry or grape tomatoes, halved
1 pound fresh mozzarella, diced
Instructions
Combine the salad ingredients in a large bowl.
Combine the dressing ingredients in a separate bowl (or process it until its smooth in a food processor).
Toss dressing and salad ingredients together. Serve and enjoy~!!!
Ok Chicas, that's it for me today!!! What's your favorite summer salad recipe??? What kinds of salads do you love, aside from the standard ones??? Let me know!!!
Remember it's all about changing up those salads while also keeping them fresh, healthy AND HEARTY~!!!! Till next time, HUGS, LOVE, AND BLESSINGS to you all~!!! xoxo
Comments
comments