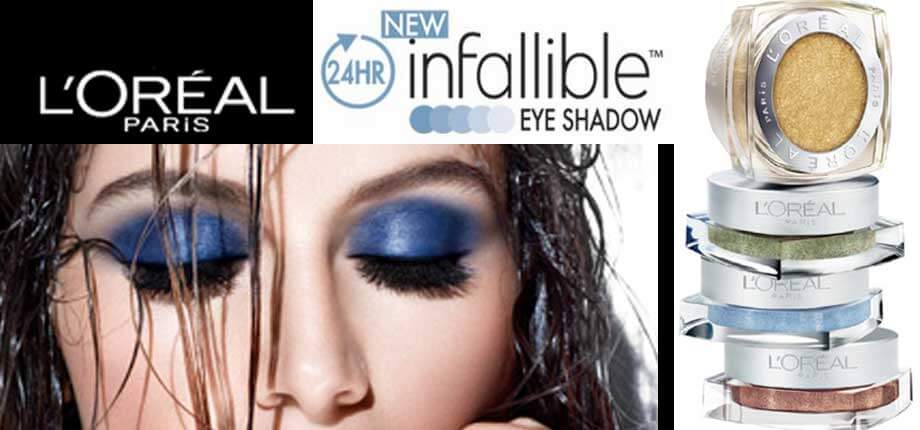 Helllooooo to all my Chicklets~!!!! How's everyone doing today??? Its a partly sunny day here, and any day that its not raining is always a great day!!! Although I will admit, its not warm enough here right now to feel like summer….haha…But hopefully soon it will be!!! <3
Today I'm bringing you a review of Loreal's new 24 Hour Infallible Eye Shadows! They currently come in 18+ shades and absolutely have everything from your sophisticated neutrals, to your playful, summertime brights!!!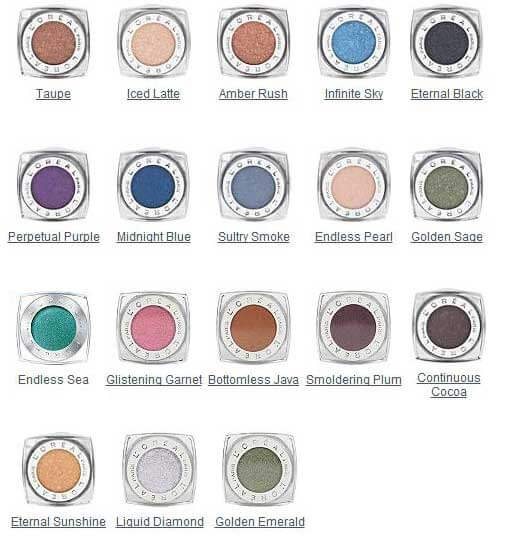 Loreal's Standpoint
For the 1st time ever, L'Oreal Paris introduces an ultra intense eye shadow that lasts from day until dawn—a full 24 hours.

This revolutionary formula fuses the ease of a powder with the velvety caress of a cream to create a unique hybrid that glides on effortlessly. And with its unique technology, your eyes are enhanced with pure, magnified pigment. Make a lasting impression without batting an eye.

• Intense, maximized color

• Luxurious powder-cream texture

• 24-hour long-lasting hold

• Waterproof, crease resistant, fade resistant
Glam Wife Assessment
As you can tell, I'm really feeling the golds, bronzes and taupes, right??? I just can't help myself~!!! Haha! Now when I first saw these, I thought they were loosely-pigmented eye shadows. I have to say, they were kind of a mystery to me….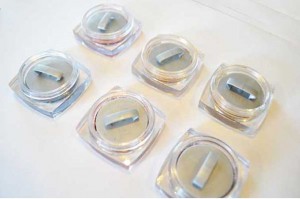 This is how they came packaged. I loved that they came with this little "press", keeping the pigment nicely compacted! Great packaging Loreal!!! I also love the clear containers and that you can see the color through the bottom of the container. It makes for easy organization and storage, once in your beauty collection.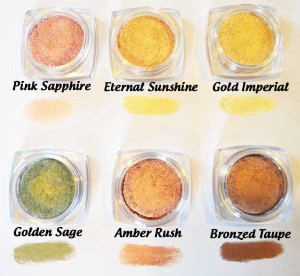 Pink Sapphire: Metallic, soft pink with gold undertones
Eternal Sunshine: Frosty, sunny, yellow based medium gold
Gold Imperial: Shimmery light gold, infused with gold glitter
Golden Sage: Frosty, golden, sage green
Amber Rush: Beautiful, coppery, golden bronze
Bronzed Taupe: Deep, frosty, golden bronze
Texture, Pigment, and Longevity
To my suprise (and delight) these are firmly compacted pigments, that go on with a creamy feel but after initial application they do dry to a powdery finish. I LOVE this!!! This makes "fall-out" a lot less than your standard loose pigments!!! They are very easy to apply, whether you're using just your finger or a brush, its fool-proof!!!
The pigments, as you can see, are amazing!!! They are very higly-pigmented eye shadows and are very similar to Giorgio Armani's Eyes To Kill~!!! Doesn't take much at all on your eyelids to achieve the color you see in the pot!!!
And I'm happy to report that these DO live up to their "long-lasting" claims!!! Now I haven't tried wearing them a solid 24 hours, but when I applied them at 7am, they were STILL going strong by 11pm that night!!! (Even after I'd rubbed my eyes a few times) These shadows have some killer staying power~!!!! On all fronts, these shadows feel, and look like they should be sold at department store prices~!!!
My Favorite Shades???
So far from the shades I've purchased to date, my faves are Amber Rush (on the left) and Eternal Sunshine (on the right). Although I have my eye on a few more fun shades from this collection~!!!
And I'm Coveting These Colors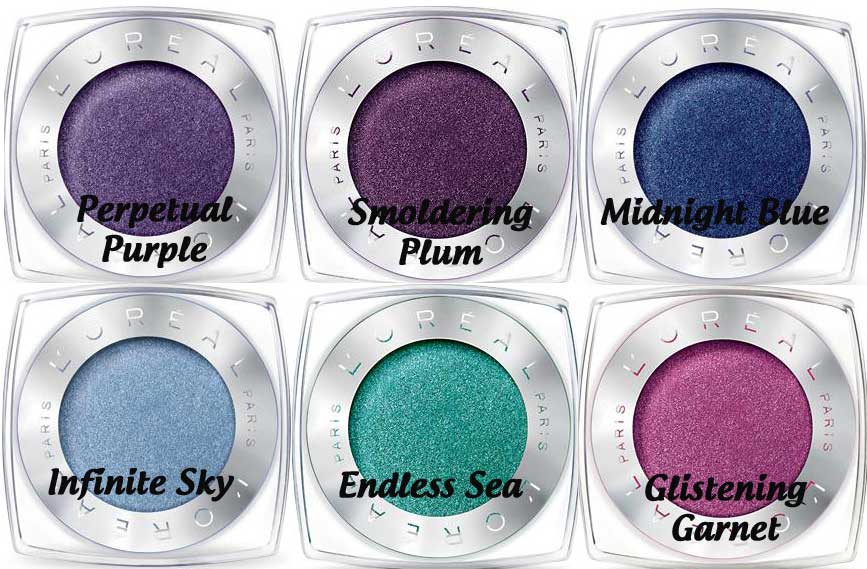 Aren't these gorgeous??? Yes, they look so fun and I think I definitely NEED these~!!! L'oreal if you're listening, feel free to send these little gems my way~!!!

GLAM RATING: A
Quality: A
Texture: B
Pigmentation: A
Longevity: A+
Packaging: A
Pricing: $7.95 (approximately, may vary by store)
Availability: Most Major Drugstores and Big Chain Retailers (Walgreens, Rite Aid, CVS, Fred Meyer etc)
L'oreal has definitely hit a home run with these shadows!!! They are almost everything you'd want in a shadow – long-lasting, highly pigmented and easy to apply!!! Only downside I see is the lack of different finishes offered in this line. I've only seen shimmery and frosty finishes. I'd love to see some matte and satin finishes in this line. Although these are so new, I'm hopeful L'oreal will roll out some new colors and finishes. At the end of the day, these shadows are as beautiful as anything you'd find at the department store!!! A DEFINITE must have~!!!!!
Have any of you tried these shadows?? What do you think of them and which one is your favorite??? Let me know!!!
Until next time my beautiful Chicklets, it's all about keeping our eye shadow long-lasting, intense, and luxurious, while still keeping it effortless~!!! Sending you all HUGS and LOTSA LOVE~!! xoxo
Comments
comments