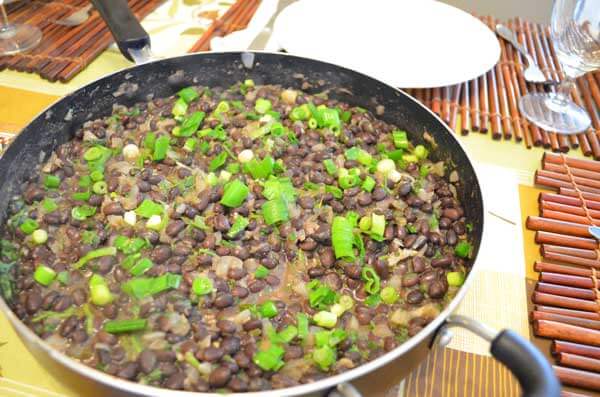 Today I'm bringing you one of our all-time favorite bean recipes!!! They are delicious, low-cal, low-fat and FULL of yummy flavor!!! Oh and did I mention – SUPER easy to make!!! Yes, that's a win-win in my book!!! Its Mexican Spiced Black Beans~!!!!
Hola Chicas~!!! How's everyone's weekend been? We've had a fun-filled and busy weekend! Kids went to see the new Spiderman with my hubby! They loved it and said it was the best Spiderman yet!! Have you seen it??? I'm usually not into superhero movies, but from what they said, I might end up having to watch it!!! We'll see!!!

If you've seen it – what did you think???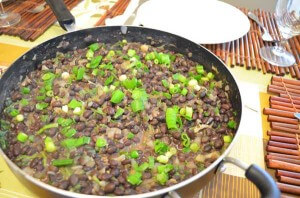 Don't they look yummy??? This dish is an amazing accompaniment to a meal that you need a hearty and delicious side dish!!! We've often made this along with Fajitas, Enchiladas, Ribs, Burgers etc etc. You could even incorporate them into Huevos Rancheros, Taco Salad, Tostadas, or into a burrito instead of the traditional refried beans~!!!
Ok, Let's Cook Some Beans!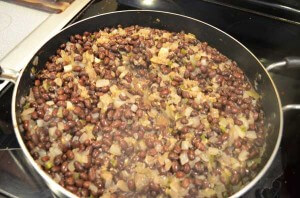 1. Start by frying the onions in oil until they are translucent. Once translucent, add the crushed garlic and jalapeno and saute for a couple of minutes. Follow by adding the beans, cumin, salt and pepper. Saute 10-15 minutes. (Make sure when you drain the beans, that you keep the liquid just in case they become too dry during cooking.)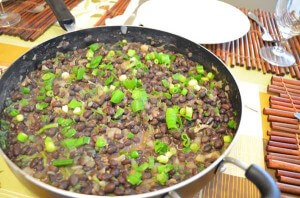 2. Just before serving add the cilantro, lime juice and zest and garnish with green onions. And that's it~!!!! How simple is that??? So easy, yet soooo delicious~!!! And don't forget – this dish is full of protein and fiber and so healthy!!!
Mexican Spiced Black Beans - Vegetarian, Low-Calorie, Low-Fat, and FULL FLAVOR!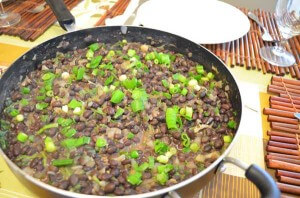 Author:
Creative Life of a Glam Wife
Recipe type:
Side Dish (or entree)
Prep time:
Cook time:
Total time:
Ingredients
3 tbsp vegetable oil
8 cloves garlic, minced
1 jalapeno, finely chopped
4 onions, finely chopped
4 (15oz) cans black beans, (drained, not rinsed, and liquid reserved)
4 tsp ground cumin
salt and pepper to taste
2 limes, zested and juiced
¾ cilantro, finely chopped
Garnishes (any or all):
Cilantro, Chopped Scallions, Crumbled Cotija or Queso Fresco, Sour Cream
Instructions
Saute onions and jalapenos in oil until translucent, about 10 minutes.
Add minced garlic and saute 2-3 minutes.
Add Beans, cumin, salt and pepper. Saute another 10-15 minutes. If mixture gets too dry, add some reserved liquid from the beans. These beans shouldn't be too dry.
Once almost ready to serve, add lime juice, zest, and cilantro. Saute 2-3 minutes, garnish and serve!!!
I hope you will give this a try!!! And let me know if you do!!! What's your favorite bean recipe??? I'm always looking for new bean recipes!!! Don't forget, if this recipe makes too much for your family you can always scale it down or even freeze the leftovers~!!!
Until next time, my friends: You can always keep your recipes simple, easy, and healthful, while still keeping it FLAVORFUL~!!! Hugs, Blessings and Lotsa <3 Chicklets~!!! xoxo
Comments
comments