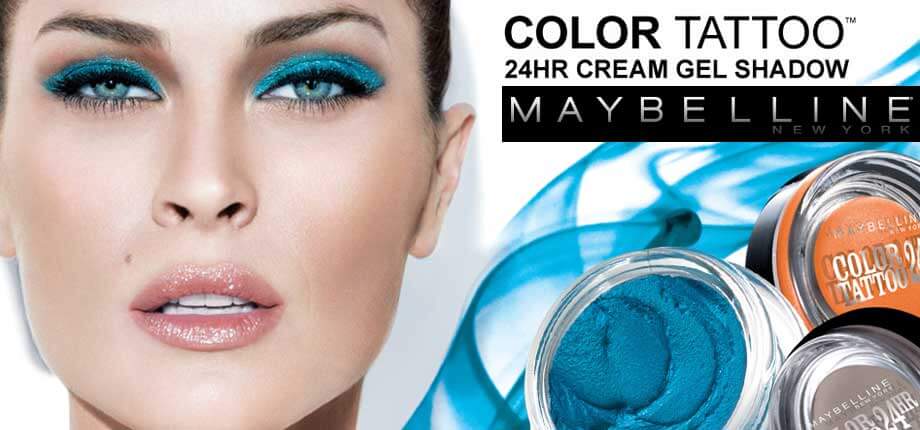 Hola Chicas~!!! How's everyone doing today??? I have to say, I'm loving summer and could really get used to all this sunshine and beautiful weather!!! Sunny, warm weather just puts you in a "sunny" mood, right??? Along with the summer weather, come lots of beautiful, bright shades of eye shadow!!!
And one of the newer editions to Maybelline's makeup line is their new "Color Tattoo" 24 Hour Cream Gel Eye Shadows. These are available in 10 different shades ranging from your neutral shades to vibrant, playful colors like teal, gold and emerald.
Maybelline's Standpoint…
Why You'll Love It

Dare to wear 24HR shadow.
• Ink technology creates 24HR wear shadow for our most intense, long-lasting color saturation
• Cream formula glides on without creasing and keeps color vibrant
• Ophthalmologist-tested. Safe for sensitive eyes and contact lens wearers
For Best Results

High impact look: Illuminate. With fingertips, sweep all over eye from inner corner and work outwards. For added drama, darken as desired.
Glam Wife's Assessment…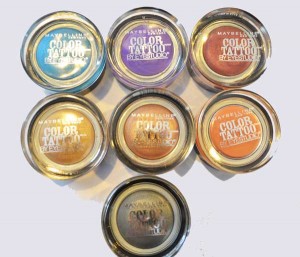 Top Row (left to right): Tenacious Teal, Painted Purple, Pomegranate Punk
Middle Row (left to right): Bold Gold, Bad to the Bronze, Fierce and Tangy
Bottom Row: Audacious Asphalt
Tenacious Teal: A bright, vibrant teal
Painted Purple: A bold, violet-type purple
Pomegranate Punk: A deep, rich, brownish-cranberry
Bold Gold: A "24 carat" opulent and true gold
Bad to the Bronze: A soft, warm bronze
Fierce and Tangy: A bright, gorgeous tangerine
Audacious Asphalt: A perfect pewter
Another Look At These Beauties…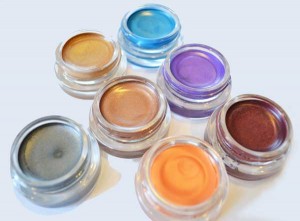 I have to say – I'm LOVING these colors!!! What do you think??
Remember a couple of months ago, when I was telling you how I was stuck in a "neutral" eye shadow rut??? Well I have to say, I have completely broken out of that!!! And ladies if you have a hard time breaking away from your usual "go-to" colors, I have a suggestion to branch out into these new brighter colors! Start by replacing your black or brown eyeliner with a purple, blue, teal, emerald or any other bright color that will suit your coloring! Its fun to give our eyes a pop of color without commiting to "too-much" color. That's how I started branching out. THEN, with these shadows I started using these brights all over my eyelids!!! Aaaand……I'M SOLD!!! Not only on brights, but on these shadows!!!!
Texture, Pigmentation, and Longevity
These shadows are very creamy and richly pigmented!!! And I am VERY, VERY picky when it comes to cream shadows!! Sometimes you'll find cream shadows that aren't well pigmented, or they might go on unevenly, or crease etc etc. BUT, Maybelline's Color Tattoo has none of these issues!!! They are wonderful, easy to apply and very blendable and buildable. So you can use them for a sheer wash of color, or a high-impact night out look!!! And all you need is your finger to apply them!!!
As far as staying power, these really do live up to their name!!! I've been using them a lot lately, and was very impressed when using them in the Las Vegas heat – and they didn't budge!!! Gorgeous, long-lasting color!!!
One of My All Time Favorites Is….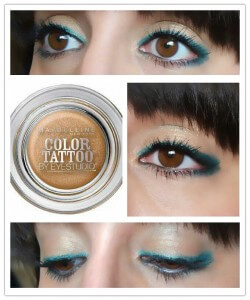 BOLD GOLD~!!! This color is amazing at illuminating your eyes!!! Here I've used it as a base and applied a Teal eyeliner!! So mix and match them for some fun and very summery combinations~!!! All of which will highlight and bring out your eyes in beautiful ways!!!
Important Tip!
I do recommend, no matter what kind of eyeshadow you use, to use a base. This will always extend the longevity of your eyeshadow and eyeliner!!! But you don't need to go out and buy an "eyeshadow base"; I simply apply foundation or coverup on my eyelids, and this keeps everything nicely in place~!!! That was a tip a Mac Makeup Artist gave me several years ago while doing my makeup. And its one tip I've come to rely on~!! Just think, when you take the time to do you eyes, you don't want your eyeshadow fading or disappearing, right? So taking a couple seconds to apply a base makes ALL the difference~!!!
Glam Rating: A-
Quality: A
Texture: A
Pigmentation: A
Longevity: A
Packaging: B
Pricing: $7.99 (approximately, may vary by store)
Availability: Most Major Drugstores and Big Chain Retailers (Walgreens, Rite Aid, CVS, Fred Meyer etc)
I'm in love with these new cream eye shadows!!! They are highly pigmented, long lasting, go on evenly, and come in a great selection of colors!!! These shadows are what broke me out of my "neutral color" rut, AND they are easy to apply. I just hope Maybelline keeps new colors coming in this line!!! These definitely have the look and feel of a much higher priced product! A must have??? YES!!!
Well that's it for me!!! Have any of you tried these shadows?? What do you think of them and which one is your favorite??? Let me know!!!
Until next time Chicas, its all about keeping our eye shadow illuminating, vibrant, long lasting, and effortless~!!! xoxo
Comments
comments