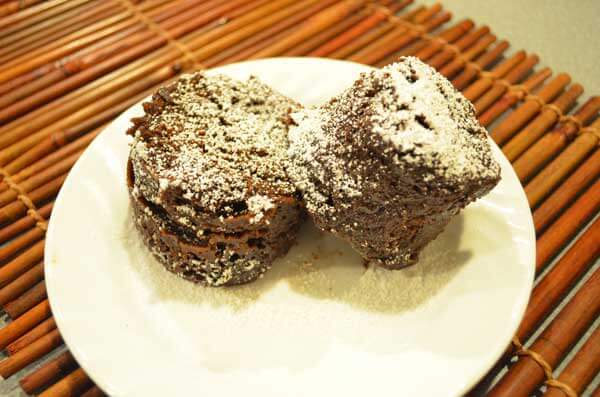 Chocolate Cake. Two little, yet heavenly words, right? Normally you have to spend a lot of time and effort to bake a cake, and then you're left with the delicious leftovers that only serve as added temptation ALL week long!!! Well with this recipe – problem solved! You can get a delicious chocolate cake fix without the added temptation of eating TOO much cake! It's "Instant, Microwave, Single-Serving Chocolate Cake"~!!!
Hola Chicas~!!! How's everyone doing??? It's been a busy month of June for us. With the end of school for both of our kids and a fun vacation to L.A. and Vegas – we've had an eventful, and very busy start to summer!!! I have to say, I did bring my laptop on vacation with me with great intentions to blog while on vacation. BUT, of course, we were SO busy sightseeing and having fun with the kids, that my laptop sat ignored!

Now that we're home and settled in though, I"m so excited to be BACK and bringing you some new fun, delicious, and interesting articles!!!
And how better to get back into the blogging routine, than to bring you an easy, yet yummy chocolate recipe~?!?!?! Right??
Besides the fact that this recipe is single serving which makes it very convenient and easily tailored to any family; I also love this because there are no preservatives or chemicals!!! Unlike the similar counterparts sold in stores!!!
This is one of my "Recipe Renovations". The original one I found in the Food Network Magazine (love that magazine!) and just changed it up a bit to suit our tastes!!!
Ready to Start "Baking"???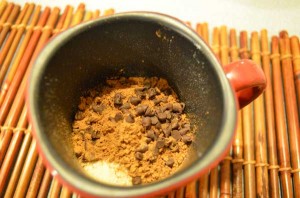 1. First measure your dry ingredients in a large/oversized mug.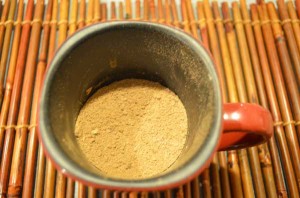 2. After measuring your dry ingredients, make sure to mix them all very well.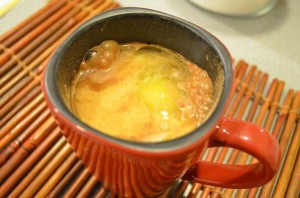 3. Now its time to add your wet ingredients. Mix very well to incorporate and microwave on high for about 2 minutes.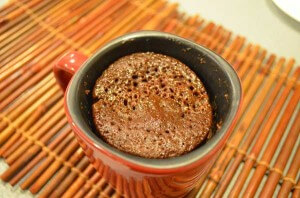 4. Once you take it out of the microwave, it will look a little moist on top. And that's totally ok – you don't want to over-cook your chocolate cake or it will become dry.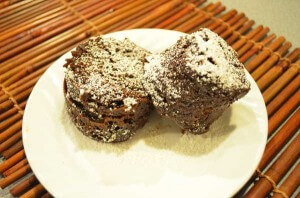 5. Aaaand your done~!! Its that easy!!! You can eat the cake right out of the mug if you'd like! Or you can take it out, cut it in half and dust with some icing sugar!! Or add some icing – whatever you are in the mood for~!!! But that one big mug made both of these "not so small" halves~!! Definitely enough to share!!

Now if you don't have any oversized mugs, you can always go ahead and cook it in a bowl. I cooked one in a bowl and took this picture so you could see what it would turn out like….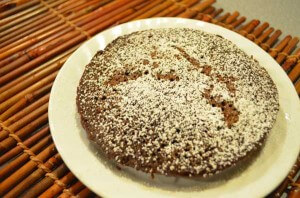 And actually cooking it this way, you could cut wedges and share the LOVE~!!! This would also be delicious topped with some ice cream – you'd have a great and easy dessert~!!!
Instant, Microwave, Single-Serving Chocolate Cake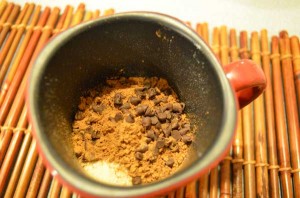 Author:
Creative Life of a Glam Wife
Prep time:
Cook time:
Total time:
Ingredients
*Dry Ingredients*
¼ cup flour
5 tablespoons sugar
2 tablespoons cocoa powder
pinch cinnamon
pinch salt
1-2 tbsp chocolate chips (depending on how chocolatey you like it!)
pinch instant coffee (optional)
*Wet Ingredients*
1 egg
3 tablespoons milk
3 tablespoons vegetable oil or melted butter
dash of vanilla extract
*Optional Toppings*
Icing Sugar/Icing/Ice Cream
Instructions
Measure all of your dry ingredients in a large/oversized mug. Mix well to incorporate them.
Now add your wet ingredients to your dry ingredients and whisk them all together well.
Microwave on high for about 2 minutes until puffed.
Add toppings and enjoy~!!!
Here's the link to the recipe I found in the Food Network Magazine:
Well I hope everyone is enjoying their summer vacation and building fun and lasting memories~!!! Have you ever tried making a microwave cake before? Do you have a fun or interesting twist to this recipe you'd like to share??? Drop me a line and let me and everyone know!!! I love hearing from you – its wonderful sharing tips and tricks so we can all discover and learn more in the cooking world~!!!
Well that's it for me Chicas, I hope I've inspired you to try something new!!! It's all about keeping it easy, fast, and homemade while also satisfying your sweet tooth~!!! Till next time – HUGS~!!! xoxo
Comments
comments