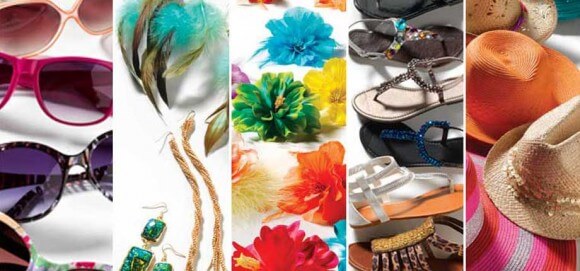 Good morning Chicas~!!! How was everyone's weekend??? We had a fun-filled weekend, celebrating my oldest son's birthday! It's so hard to believe it's already June and Summer is approaching rapidly!
With that said, I'm bringing you this post about how to infuse the "Summer Trends" into your wardrobe and beauty routine~! Remember a couple of weeks ago, I brought you lots of pictures of the new summer beauty products that have hit drug stores and talked about the color trends for this upcoming season in Spring and Summer Beauty Trends?
Well, I guess you can consider this a "Part 2″ to that article~!! Only we aren't just talking beauty this time!! We're talking how to spruce up your wardrobe easily with the new colors and trends for summer~!!! Today I'm also bringing you lots of pictures of accessories, fashion, and beauty products to "Summer-ify" your look~!!! (If you want to see any of the pictures below in larger format, just click them and it will open a larger picture for you.)
When It Comes To Summer Beauty…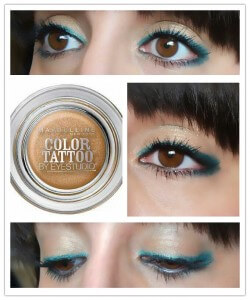 …You don't need to feel overwhelmed by all the bright colors that are hitting the store shelves! Look at them as inspiration and add as much (or as little) color as you feel comfortable with. Here I've just used Maybelline's Color Tattoo eye shadow in Bold Gold, all over my lids and then lined my upper lids with Mac's Pompous Blue eye shadow (using an angled brush). This is a fun way to give your makeup a pop of color without going too crazy!!! Now depending on your coloring, think of all the ways you can change this up!!! You can line your lids with blue, green, purple, bronze and SO many more colors!!! This is a great way to ease yourself into using a bit of color!! If you are more comfortable with bright colors, then adding a wash of color to your eyelids would be beautiful!!!
If you are looking for a night out kind of look, take a gold, shimmery taupe, coral or any shade of pink, then smoke it out with a darker matte brown or black eyeshadow in the crease~!!! Add eyeliner and you have instant smokey eyes~!!! Now pair this with a beautiful coral, bronze, or fushcia blush on your cheeks, and you have a "summer-ified" look~!!!
….Summer is the time when you can go wild with bright, bold colors and patterns on your nails~!!! Here I've used Broadway imPress Nails in a variety of different colors/patterns, as well as some Kiss Nail Dress!!! Whether you are using the super bright, fun patterns of Kiss Nail Dress or Broadway imPress, or some cute nail polish – don't be afraid to go bold~!!!!
For more pictures and info on the new Summer beauty products, check out Summer Beauty Trends! There I've featured lots of pictures of the colors and new products, the major brands have released for this upcoming season~!!!
When It Comes To Summer Fashion and Accessories….
….Summer is all about the sunny, beachy accessories~!!! Think about pairing a cute, colorful hat with a tank top, summery skirt and finishing the look some elegant sandals!!! And incorporate these styles/colors/trends into your wardrobe in a way that suits your own personal style!!! Whether you're adding the hat/sandals and other accessories to an outfit with jeans or shorts – these little details will give you that chic summer look~!!! (The hats and sandals shown above you can find at your local Claire's stores)
…And if hats aren't your style – think about jazzing up your "do" with some colorful flower clips in your hair or some clip in feathers~!!! Its such an etherial, effortless, feminine look for summer~!!! You can find both of these at your local Claire's or Icing stores.
….This summer, bold, bright scarves are in~!!! A great way to accessorize and jazz up any outfit!! Think, a simple top paired with a patterned or bold scarf and add to that some chic bangles and you've instantly spruced up your look~!!! These scarves and bracelets are from Aldo – love that store~!!!
…Aside from the bold, bright colors, with Summer comes the natural, textured, etherial fabrics that we've all come to love~!!! These gorgeous accessories definitely evoke the feeling of summer, don't you think??? I'm in <3!!! The above accessories can be found at your local Icing stores~!!!
….And no Summer look would be complete without adding some bright, fun earrings or necklaces to it!!! Depending on the look you are going for – make sure to be judicious when adding accessories. You don't want to go overboard with them – you just want them to add some pizazz to your outfit, while still keeping it classy~!!! Right ladies??? (The necklaces and earrings above can be found at Aldo Accessories)
Depending on the outfit you're wearing, will really depend on which accessories to choose. If you are wearing a statement necklace, you might want to skip earrings or go with small, understated ones. And by the same token, if you are wearing statement earrings, you might want to skip the necklace. A good rule of thumb, is that your ensemble should only be making 1 statement, otherwise your ensemble might come out looking "confused".

I will say, I know its hard sometimes holding back, when you have so many amazing accessories to choose from~!!! But you want your look to be effortlessly chic, not look like a poster child for "What Not To Wear"!!! Am I right ladies???

When It Comes To Accessorizing Animal or Bold Prints…
…don't go overboard. A little goes a long way!!! This goes the same for any bold print. If you have a cheetah print scarf, I'd use that palette to accessorize what I'm wearing for the day. But NOT (ever) add matching cheetah bag, cheetah earrings and cheetah top, etc etc. I know how much we love our prints, and I'm the first one to admit that, BUT we must use restraint! Or it just looks like our local Wal-Mart threw up on us~!!

We can't have that, now can we???
A general rule of thumb would definitely be, if you have a statement scarf/top/necklace etc, build your outfit around that with complimentary and subtle pieces. Don't also add other statement pieces to the same look, or your look will have just gone from chic to tacky. All segments of our look should work synergistically, with the eye being drawn to one specific piece/place.
I hope I've given all you some fun inspiration to "Summer-ify" your wardrobe and beauty routine on whatever level you feel comfortable with~!!! Remember it doesn't take a lot of effort or money, to jazz up your look~!!! What summer accessories and beauty products are your favorite??? What's your summer style??? Do you have any fashion, beauty or money-saving tips? Drop me a line and let me know~!!! I love hearing from you!!!
In the coming weeks, I'm going to have some new beauty reviews of the Maybelline Color Tattoo Cream Eye Shadows, as well as Loreal's New Infallible Eye Shadow and a review of a new Makeup Forever Blush that I'm also using as an eye shadow~!!! (Thanks to @Abryda for the suggestion) On the recipe front, I'll have an easy and fast chocolately dessert recipe for you, a new, delicious summer salad, and some homemade Mediterranean Falafel~!!! So stay tuned my beauties~!!!
Well that's it for me today, on this rainy, pre-summer day~!!!! But remember, you can always incorporate the new trends and colors while keeping it fun, stylish and effortless~!!! As long as you always keep it classy~!!!! HUGS ~!!!! xoxo
Comments
comments