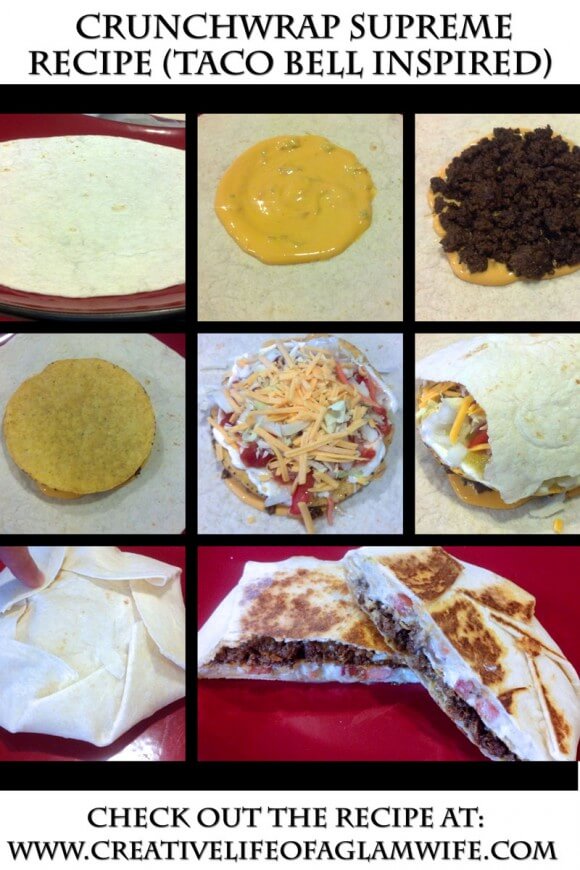 When the Taco Bell's Crunchwrap first came out, I had to try it. Layers of taco beef, cheese, crunchy tostada, salsa, sour cream and yummy veggies, all rolled up in a soft, warm flour tortilla!! What's not to love??? But what I don't love is eating fast food, for the obvious health reasons. As well as the fact, that you don't get to control the quality of ingredients that go into what you are putting in your mouth. So when I found some ideas on Pinterest for making my own Crunchwraps, I had to try it! But of course I had to put my own spin on it, because I can never just follow a recipe.

The spin I put on the recipes on saw on Pinterest, is making it a healthier version. So not only can you control the quality of ingredients, but you also have a much "better for you" version of the original! A win win!! The other bonus to this recipe, is that its super easy and comes together very quickly! A perfect meal for those weeknights when you don't have a lot of time, or you don't have a lot of energy!
1. Cook the Ground Meat with Taco Spices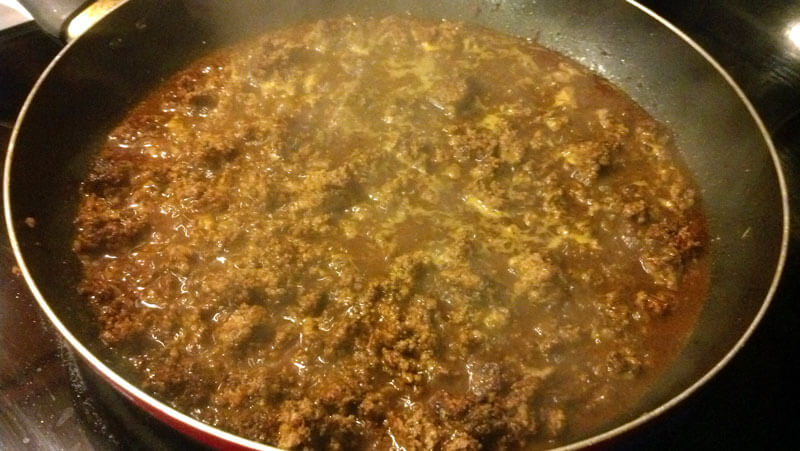 I used lean ground turkey, but you can use any lean ground meat. The other flavor enhancer here, is that I used my own taco seasoning. Not one of those seasoning packets. And trust me, this makes a huge difference! And to throw together the spices, takes only 5 minutes! A worthwhile step if you want maximum flavor!! I used the Taco Seasoning Recipe I posted last week.
2. Time for the Cheese
If you aren't sure how much cheese sauce to put inside your tortillas, just use your tostadas as a guide! You'll want the cheese sauce to be the same diameter. And if you don't have the time to make cheese sauce, you can either buy it or use shredded cheese instead! If you are using shredded cheese, you'll want to be generous!
3. Add the Beef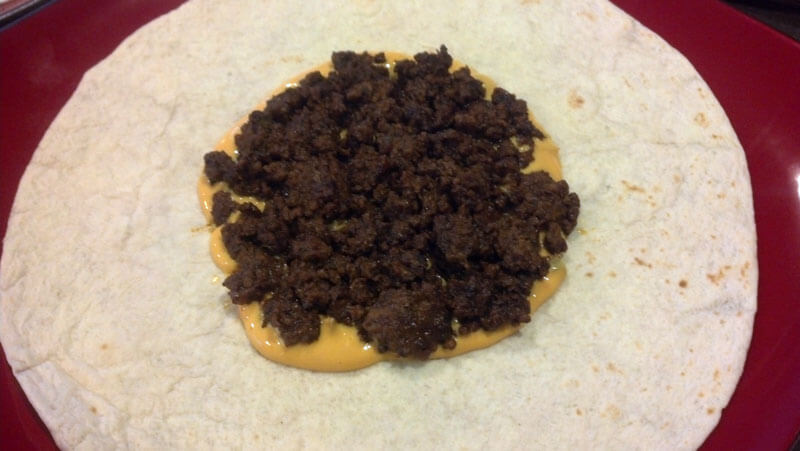 Once the beef has finished cooking, add a layer on top of the cheese sauce! If you are using shredded cheese instead of cheese sauce, add a tad more shredded cheese on top of the beef. But only if you are using shredded cheese, no need with the cheese sauce! That is, unless you like it EXTRA cheesy!!

4. Tostada Time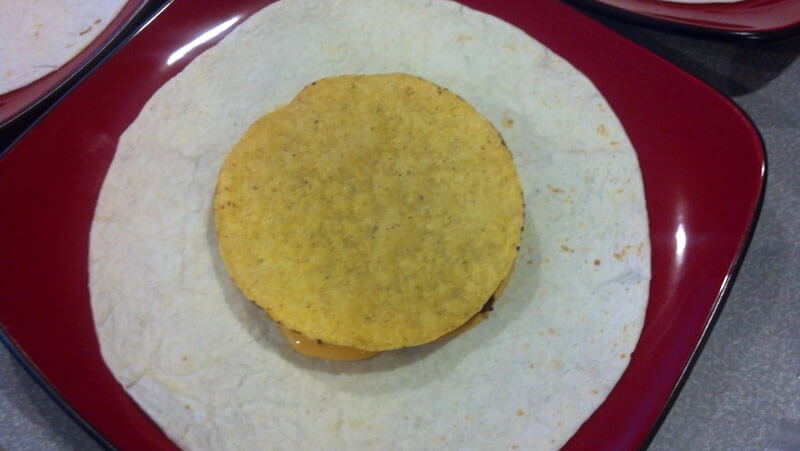 On top of the beef, add your tostada shell.
5. Sour Cream Layer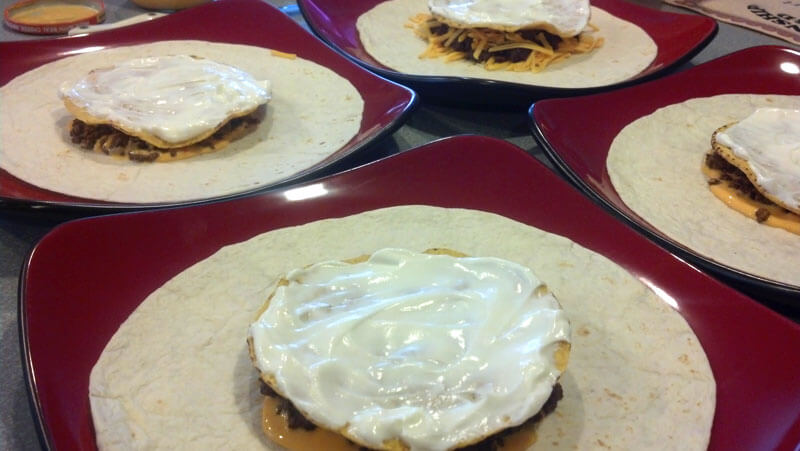 Add about 2 tablespoons of fat free sour cream to the top of each tostada shell.
6. Add the Salsa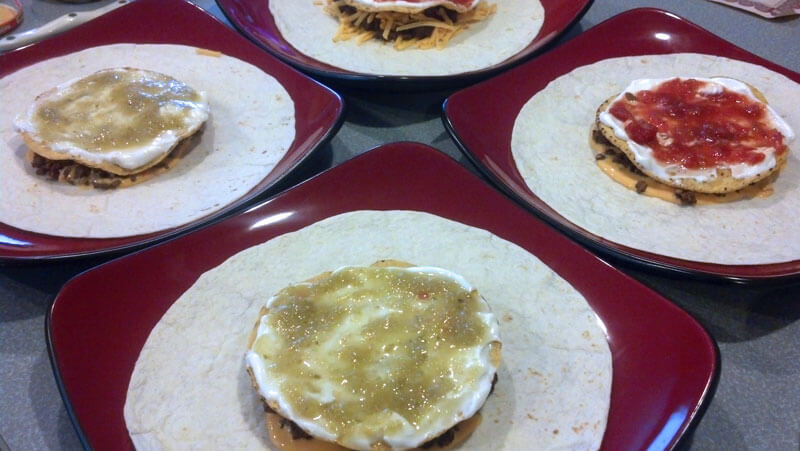 As you can see, we all prefer different salsas! My kids wanted Salsa Verde (Tomatillo Salsa), and my hubby and I felt like traditional red salsa. So you can customize these however you'd like to suit your tastes!
7. Add the Toppings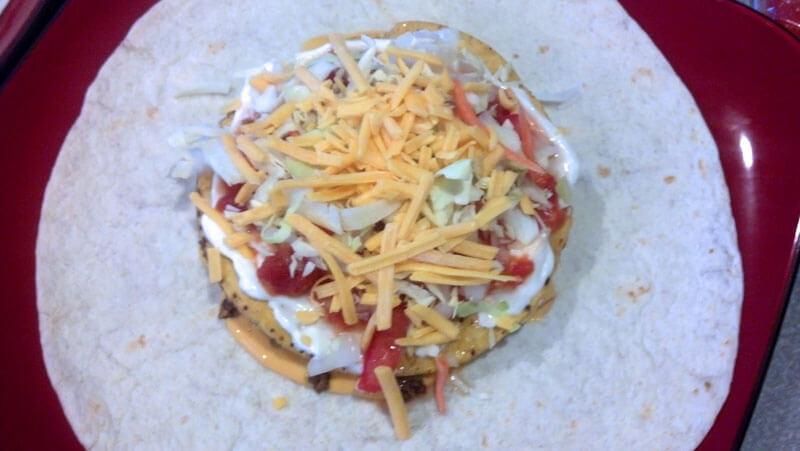 On top of the salsa, add diced tomatoes, onions, shredded lettuce (or shredded cabbage), and some shredded cheese. Now its starting to look like a party in your mouth, right??? Trust me, it IS~!!!
8. Cover the Layers with 1/4 Tortilla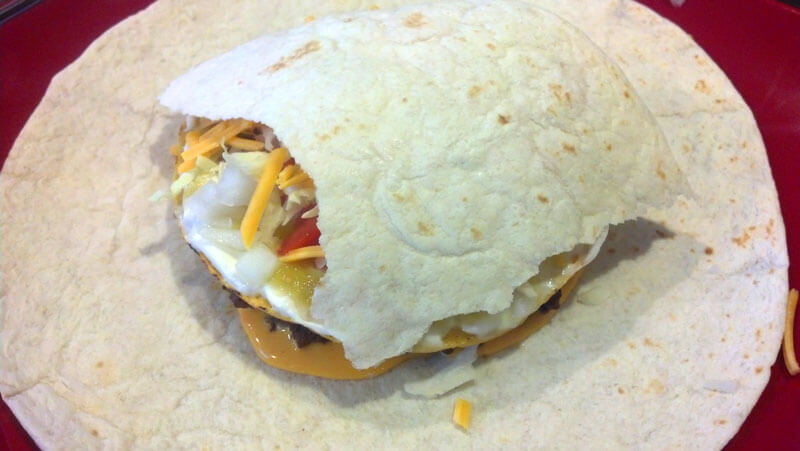 Cut up one large burrito size tortilla in quarters, and layer it on top. This step is key, since this keeps all the insides from falling out. As big as the tortilla is, it isn't big enough to hold all this goodness in~!! So make sure you don't skip this step~!!
9. Ready to Fold the Tortilla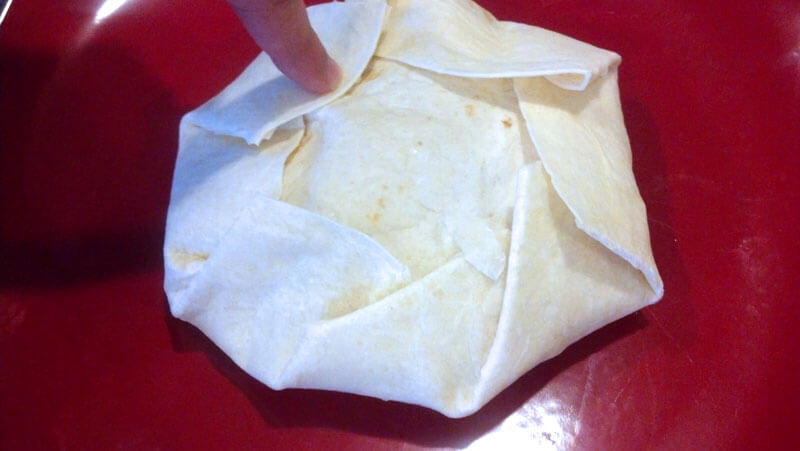 How you fold this is key! As you can see, you need to fold it accordian-style. I had my son hold it down, so I could snap a picture for you to see! Once you have it folded, its ready for the grill. Make sure and cook these FOLDED SIDE DOWN first!!! Very important, to seal it shut.

You don't want all the yumminess oozing out before you can get it in your mouth~!! I cooked these up on my griddle on medium to medium high, so I could cook up all 4 at the same time!
10. Ready to Eat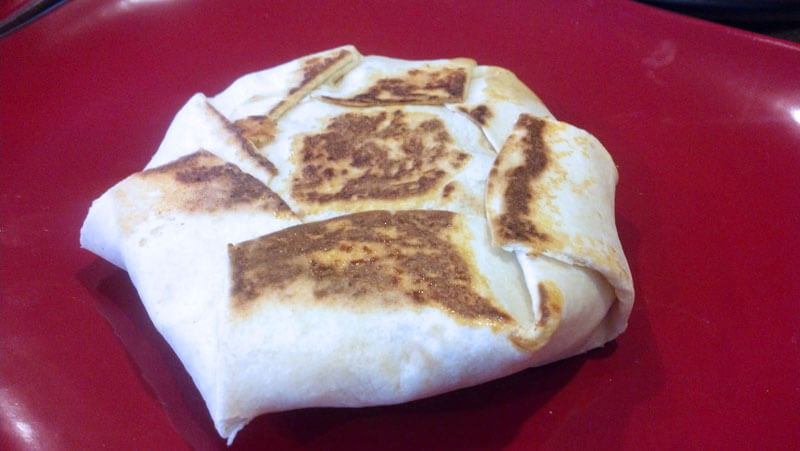 I love how it looks fresh of the grill! A yummy little package~!!!
11. Sliced and Ready to Eat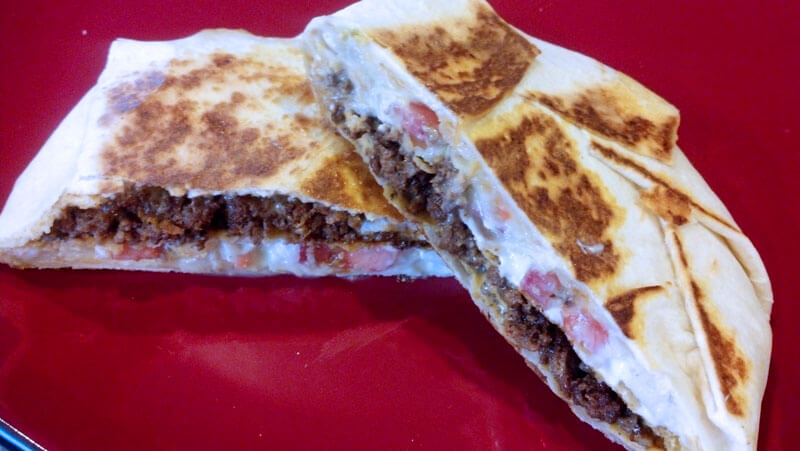 Once you've sliced it in half, its all ready to eat!!! Easy, fast and healthy~!!! A winning combination, right??
Homemade Crunchwrap Supreme Recipe - Taco Bell Inspired (Healthy and Easy Version)
Author:
Glam Wife (Adapted from Pinterest)
Prep time:
Cook time:
Total time:
Ingredients
5 Burrito Size Tortillas (Healthy Option: Use 100 Calorie High Fiber Wraps)
½ cup Low Cal Cheese Sauce (Or 1½ Cups Shredded Cheese)
1 lb Cooked Taco Seasoned Lean Ground Turkey (Or Lean Ground Beef)
4 Crunchy Tostadas
½ cup Fat Free Sour Cream
½ cup Salsa (Any variety you prefer)
½ cup diced onions
½ cup diced tomatoes
Optional Add-ins or Toppings: Sliced Avocado, Guacamole, Cilantro and/or Jalapenos
Instructions
Lay out 4 tortillas and add 2 tbsp cheese sauce to the middle of each tortilla, no bigger in diameter than the tostada
Layer cooked, taco-seasoned ground turkey on top of the cheese sauce. Keeping it the same size at the tostada round.
Add a tostada shell on top of the beef on each tortilla.
Now layer 2 tbsp sour cream, salsa, onions, and a bit of shredded cheese on top.
Cut 1 tortilla in quarters, and add each quarter on top of each of the fillings on all the tortillas.(Important step!! This keeps everything in while cooking!)
Now begin folding the tortilla accordian style. Press one area into the center, the fold the area beside it making sure to hold each area as you are folding. Each area that is folded should overlap the last area folded. Go around the tortilla until the whole tortilla is enclosed.
Put it on the griddle, seam side down. Cook it on medium to medium-high heat. About 7 minutes per side, till each side is golden brown.
Cut each one in half and serve with whatever accompaniments you prefer!
Enjoy!
Have you ever tried a Crunchwrap before? Don't hesitate to make whatever substitutions required to make this recipe fit your family's dietary needs or tastes!
That's all for me today, my friends! I hope I've inspired you to try making your own healthier version of our drive-thru favorites!!! Remember you can always make dinner FAST, FLAVORFUL and HEALTHY, while always keeping it HOMEMADE~!!! Till next time, sending you all lots LOVE, HUGS, and BLESSINGS~!!! xoxo
Comments
comments