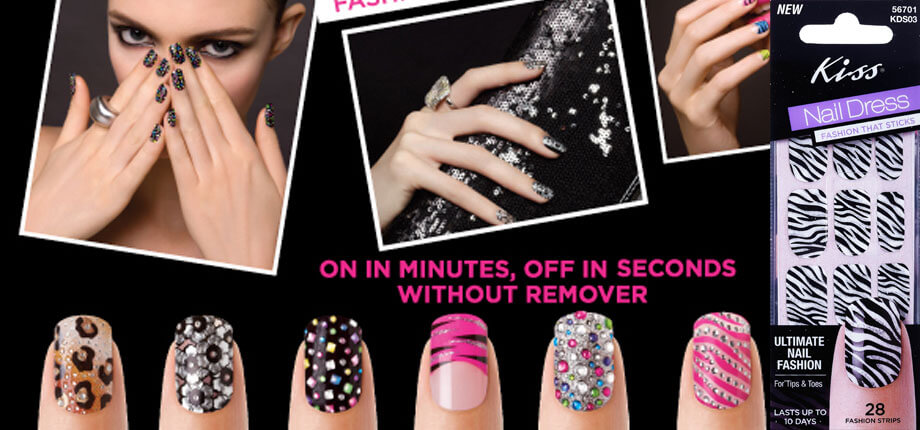 Hey Chicas – how's you day going? Its a beautiful, sunny (albeit cold) day – but no complaints here! I love the sunshine, just puts you in a good mood and is a little reminder that Spring is coming!
I just recieved some products from Kiss Nails and I'm so excited to bring you this post and reveal my "Wild Manicure"!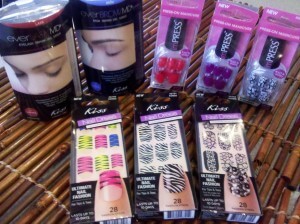 Here you see three packages of Kiss Nail Dress, 3 packages of Impress Manicure, Kiss Everlash MD Eyelash Enhancing Serum and Brow Enhancing Serum.
I'll be bringing you reviews of the Impress Manicure and Everlash MD Eyelash and Brown Enhancing Serums in upcoming posts! So stay tuned for that~! I'm excited to try both products, they look fabulous!
Now I'm not sure if you guys read my previous post on Wham Bam Instant Glam? In that post I talk about the different nail enamel strips and the pros and cons of each. Well as you saw, Kiss Nail Dress is my absolute fave! For several reasons, one being that it lasts the longest of all the nail strips I've tried, I find these don't start "chipping" like some of the other brands do! And I'm definitely hard on my nails – playing with the kids (and their legos) , doing dishes and cleaning etc, all of which isn't very manicure friendly! Also they come with 28 strips in each package which is a GREAT deal, the most strips per package of any set I've ever found. They're easy to apply and easy to take off and you aren't dealing with the regular nail polish smell! Definitely instant glam for us ladies~!
First thing I did was "prep" my nails. Filing them, taking care of the cuticles and buffing them.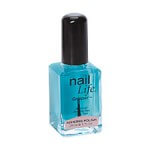 Once they were adequately prepped, I applied a base coat. I use Nail Life Gripper from Sally Beauty Supply.
I applied the Zebra print to all of my nails except the ring fingers on both my hands, where I put one different strip from the other package. Makes for a fun and interesting manicure! I always love having either a different color or pattern on my ring fingers of both hands! If you want you can alternate regular polish with these strips, if the first time around you want a more subdued manicure. But I have to say I love "Wild" nails! When applying these, I'll apply the strip to the nail bed and then cut off the excess; which I'll apply to a nail on my other hand. So I only need 1 strip for 2 nails! Total strips used for this manicure is only 5!!! Not too shabby

! And don't be afraid to trim the cuticle portion when applying it to your other hand, because it may be to wide, which is such an easy fix! Make sure to press down and smooth them out well, then file the ends off.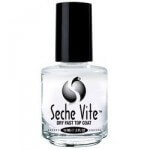 After you've applied all your strips, apply a top coat.
And it's done, my wild and exotic manicure! Do you like it??? One thing that's such a bonus, is when you are ready to remove them, they just peel off! Which I didn't know the first time I went to take them off, and I was so shocked! Having them come off so easily – yet stay on your nails SO long and so well! Don't know what kind of adhesive they use – but its amazing~!

The smell of nail polish remover bothers a lot of people, so this is a great option for those of you who have that issue (like my mom

)!
Big Kudos to Kiss Nails for creating these fabulous products for us ladies to stay looking glam so effortlessly and affordably~! I was at my son's Football practice tonight and I got so many compliments and inquiries on my manicure – they are definitely a hit! I also wanted to mention, these packages come with wide enough strips that work perfectly for doing pedicures, so you can do either or both – a matching Mani/Pedi~! I'm excited to see what new designs they come out with next! I hope they expand their line to include some solid colors and of course more patterns! I love my patterns~!
Oh and before I forget, I want to remind you ladies Kiss is having a giveaway on their Facebook Fan Page – when you go to there, click the "Freebies" tab on the left hand side. Or, you can go there directly from my site, by clicking the "Kiss Giveaway" banner on the top right hand side of my website! That way you can enter for a chance to score some of these little beauties! Keep your eyes peeled, as I'll be bringing you reviews of the Impress Manicure and the Brow and Eyelash Enhancing Serums – always my honest and objective opinions! Till next time Chicas – keep it wild, keep it exotic and always keep it glam~! xoxo