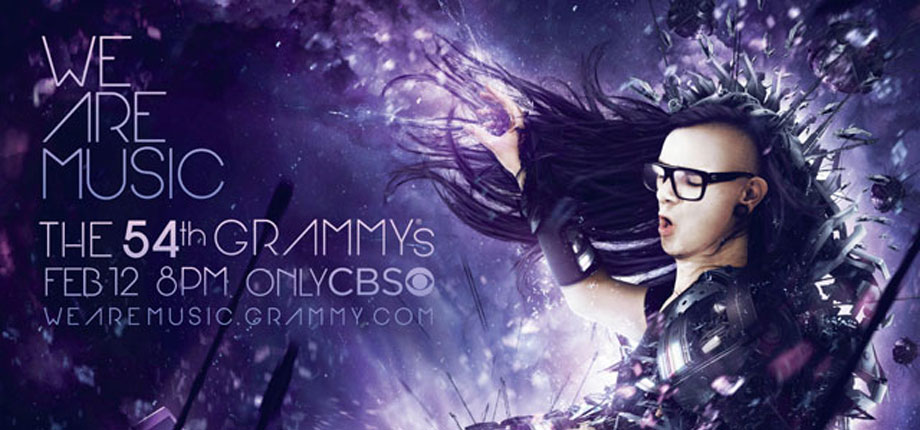 So how many watched the Grammy's last night? There sure were some great performances, beautiful dresses, and makeup ~ but by the same token there were also some major fashion and beauty catastophes! Such is the nature of the awards shows, it seems celebrities are often willing to sacrifice good judgment in order to set themselves apart! Maybe that saying "No press is ever bad press" is the mantra they subscribe too? Well, I would definitely disagree! I understand their need to stand out and also to entertain; but I still do believe in keeping your sense of decorum. Well, that's just me

– and at the very least, these "wild and crazy" fashion statements definitely give us something to talk about! Right? So NOW onto a little recap of the highlights – in both "Hits" and "Misses".

TOP 5 HITS
Adele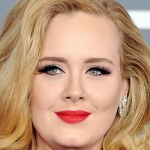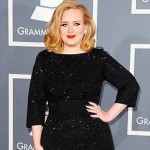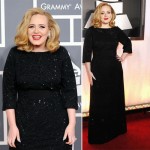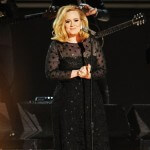 She was my number 1 pick for both fashion and beauty! Her dresses were so elegant, classy and really highlighted her figure perfectly~! (Adele wore a black sequined Giorgio Armani gown and a 12.4 carat diamond ring by Harry Winston.) And as you can see her understated "Retro Glam" makeup was absolutely gorgeous!!! Simple bold black eyeliner, complimented by cherry red lips – perfection!!! And if to seal the deal – her performance was beautiful, captivating and she won 6 Grammys – it was definitely a great night for her~! Adele, we <3 you!!!
Carrie Underwood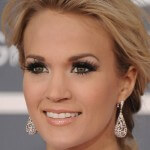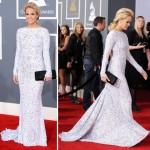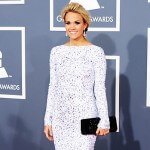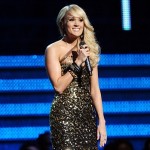 Carrie Underwood was definitely a top choice for both beauty and style~! Her Red Carpet look was a backless Gomez-Gracia long-sleeve gown that she accessorized with diamond dangly earrings. She rocked some gorgeous, long lashes to compliment her smokey and very SPARKLY eyes and nude lips! She did a duet with Tony Bennett singing "It had to be you" and was a beautiful song! Carrie you are definitely a classy lady and we loved that you looked very "Rocker Chic"!
Kate Beckinsale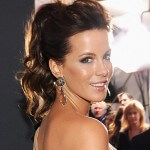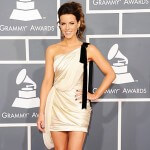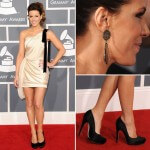 Kate looked like a Greek Goddess! I loved her updo, her natural, glowing makeup and her luminousity~! What a beautiful dress, an ivory draped Zuhair Murad dress cinched at the shoulder with a black bow and Salvatore Ferragamo pumps paired with her understated accessories – was an absolute "Win Win" But let's face it – she could rock just about anything, and look goregous, right? Still though, as you'll see in the "Misses" category below, being beautiful doesn't make up for bad hair/makeup/wardrobe choices!!! (Ahem Fergie)

Kate you looked absolutely GLOWING!!!
Miranda Lambert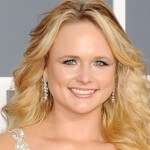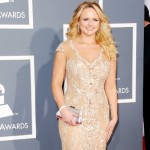 Miranda was absolutely glowing in a cap sleeve sparkly Atelier Pavoni gown and Stuart Weitzman shoes. Her makeup was simple, understated, yet just highlighted her beautiful and radiant skin! And her hair was flowy and effortless! Miranda you definitely get an A+ !!!
Kelly Rowland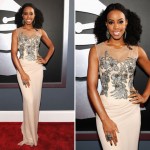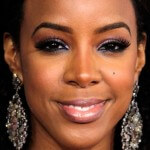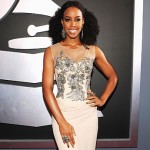 Kelly stunned in this creamy Alberta Ferretti design with silver applique on the bodice, accessorizing with jewels by Lorraine Schwartz. What a beautiful dress that showcased her figure perfectly! And she rocked some beautiful smokey eyes and more nude lips – SO stunning~! Kelly you're looking as beautiful and GLAM as ever~!
Top 5 Misses
Lady Gaga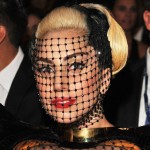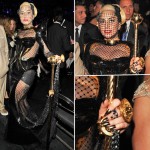 Ay ya yay! Well there are a couple good things to say here. First off, underneath that wierd netting over her face, she reveals what looks to be a beautifully done "retro glam" makeup look! And the second good thing I have to say is that I adore her courage, that she will wear whatever she desires. However, unfortunately what she usually wants to wear is usually a fashion catastrophe~! Here she's wearing a revealing custom Versace sheer gown and tough metallic bustier, in addition to some crazy accessories! One fan on twitter likened her to "Jafar from Aladdin" and I wouldn't disagree. Lady Gaga, will we ever see you in a "normal" outfit?
Fergie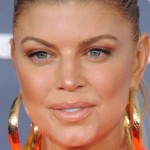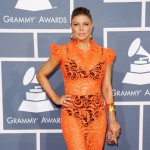 Well well well, you know when you are spending thousands of dollars on dresses – you'd think one would expect more fabric? Or maybe that's just me??? Well this to me looked like a glorified bathing suit cover-up!!! Fergie was quoted as saying "I had two choices and this was the safe one,"about her Jean Paul Gautier tangerine couture lace dress (um SCARY). Her makeup was okay – neither a hit, nor a miss. But I have a hard time focusing on anything else but this (lack of a) dress. Which I'm sure was her intention with the outfit choice – nothing says "Look at Me" better than a neon orange lace dress with black underwear! So, then I guess mission accomplished, right Fergie?
Nicki Minaj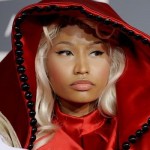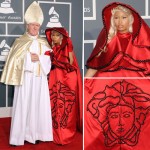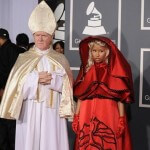 At first sight, I thought "Oh look – it's Little Red Riding Hood.". Oh Em Gee!!!! What was she thinking??? Here you see Nicki Minaj arriving with a bishop in tow (almost like an accessory), coordinating his white priest's costume with her red Versace cape with intricate black beading. Her makeup was ok – nothing amazing. And her performance was beyond wierd, didn't like the song or the performance as a whole. All in all, I was vastly disappointed. Which is really too bad, because I was SO looking forward to her performace, seeing as how I do love several of her songs! But alas, although you are beautiful Nicki, I can't get behind this performance, OR outfit~!
Katy Perry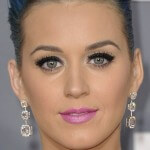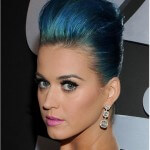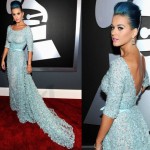 So I'll just start off here on a good note. I thought her makeup was cute – the bold eyeliner and pink lips were adorable! But I have to say, I'm not feeling the blue hair, nor the updo and also not feeling the dress. The dress, by the way, was a powder blue Elie Saab Couture gown which she wore with Norman Silverman diamonds. And to be honest – I'm kind of on the fence with the dress – I think I'm thrown off by ALL the blue! If she'd had her beautiful black hair, I think the dress could have worked. But with the hair – we've got TOO much going on here, you're eyes just don't know WHERE to go!!! Having said that, I did enjoy her fun and spirited performance! Sorry Katy, but its just TOO much blue for me~!

Taraji P Hensen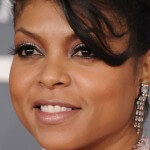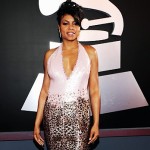 I don't have too much negative to say about Taraji. She's a beauty for sure – and her makeup was soft and glowy! So that's a definite win in my books. But where she went wrong was with this dress – which didn't make sense to me. The flow of the dress almost felt too matronly for the plunging neckline and wild print. Kind of like wearing an oxymoron. So sad – since she's a gorgeous gal, but I'm going to go out on a limb and say either she didn't have enough help in the stylist department or maybe had TOO much help in that department. Can't say I know who's at fault for this dress, but in any case – I still think your a gorgeous lady Taraji~! Better luck next time!

OTHER NOTABLE MENTIONS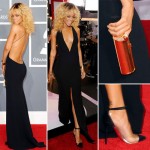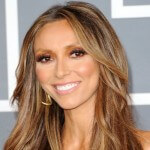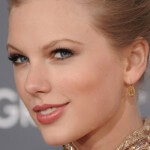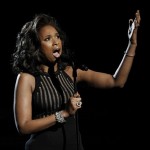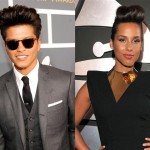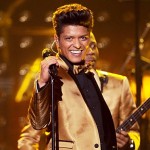 ~Although I enjoyed Rihanna's performance, I thought her dress could have used a bit more fabric. Even though she fit into it perfectly, I just don't subscribe to the "Less is More" mantra when it comes to this dress and the amount of fabric.
~Giulana Rancic looked amazing – her makeup very "J-Lo" esque and beautiful!!!
~Taylor Swift also looked super cute and elegant in her gown.
~Jennifer Hudson stunned in her black, form fitting dress while performing a touching tribute to the late Whitney.
~I ADORED Bruno Mars' performance – very retro and very cool!
~And I wasn't feeling the hairdo that Miss Alicia Keys was sporting, but either way she's gorgeous!
So there you have it my beauties – a little summary of the Grammys! It was definitely entertaining and fun to see all the performances, winners and seeing the celebs getting all decked out in their "finest". (Well *most* of them)

Till next time peeps, remember just because you CAN wear something doesn't mean you should! Keep it glam and always keep it CLASSY~!
Comments
comments