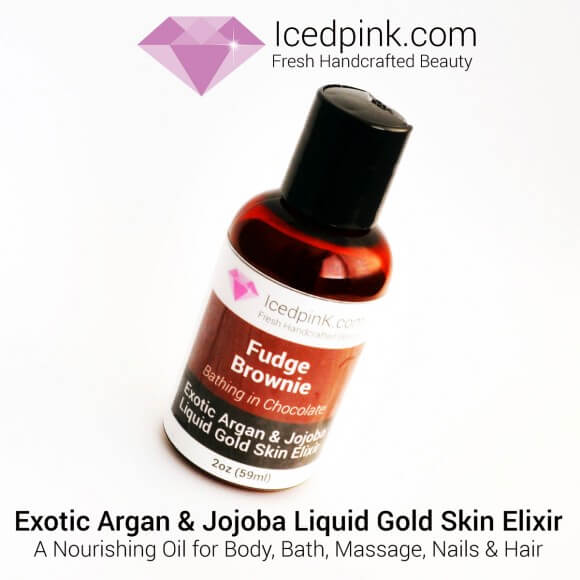 Your skin is your largest and fastest growing organ. It matters what we put on our skin. What we put on our skin is, in essence, what we are feeding our skin.  If you knew the products you were feeding your skin were "preservatives, silicones, synthetics, parabens, formaldehyde" and a host of other harmful chemicals; how would you feel? Our Exotic Argan & Jojoba Liquid Gold Skin Elixir  is, in 5 simple words – Superfood for your skin! (And I'm so excited about this addition!) You can feel confident that our skin elixir is FREE of any of those harmful ingredients you find in many of the other products you buy.
The Exotic Argan & Jojoba Liquid Gold Skin Elixir is a multi-purpose, potent and natural blend of ultra-nourishing plant based oils, each with their own added benefits for your skin. You can use it on your skin, as well as, in the bath, as a massage oil, as a cuticle oil and a hair serum! One amazing product, with many different uses!
When formulating this, it was important to us to use only top quality, luxurious, and beneficial oils. No fillers here! Just a decadent and concentrated blend of natural plant-based oils nourishing your skin at a cellular level, full of antioxidants, omegas, phytosterols, minerals, proteins, essential fatty acids, and vitamins. Our Liquid Gold Skin Elixir is an amazing addition to your skin-care routine, that will leave your skin feeling soft, nourished, and hydrated. Your skin will "drink" this elixir right up, as this is non-greasy, and fast absorbing!

From WebMD:
"The beauty of a serum is that most of the fluid is eliminated," Wilson says, "so what you're left with is a high concentration of active ingredients." Serums contain the most potent dose of anti-aging ingredients — antioxidants, peptides, and skin brighteners such as kojic acid — you can find in nonprescription products. "They're the true workhorses of any product line," Wilson says. "Those few concentrated drops are super-efficient. Serums are made of very small molecules, so the skin absorbs them quickly and deeply. "The thicker, heavier ingredients in creams form a barrier on your skin," Wilson says. "That's great for locking moisture in. But it can also lock active ingredients out. Without these hindrances, the active ingredients in a serum penetrate your skin faster and more effectively."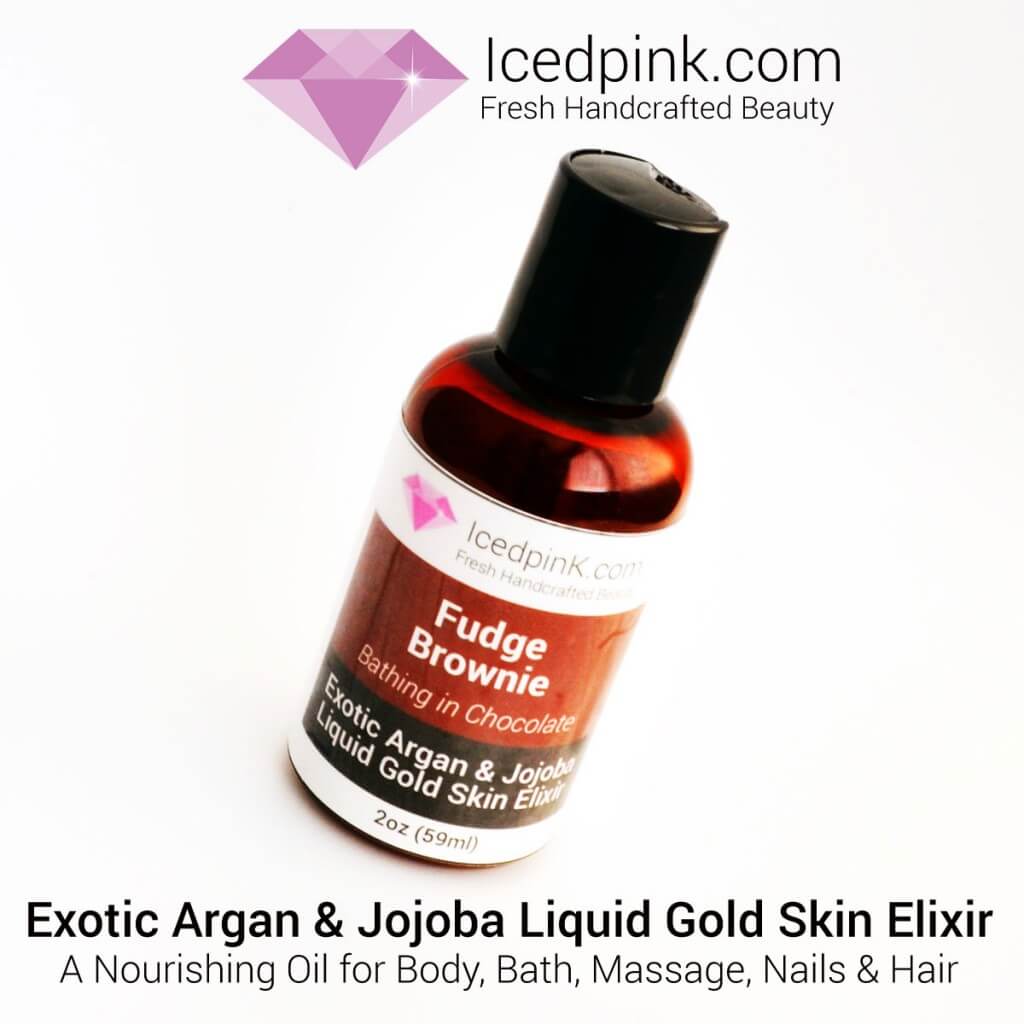 What is in Our Skin Elixir?
Moroccan Argan Oil, Jojoba Oil, Aloe Vera, Shea Oil, Avocado Oil, Apricot Kernel Oil, Sunflower Oil, Safflower Oil, Coconut Oil, Olive Oil, Vitamin E, Rosemary Extract, (And fragrance if ordered scented).
What is NOT in Our Skin Elixir?
No Parabens. No Formaldehyde. No Phthalates. No Sulfates. No Colors. No Preservatives.  No Petroleum.
Customizable…
You can order this unscented, as well as scented! Choose from over 80 different scents! We have something for just about everyone! So in addition to how amazing this will make your skin feel, you can also customize it in your fave scent!!
Now for the Standard Disclaimer
I am not a doctor, scientist or medical professional. We (Creative Life of a Glam Wife and Iced pinK) make no claims or guarantees regarding use of this product. This product contain may fragrance, and/or essential oils, various oils, aloe vera, vitamin E, and shea butter. Please consult with a medical doctor prior to use if you are pregnant, nursing, have allergies, or suffer from any medical conditions. This product is not intended to diagnose, treat, or cure any type of disease. Due to the fact that this product may contain fragrance (when ordered scented), it is not intended or recommended for facial use. Iced pinK and Creative Life of a Glam Wife makes no claims or guarantees as to the effects or benefits of any of the ingredients or this product.
Where Can You Find It?
At Iced pinK, as well as, over on Etsy! And don't forget our free shipping for orders over $75 (within the USA) on Etsy, and free shipping for orders over $100 (For both Canada and USA) over on Iced pinK~!!!
Your skin is your largest and fastest growing organ. It matters what we put on our skin. In essence what we put on our skin, is what we are feeding our skin. So make sure you read labels. Educate yourself. Invest in yourself. And always feed your skin WELL!!!
Comments
comments