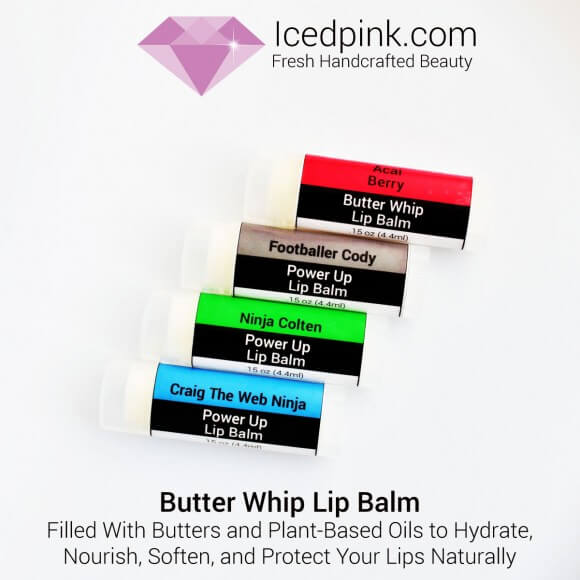 If you are still using petroleum based lip balms, it is time you left the petrochemicals where they belong – on oil rigs! Not on your lips! Petroleum doesn't contain any nutrient rich properties or healing benefits. They just coat your lips with pore-clogging grease, which can then slip off your lips onto other areas of your face. And when you think of where your petroleum based lip product came from – oil rigs…YUCK!!! I don't know about you, but I certainly don't want to put that stuff on my lips!
Enter Iced pinK's Butter Whip Lip Balm, which is made up of only 5 all natural, lip-loving ingredients. Filled with rich plant butters and oils, which contain antioxidants, healing properties, and adding smoothness. Along with beeswax, adding a protective breathable layer, sealing in moisture and keeping dryness out; and vitamin E for super antioxidant power~!!! Butter Whip Lip Balm feels so smooth and breathable on the lips, never waxy! Don't settle for synthetic alternatives that just coat your lips with grease or chemicals; TREAT your lips to these gentle and natural lip balms! Your lips will thank you!

What is in Our Butter Whip Lip Balm?
Shea Butter, Cocoa Butter, Coconut Oil, Beeswax, and Vitamin E (And flavor when ordered scented).
What is NOT in Our Lip Balm?
No Parabens. No Formaldehyde. No Phthalates. No Sulfates. No Preservatives. No Petroleum.
Customizable…
You can order this unscented, as well as scented! We have something for just about everyone! So in addition to how amazing this will make your lips feel, you can also customize it in your fave scent!!
Now for the Standard Disclaimer
I am not a doctor, scientist or medical professional. We (Creative Life of a Glam Wife and Iced pinK) make no claims or guarantees regarding use of this product. This product may contain fragrance, and/or essential oils, various oils, aloe vera, vitamin E, and shea butter. Please consult with a medical doctor prior to use if you are pregnant, nursing, have allergies, or suffer from any medical conditions. This product is not intended to diagnose, treat, or cure any type of disease. Iced pinK and Creative Life of a Glam Wife makes no claims or guarantees as to the effects or benefits of any of the ingredients or this product.
Where Can You Find It?
At Iced pinK, as well as, over on Etsy! And don't forget our free shipping for orders over $75 (within the USA) on Etsy, and free shipping for orders over $100 (For both Canada and USA) over on Iced pinK~!!!
Your lips are one of the most sensitive and environmentally susceptible parts of our body, not to mention around 30% (or more) of what you put on your lips ends up in your stomach. (That is a staggering number!) And gross when you think of the synthetic and chemical filled products that you could end up in effect "eating". Yuck! Ensure you read labels. Educate yourself. Invest in yourself. And always feed your skin WELL!!!
Comments
comments