Hello there fellow cooks~! A couple of days ago, I made my first "real" stroganoff and it turned out quite delicious! But of course, as with every other recipe, I did make some alterations to this recipe. But all in all, it's a delicious, "company worthy" recipe~!
My hubby had requested Beef Stroganoff, and I've made the Stroganoff recipes in the past that called for cream of mushroom soup and ground beef. But this time I wanted to do "real" stroganoff – no ground beef and no cream of mushroom soup. And I'm very glad I did – because I much prefer this version, the only downside is that it wasn't as quick as its "cream of mushroom" soup counterpart. But honestly – if you want the deep, rich, slow-cooked flavors, you're going to have to invest some time into it. Also, I much prefer recipes where they call for less "prepared" foods with all those preservatives and chemicals in them.
So after much surfing of cooking website – I came across a recipe (the only stroganoff recipe I saw with a full 5 out of 5 stars) that was definitely highest rated and over 200 reviews. So a pretty safe bet this would be a winner~! Now after reading the reviews, I did notice that many people commented it needed to be thicker and needed more sour cream- and I definitely agree with these reviews. So I adjusted it to my liking in creaminess and thickness.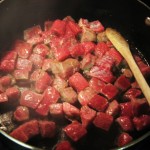 First I started out frying up the steak in batches, after seasoning it well with salt and pepper. I doubled the recipe – which made a LOT! But its nice because this recipe freezes really well and even if you don't want to freeze it, you can enjoy leftovers for the next couple of days! And for us busy Mom's/Wives – who doesn't love an easy home-cooked meal the second day where all you have to do is heat it up??? That's definitely a short cut I always take – making double of a recipe and either freezing it or eating it the next day. Because doubling a recipe doesn't add any extra effort or cooking time – but is a HUGE timesaver when you have a homemade meal for another day that you didn't have to start from scratch~! You could also freeze it in individual portions, so you have your own homemade "tv dinners"~!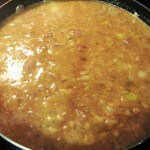 After I browned all the meat in batches, I added the onions and cooked them until they were soft. Then, I added Scotch (didn't have cognac) and beef stock. If you don't have scotch, you could use white wine, or even broth/stock. Here is a great article on what to use when you don't have the alcohol that a recipe calls for. ( http://homecooking.about.com/library/archive/blalcohol6.htm ) At this point – you need to let this mixture simmer on a low flame on the stove for 1.5 – 2 hours. (Closer to the end of the cooking time, I added a cornstarch/water mixture to thicken it to a gravy-like consistency because it wasn't thick enough for our tastes)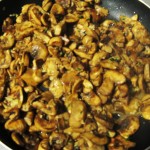 While the sauce was simmering, I started sauteeing the mushrooms in the butter and olive oil. Then adding some fresh thyme and garlic – cooking till the mushrooms were browned but making sure not to over cook the garlic or mushrooms. I started the pot to boil the egg noodles when there was about 30 minutes left to cook the sauce. And when the sauce is finished simmering, you mix the mushroom mixture in with the sauce, adding the sour cream (I used an entire 16 oz container for the double recipe), dijon mustard and parsely.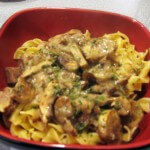 And VOILA ~ A delicious, rich, homemade Ultimate Beef Stroganoff~! Definitely something I will make again not just for my family – but also for company! So go ahead and give this a whirl – its not at all complicated, just a tad time consuming but the payoff is worthwhile! Here is the recipe….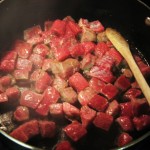 Author:
Tyler Florence - Food Network Website
Recipe type:
Ultimate Beef Stroganoff
Prep time:
Cook time:
Total time:
Ingredients
3 cups beef stock
1 carrot, chopped
6 sprigs fresh thyme
1 bay leaf
2 pounds chuck roast, cut into 2-inch cubes
Kosher salt and freshly ground black pepper
6 tablespoons extra-virgin olive oil
1 medium onion, chopped
2 tablespoons cognac
5 tablespoons unsalted butter
1 pound mushrooms, sliced
3 cloves garlic, chopped
2 tablespoons sour cream, plus more for garnish
1 tablespoon Dijon mustard
2 tablespoons chopped fresh parsley leaves, plus more for garnish
1 (1-pound) package wide egg noodles
Instructions
Heat the beef stock with the carrot, 3 thyme sprigs, and bay leaf. Pat the beef dry and season it with salt and pepper. Heat 3 tablespoons oil in a large heavy bottomed skillet over high heat. Fry the meat in batches so that it is browned on all sides. Lower the heat to medium and return all the meat to the pot. Add the onions and cook until they are soft, about 5 minutes. Pour in the cognac and cook until the alcohol has burned off, about 5 minutes. Add the beef stock, discarding the carrot, thyme sprigs, and bay leaf. Cook, partially covered, over a very low flame for 1½ to 2 hours.
In a large skillet over medium heat, melt 3 tablespoons butter in the remaining 3 tablespoons olive oil. Add the mushrooms, garlic, and remaining 3 thyme sprigs and cook until the mushrooms are browned and cooked through. Remove from heat and set aside.
When the meat is done, remove it from the heat and fold in the mushrooms, sour cream, mustard, and parsley. Taste and adjust the seasoning with salt and pepper.
Meanwhile, cook the noodles in a large pot of boiling, salted water until tender. Drain the noodles well, toss with the remaining 2 tablespoons butter, and season with salt and pepper. Serve the stroganoff over the noodles; garnish with more sour cream and chopped parsley.
This recipe is from the Food Network website, from chef Tyler Florence. http://www.foodnetwork.com/recipes/tyler-florence/beef-stroganoff-over-buttered-noodles-recipe/index.html
Thanks for tuning in to my "cooking adventures"~and remember peeps ~ have fun with your recipes and put your own twist on them! That's one of the most fun parts about cooking – being creative in kitchen, discovering new flavors/techniques and making recipes to suit your tastes. Oooh, and before I sign off I just wanted to give you a heads up on some of the recipes that will be coming up~! I'll be posting recipes for my parents homemade Salsa (which until a couple of days ago was only in their head, but I now have a hard copy of it~!) and another old family recipe for Authentic Beans and Tortillas~! So stay tuned – more yumminess coming up~!
Comments
comments