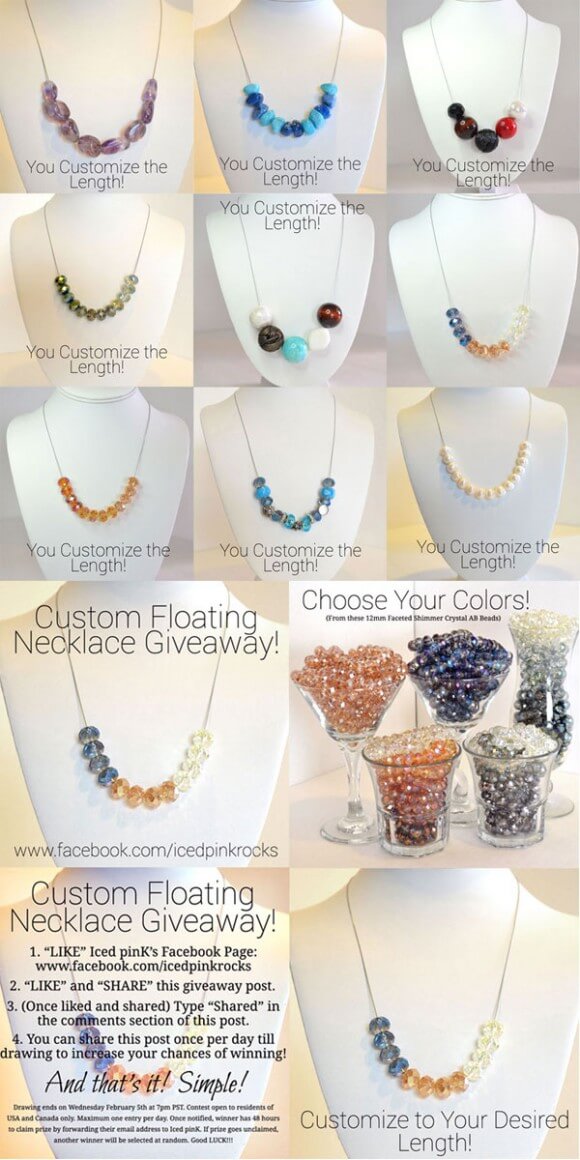 Hey there beauties!! Stopping in with a quick post about a Custom Made Floating Necklace Giveaway, and some new, gorgeous, statement floating necklaces added to the shop!! I think the most shocking thing about this last sentence, is the fact that I am actually capable of a "short post", right??? Haha! Well, I am! And I'm here to prove it! Today's post is short, but very very sweet!!

There is an awesome giveaway going on right now, over on the Iced pinK Facebook Page, that ends Wednesday February 5th at 7pm! Giving away a CUSTOM MADE FLOATING NECKLACE – you choose your colors from the crystals below, and choose your length!! To enter (its super simple):
1. Just "LIKE" Iced pinK Facebook Page,
2. "LIKE" this post, and then "SHARE" IT~!!! Then..
3. MAKE SURE YOU TYPE "SHARED" in the comments below the picture on the giveaway post!
4. You can share it up to once per day (if you want) to increase your chances! Each time you share it – type "SHARED" in the comments please! The more you share – the better chance of WINNING~!!
Drawing is next WEDNESDAY FEB 5th @7pm PST – and 1 winner will be selected at random!! (Open to residents of USA and Canada only) OK, now SHARE SHARE SHARE~!!! GOOD LUCK~!!!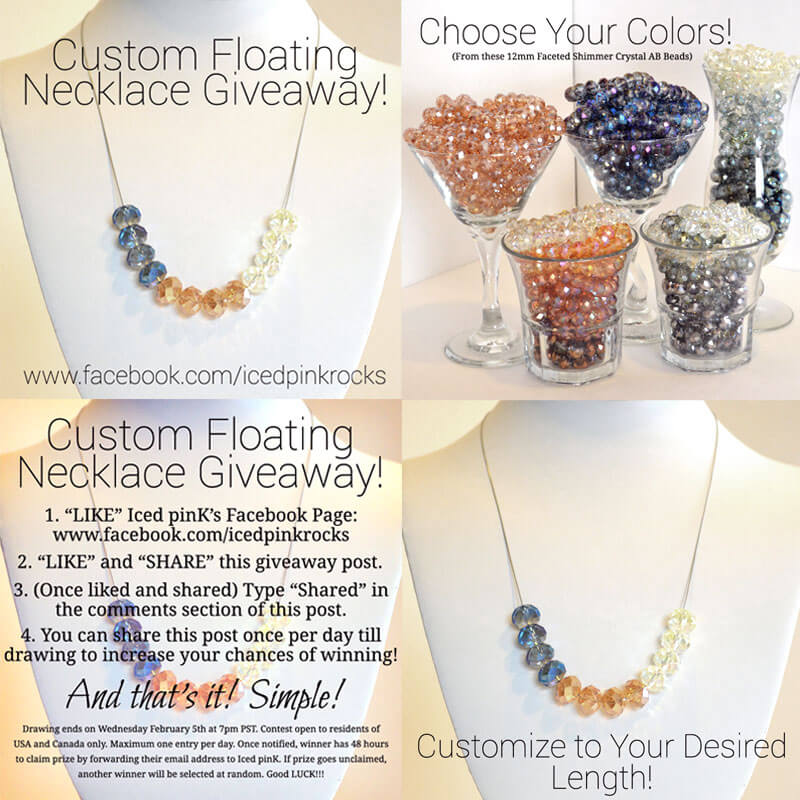 Good luck my friends~!!!
Now onto the new, fun, floating necklaces in my Iced pinK Shop!!♥ Loving these simple, modern, and yummy necklaces! Lots of different stones, crystals, and even genuine GEMSTONES AND PEARLS~!!
And the awesome thing about these beauties, is that YOU get to customize the length you would like them to be!! (No extra charge!) Love that!! You can find these in my Iced pinK Etsy Shop~!!! Along with lots of other chic accessories~!!
What do you think?? These are on nylon-coated strong silver wire; would you like to see some of these on gold or copper wire?? Let me know~!! I love hearing your suggestions!!
Ok, that's all for now!! (Told ya it was a short post!) Are you shocked that I'm not always long winded?? Haha!! (I am!!)
Take care my lovely blog readers~!!! Sending you all lotsa <3 and hugs~!!! xoxo
Comments
comments