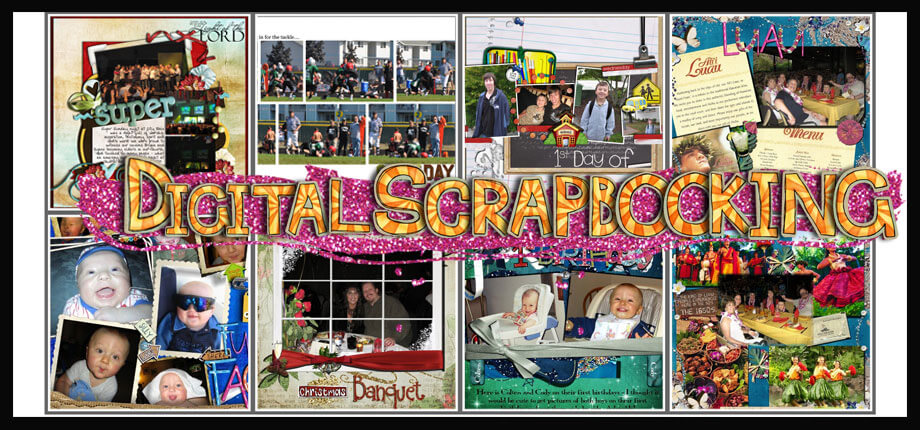 I started like everyone else doing the traditional paper scrapbooking, but after having my second child found it hard to find the time. And when my little one was down for a nap, I'd race around trying to get all my scrapbooking supplies laid out on the table, only to hear my little one wake up only minutes after I'd just begun scrapbooking. After a couple of tries, I realized this was going to be put on hold indefinitely. That is, until I discovered Digital Scrapooking.
I started digital scrapping in 2002, before there was very many resources out there for us Digital Scrapbookers. But there were a couple websites, and I'd purchased a program so I started playing around. I found out how much easier it was to digital scrapbook vs regular scrapbooking. If I didn't like the size of a paper/embellishment/flower etc – all I had to do was re-size it, or even delete it. No harm done, no paper or money wasted! I loved the freedom it gave me – if you could dream it, you could do it! And I was HOOKED!
Fast forward to the present and now there are SO many websites where you can download digital scrapbook freebies and/or buy digital kits from designers. The digital scrapbook community has grown tremendously and the resources available are endless! In some ways, I feel as though I've come full circle, now that I've started doing Hybrid Scrapbooking (Cross between Digital and Paper Scrapbooking). Creating projects/albums using mediums from both worlds. Its fun and doing the Hybrid Scrapping it gives the dimensional look you don't have as much in Digital Scrapbooking alone. (Although with a good program such as Photoshop – your digital projects can look almost as dimensional as the paper scrapping counterparts!)
In future articles, I'll share more on the topic of hybrid scrapping, as well as some of my fave digital designers, fave places to download digital freebies, different programs, techniques and much, MUCH more~! So stay tuned~!
Comments
comments