Be honest – when you read the title, you thought "Healthy, Authentic Refried Beans? Ya RIGHT!" It IS a common misconception – although Mexican cooking can be unhealthy; I grew up with authentic and healthy Mexican cooking. My parents were (and still are) very health conscious and I'm very glad that we were able to enjoy amazing food that wasn't bad for our insides (or our waistline). This recipe is one of our all-time FAVORITES~! And no restaurant has ever come close to the flavor, that we got used too, with this recipe while we were growing up!
This recipe tastes like it has chorizo in it – but its totally vegetarian, the spice mixture really adds the necessary and unique flavors. And I can safely say, that in my "Meat-Loving" household full of boys – this recipe not only satisfies their appetites but is also one they request over and OVER~! So I'm excited to share it with all with you~!
The Night Before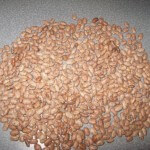 1. Take out a cup of the dried pinto beans and lay them on your counter and remove any stones you may find. (And quite often there are stones.) Do this cup by cup – adding them to a colander in the sink . Once you've removed all stones – go ahead and rinse the beans well.
2. After the beans have been rinsed, add them to either a pot or a slow cooker. (I always use my slow cooker – its so easy.) Add enough water, so that they are fully covered and the water is at least an inch higher than the beans. Leave them in the pot/slow cooker overnight. (Do not turn on the slow cooker/stove – just let them soak)
The Next Day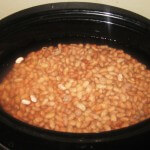 1. You should see the beans have soaked up a lot of the water and plumped up nicely. They should still be fully submerged in water, if not go ahead and add some extra water. Now turn on the pot on a low simmer or the slow cooker on high and set it for about 4-6 hours.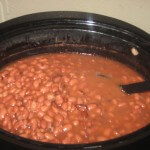 2. Once its getting close to being done – it should look like this. Beans soft and plump and the water will have reduced significantly.
About An Hour and a Half Before Dinner:
1. Fry up the onion till softened, then add the garlic and saute for a couple of minutes. Then add the rest of the spices/vinegar/tequila.
2. When you add the spices, vinegar, and tequila it will be pretty "liquidy". But after simmering the mixture for around 5-10 minutes, it'll reduce nicely and become thicker. Once its thickened up nicely, just set it aside and start making the tortillas.
Tortilla Making Time
1. Add your dry ingredients to the bowl and mix them up. Then add your wet to your dry and mix well until a nice dough has formed. (I needed to add about 1/4 cup extra water, but you can adjust yours depending on how it comes out. It shouldn't be too sticky, but it should hold together nicely.
2. Once the dough has come together nicely, you want to portion it out into approximately 12 pieces of dough. I cut the dough in half, then each half cut again in half – giving you 4 quarters. I then cut each quarter into equal 3rds, to make 12 evenly sized balls of dough. Then just roll out each ball of dough on a well floured surface.
3. Now start cooking them up – I usually have two pans going so they cook up faster. Make sure you get them nicely browned on each side.
The Meal is Almost Ready…..
1. While the tortillas are cooking, go ahead and mash the beans. If you feel there is still too much liquid in the beans, take out the excess liquid, but don't discard it. Once the beans have been fully mashed, you'll see if they are too thick and if so – add some of the excess liquid till they reach your desired consistency.
2. Now, add the spice/onion mixture to the mashed beans and mix well. It should become a rich, dark brown shade. And once the tortillas are done cooking – you have yourself an authentic and HEALTHY Refried Beans and tortillas meal to enjoy~! We use the tortillas like spoons – scooping up the beans. And you can top it with whatever you like – shredded cheese, scallions, cilantro, sour cream, guacamole or salsa~! Also when I make this meal, as it does take time, I usually double the recipe. That way you can freeze half for an easy, home cooked meal at a later date. Or go ahead and enjoy it for a couple of days. Growing up, my Mom would often make the double recipe and use the extra beans in some amazing, homemade burritos~! (Recipe for that to come at a later date~!)
Refried Beans and Tortillas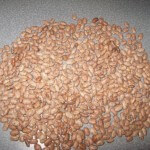 Author:
Creative Life of a Glam wife (via Al and Maria)
Prep time:
Cook time:
Total time:
Ingredients
BEANS:
2 cups of raw pinto beans (check for stones and rinse well)
1 large onion
2 to 3 cloves of crushed garlic
3 tbsp. of oil
¼ cup chili powder
1 tsp. of cinnamon
1 tsp. of cumin
1 tsp black pepper
1 tsp salt
¼ cup vinegar
¼ cup tequila
TORTILLAS:
2 cups white flour
2 cups whole wheat flour
1 tsp salt
2 tsps. Baking powder
2 TBSP. Crisco
1 ½ cups water (maybe ¼ cup extra)
Instructions
BEANS:
Before soaking the beans, remove any stones you find after checking them carefully. Then rinse them well.
Soak beans overnight. Then cook beans in plenty of water (usually 4-6 hrs) and add salt to water. Check often and add more water if required.
Mash cooked beans (taking out any extra liquid before mashing -but keep the liquid in case you want to thin out beans)
Fry 1 large onion with 2 to 3 cloves of crushed garlic in 3 tbsp. of oil. When onions are browned, add spices, vinegar and tequila. Simmer for 5-10 minutes until nicely reduced. Mix the above mixture with the mashed beans and bring to a boil slowly. Thicken to taste.
TORTILLAS:
Whisk the flour, salt and baking powder together in a bowl. Mix in the Crisco with your fingers until the flour resembles cornmeal. Add the water and mix until the dough comes together, place on a lightly floured surface and knead a few minutes until smooth and elastic. Divide the dough into 12 equal pieces, and roll each piece into a ball.
Preheat large skillet over med.-high heat. Use a well-floured rolling pin to roll a dough ball into a thin, round tortilla. Place onto the hot skillet and cook until bubbly and golden, flip and continue cooking while pressing with a clean tea towel. Turn over and continue pressing until golden on each side. Place into a tea towel to keep warm.
Comments
comments